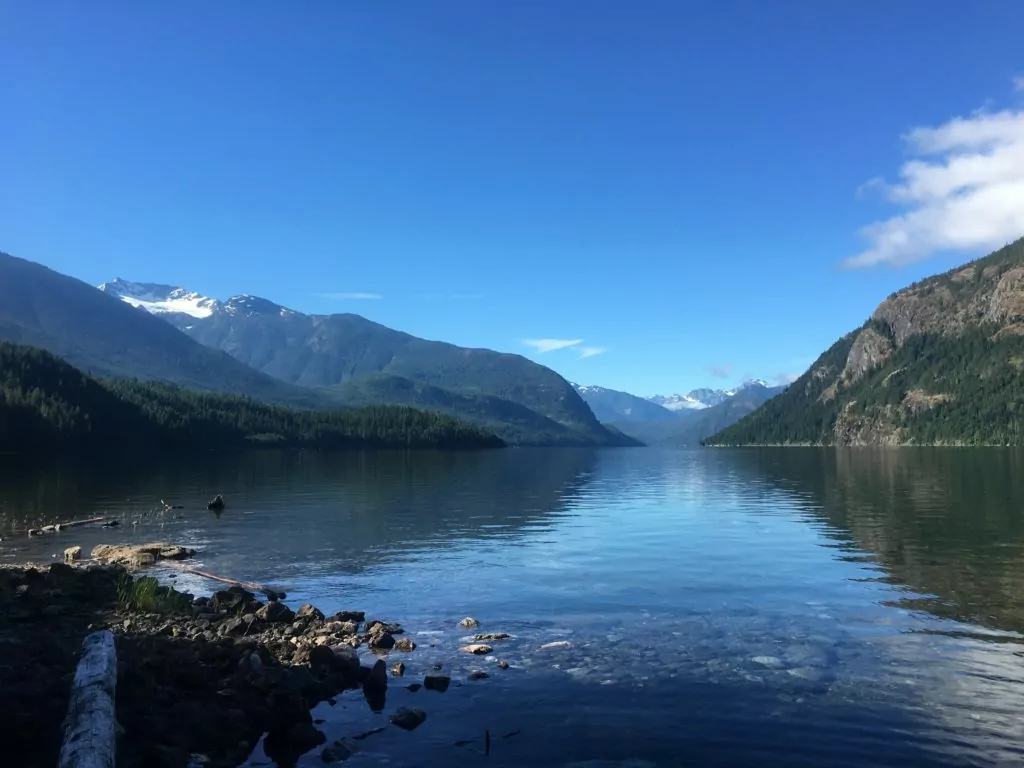 Ross Lake Trail
General Description
Brilliant blue waters. Towering mountains. Ancient forests, islands, and water taxis. Ross Lake is a gem nestled in the North Cascades, filled with enough destinations for a lifetime of exploring. And if the natural beauty isn't enough, take a moment to wonder at the feat of engineering that built Ross Lake by damming the Skagit River; the same water that laps on the shores of Ross Lake helps to power Seattle and Western Washington. Take an easy dayhike to Ross Dam or along Ruby Arm, catch a water taxi from Ross Lake Lodge for a longer one-way dayhike, or backpack the length of Ross Lake all the way to the Canadian border. With clear blue waters, stunning sunsets, and good fishing and swimming, Ross Lake has something for everyone.
Explore the North Cascades with Expert Guides
Getting to the Ross Lake Trailhead
From Highway 20, turn North to park by the Ross Dam Trailhead, or continue to the East Bank trailhead at mile 138.
History of  Ross Lake
Ross Lake used to be a deep valley holding the Skagit River as it tumbled down from the Canadian border. In 1937, the Skagit River Hydroelectric Project began construction of the Ross Lake Dam, gradually flooding the valley while the old-growth forest at its base was logged and and sold off. Today, the Ross Dam towers 540 feet above its outlet, making it one of the tallest dams in Washington State. As a side product of the hydroelectric power generated by the dam, Ross Lake was created, and is now a stunning recreation destination for Washingtonians and visitors alike. In addition to the hiking and boating available on the lake, an old floating logging camp on the lake has been converted into seasonal cabins. The Ross Lake Resort is a great starting off point for trips arounds the lake, and they provide a water taxi service that can transport you to any trailhead along the lake.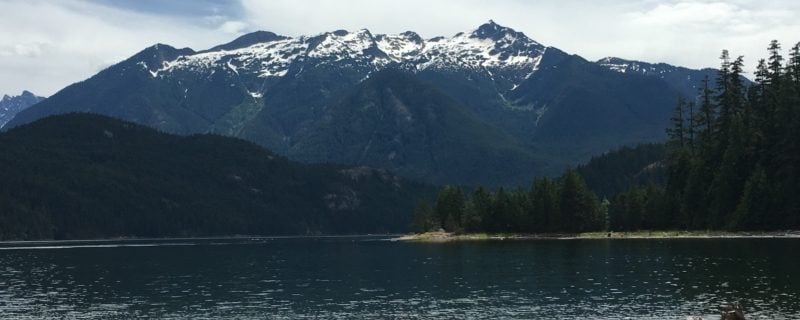 3 Best Day Hikes on Ross Lake
Take a short stroll out to a stunning view overlooking Ross Dam, hike the Happy Panther trail through mossy forests, or hike along Ruby Arm.
Below are the primary options for day hiking along Ross Lake
| | | | | | |
| --- | --- | --- | --- | --- | --- |
| | Destination | Miles | Elev | Difficulty | Style |
| | Ross Dam  | 2 mi | 500 ft | Easy | Out and Back |
| | Big Beaver Creek |  14 mi | 550 ft | Easy | Out and Back |
| | Happy Panther Trail | 12.4 mi | 550 ft | Moderate | Out and Back |
1. Ross Dam
Stretch your legs and get rewarded with phenomenal views with this short and sweet hike from Highway 20 down to the Ross Lake Dam. Start at Milepost 134 on Highway 2o and make your way through evergreen forests cut through with small trickling creeks and waterfalls. Abundant moss and epiphytes grace the trail, along with views through the trees of Ross Lake far below. Make your way down through the forest to the bank, then hang a left onto the access road for Ross Dam. Walking out on top of the dam gives you stunning views down the 540 feet of the dam to y0ur south, and beautiful views of Ross Lake, Jack Mountain, and more to your north and east. Return the way you came, or continue along the West Bank of Ross Lake all the way to the mouth of Big Beaver Creek.
2. Big Beaver Creek
Follow the trail to Ross Dam as above, then continue north, hugging the Ross Lake on your right. Enjoy peek-a-boo views of Ross Lake through the trees, creeks and waterfalls cascading into Ross Lake, and look and listen for birds and wildlife. Take a brief side hike out to Green Point for close-up views of Ross Lake, or continue all the way to the mouth of Big Beaver Creek. To your west lies Big Beaver, and ancient old-growth forests teeming with life. If you're feeling energetic, continue a few miles up Big Beaver; otherwise, enjoy the lake views and then head back the way you came. Alternately, consider chartering a water taxi from Ross Lake Resort up to Big Beaver Creek, spend some time exploring, and then hike the trail back to Ross Dam.
3. Happy Panther Trail
Happy Panther is a mellow, medium length trail connecting Ross Dam with the tip of Ruby Arm. It's an ideal early season hike, staying at low elevation and winding through beautiful forests and views of Ross Lake. In the spring before the pass opens, start at the Ross Dam; once the road is open, you can start at mile 138 at the East Bank Trailhead. If you start by Ross Dam, the trail is a gently rolling hike with only moderate up after the main descent down to Ross Dam. Look for views of Jack Mountain and Ross Lake as you wind through gentle forests, over small creeks, and along the shore of Ross Lake. Return the way you came once you reach the East Bank Trailhead, or follow the road back to your car for a change of scenery.
Maximize Your Visit to North Cascades National Park on Hiking Tour
Multi-day packages allow visitors the opportunity to make the most of their time in North Cascades National Park and to do it hassle-free. Guided tours include gear (backpack, trekking poles, crampons in winter), meals, accommodations on multi-day tours, local transportation, and a professional Washington hiking guide. Through their knowledge, stories, and personal passion, guides can bring a place to life in a way that's much more difficult to do on your own. Read more about North Cascade Hiking Tours.
Award Winning USA Hiking Vacations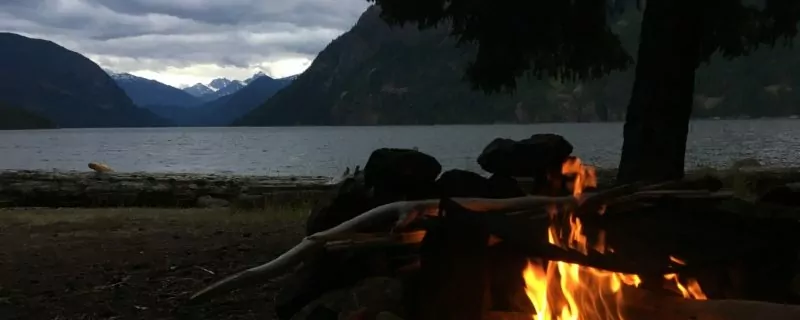 3 Thunder Creek Trail Backpacking Trips
The Thunder Creek Trail is your gateway to the North Cascades! Endless trips are available from this trailhead, but we've selected three of the best below.
| | | | | |
| --- | --- | --- | --- | --- |
| | Route | Miles | Difficulty | Campgrounds |
| | Hidden Hand Camp | 6 mi | Easy | Hidden Hand CG |
| | Lightning | 16 mi | Moderate | Lightning Creek CG, May Creek CG |
| | Hozomeen | 32 mi | Strenuous | May Creek CG, Lightning Creek CG, Nightmare CG, Hozomeen Lake CG |
1. Hidden Hand (2 days)
Hidden Hand is an easy overnight backpacking trip that's great for families or first time backpackers. Start at the East Bank trailhead at Milepost 138, hike through the forest along Ruby Arm, and look for the trail junction at mile 2.8. Head west on a short spur trail to Hidden Hand camp on the shore of Ross Lake. Solitude, campfires, fishing and more await. At only 3 miles in, you can head out after work on a Friday, spend two nights at Hidden Hand relaxing and fishing, ands get back at a reasonable time before your weekend is over.
2. Lightning Creek (3 days)
Lightning Creek is accessible as an out-and-bank trip over 4 days, but why not cut the distance in half with a water taxi, and bag Desolation Peak while you're at it? Charter a water taxi from the Ross Lake Resort to drop you at Lightning Creek, set up your camp, and consider a strenuous but rewarding dayhike up to the fire lookout on Desolation Peak. at 13 miles and 4,400 feet of elevation gain and loss it's no easy feat, but the 360 views of the North Cascades and Ross Lake are well worth it, as is the rich history of the lookout. Whether you dayhike Desolation Peak or not, you'll get stunning views hiking south along Ross Lake. Follow the East Bank trail over suspension bridges, along the lake, and back to Highway 20, stopping over at May Creek or any other campsite along the way to break up the hike.
3. Hozomeen (5 days)
For a grand traverse of Ross Lake, consider hiking all the way to the Canadian border at Hozomeen. Enjoy the expansive views of Ross Lake, the ancient forests of the Ligtning Creek valley, and the beautiful solitude of Hozomeen Lake and Hozomeen Mountain. Start at Milepost 138, hike north to Lightning Creek, then turn east along the Lightning Creek drainage. Make a brief stop at Hozomeen Lake for a final night of quiet beauty, then finish the hike by returning to Ross Lake by Hozomeen. Make sure to charter a water taxi in advance for the pickup, or you'll have another 32 miles of hiking to get back to your vehicle!
Join a Guided North Cascades National Park Backpacking Trip
Joining an North Cascades National Park backpacking tour  is a worry-free, adventurous way to experience North Cascades National Park. With your gear, meals, local transportation, permits, and fees taken care of for you, you can travel light and focus 100% on enjoying the hiking experience, while the guide company takes care of everything else. Also, by going with local experts you'll enjoy a greater level of safety and gain a much better understanding of the history and ecology of this remarkable region. Read more about guided North Cascades backpacking trips.
All-inclusive North Cascades Backpacking Adventures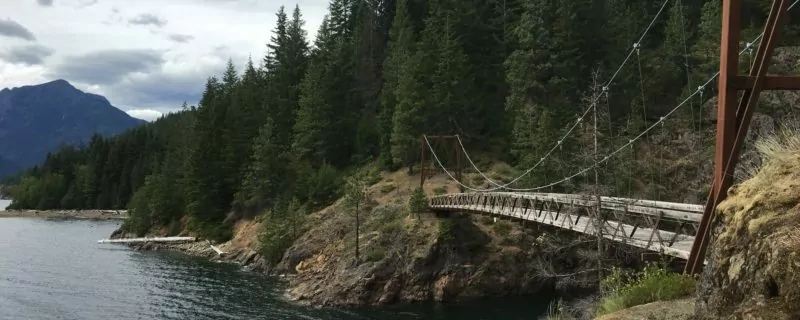 When to Hike and Seasonal Considerations
North Cascades National Park is a land of extremes: heavy snowfall in the winter, rain in the shoulder season, but perfect weather all summer long. The Cascade River Road is often closed by snowfall and avalanches during the winter and spring, but is usually open by July–check the NPS website for road conditions. Snow in the high country makes this route challenging before July, unless you are comfortable with an ice ax and snow travel skills. July-September is the perfect window, but October can have lovely weather and perfect huckleberries as well. Make sure to check the weather before you go!
Necessary Permits
Day Hike Permits
No permits are needed to day hike in North Cascades National Park.
Backpacking Permits
Backpacking permit are require in North Cascades National Park. While some walk-up permits are available, reservations are recommended to ensure you get your desired itinerary. Permits must be picked up at the Marblemount Wilderness Information Center, where rangers can also help you plan your trip, answer questions about trail conditions, and loan you bear canisters to keep your food safe from animals.
Suggested Packing List
Day Hike Packing List (edit)
Lightweight hiking shoes or hiking boots
Waterproof rain jacket and pants
Warm wool or fleece top
Warm hat and gloves (Spring, Fall, Winter)
Water bottles or bladder (2 liters total capacity)
Sunhat
Headlamp
Sunglasses, sunscreen and lip balm
Salty, calorie-rich snacks
lunch
backpack
trekking poles
1st aid kit
Backpacking Packing List
all items listed for day hikes PLUS
multi-day backpack
3-season tent
sleeping bag
sleeping pad
backpacking stove and fuel
backpacking meals
3 pairs wool socks
extra t-shirts
Please Respect Our National Parks – Leave No Trace
We strongly recommend abiding by all Leave No Trace ethics guidelines and practices so that our national parks and public lands are preserved for the enjoyment of future generations and for the people and animals who call these places home. Simple things like packing out your trash, obeying national park rules, and respecting the peace and quiet of our national park trails is a great start. If you're going on a backpacking trip, you can read about more about the 7 Leave No Trace Principles.