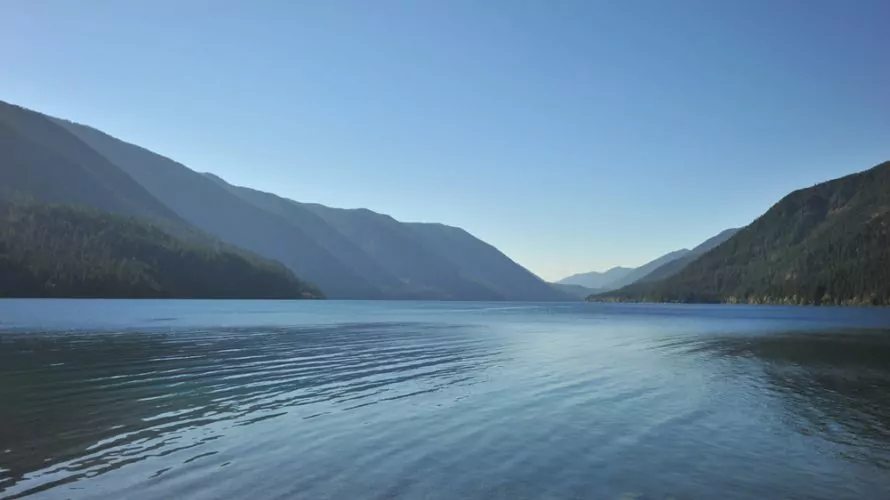 Lake Crescent Trails
Crystal clear and ice cold, Lake Crescent is a beautiful lake nestled in the foothills of the Olympic mountains. Because of its unique location and ecology, Lake Crescent is free of nitrogen and algae, making for extremely clear waters. And at over 600 feet deep, carved into the valley floor by glaciers, it is home to unique fish species. But Lake Crescent isn't only of interest for its clear waters and endemic fish; it's surrounded by gorgeous hiking trails leading to shimmering waterfalls and high rocky viewpoints. There's plenty of hiking to be done, and the historic Lake Crescent Lodge offers a delightful porch, restaurant, and accommodations if you want a comfortable place to stay at night. And if hiking isn't your cup of tea, the lodge also offers kayak, canoe, and standup paddleboard rentals.
Explore Olympic NP with Expert Guides
History of Lake Crescent
Lake Crescent was carved by ice thousands of years ago during the last major period of glaciation in the Olympics. While the deep valley was gouged long ago, the lake itself wasn't formed until 8,000 years ago, when a landslide dammed Indian Creek in the valley bottom and formed the lake. Like the rest of the Olympics, Lake Crescent has been a site for human use and visitation for thousands of years. European explorers came late to the region, reaching Lake Crescent in 1849. The lake has been a hub of activity ever since. In 1914, Avery and Julia Singer opened up Singer's Tavern, which has since evolved into the Lake Crescent Lodge, and in 1919 a railroad was completed with the intention of transporting Sitka Spruce lumber for the war effort. And if your historical tastes tend towards the macabre, there's always the Lady of the Lake, a grisly true crime tale set on the banks (and waters) of Lake Crescent.

3 Best Day Hikes at Lake Crescent
Stroll to Marymere Falls, hike and climb to the summit of Mount Storm King, or walk along the banks of Lake Crescent on the converted Spruce Railroad Trail
Below are the primary options for day hiking at Lake Crescent
| | | | | | |
| --- | --- | --- | --- | --- | --- |
| | Destination | Miles | Elev | Difficulty | Style |
| | Marymere Falls | 1.8 mi | 500 ft | Easy | Out and Back |
| | Mount Storm King | 4 mi | 2,060 ft | Strenuous | Out and Back |
| | Spruce Railroad Trail | 10 mi | 250 ft | Moderate | Out and Back |
1. Marymere Falls
At 90 feet tall, Marymere Falls is a beautiful waterfall dripping with ferns and moss, and surrounded by giant cedars, Douglas firs, and hemlocks.
And at only 1.8 miles roundtrip, it's an easy afternoon or evening hike. Begin at the trailhead on Highway 101 or by Lake Crescent Lodge, and make your way among towering old growth trees. Look for nurse logs and stumps, watch the woodland flowers change, and enjoy the deep silence that comes with walking through a moss-covered land. Bigleaf maples shade the trail early on, giving way to conifers as you begin making your way along Falls Creek. As you approach the falls, you'll have the option to climb up or continue straight; the trail splits to form a small loop to two different viewing platforms. Enjoy the view from both, then meander back through the forested paradise to the trailhead.
2. Mount Storm King
The views are fantastic from Mount Storm King, but the hike is punishingly steep, with significant exposure near the top. If you're faint of heart, consider stopping at the first viewpoint; if you're sure-footed and experienced, follow the climbers path all the way to the summit–hand-lines and steep scrambling await you! Begin on the same trail as Marymere Falls, then turn left at the signed junction and begin climbing steeply and steadily. With 2,000 feet of elevation gain in 2 miles, Mount Storm King is relentless, but beautiful. Watch the conifers give way to madrone trees, and keep climbing until your first view of Lake Crescent through the trees. After this point, the trail becomes more rugged, but the view of Lake Crescent and the Olympic foothills to your north are stunning. Be careful on the summit, then return the way you came, detouring by Marymere Falls on the way down if you want to add a little more flat hiking to your day.
3. Spruce Railroad Trail
During World War 1, Sitka Spruce was the wood of choice for building airplanes, and Olympic National Park has spruce in abundance. The Spruce Railroad was constructed to help fill that need, linking logging on the western Olympic Peninsula to the sawmills of Port Angeles. The war ended before the railroad was completed, though, and after operating intermittently it was abandoned in there 1950s. Yesterday's folly is today's glorious hiking trail, though, and the Spruce Railroad Trail is a lovely way to enjoy Lake Crescent. The trail winds along the shores of Lake Crescent, through an old railroad tunnel, and over a bridge along the lake next to the famous Devil's Punch Bowl. If you're feeling brave, join other thrill-seekers in jumping off the bridge into the deep cove below; if you're feeling braver, cliff-jumps of up to 50 feet are possible from the nearby rock face. The water is ice-cold, but on a hot summer day it's a fantastic way to cool off mid-hike. Continue along as far as you want, enjoying the views of Mount Storm King and Lake Crescent. The trail runs 5 miles one way, so you can make a full day of it at 10 miles round trip, or run a car shuttle to the other end of the rail and hike one way.
Maximize Your Visit to Olympic National Park on Hiking Tour
Multi-day packages allow visitors the opportunity to make the most of their time in Olympic National Park and to do it hassle-free. Guided tours include gear (backpack, trekking poles, crampons in winter), meals, accommodations on multi-day tours, local transportation, and a professional Washington hiking guide. Through their knowledge, stories, and personal passion, guides can bring a place to life in a way that's much more difficult to do on your own. Read more about Olympic Hiking Tours.
Award Winning USA Hiking Vacations

When to Hike and Seasonal Considerations
Olympic National Park has a reputation for rain, but summers tend to be dry, warm, and very pleasant. The Sol Duc River is a low-elevation destination that can be hiked as early as May without having to worry about too much snow, but if you're hoping to cross the passes or day hike into the high country, you'll want to wait until late June or July. Glacier lilies start to unfold as soon as the snow melts, and abundant berries and fall colors in August and September make it a spectacular location all summer long. Make sure to check the weather before you plan your trip.
Necessary Permits
Day Hike Permits
No permits are needed to day hike in Olympic National Park
Backpacking Permits
Permits are available from Olympic National Park at the Port Angeles Wilderness Information Center. Since the Sol Duc River and the Seven Lakes Basin are such popular destinations, reservations are limited. Advance reservations are your best bet, but some walk-up permits are available. The Park Service also provides bear canister rentals for a small donation. For more information on Olympic National Park's permit system, click here.
Getting to Lake Crescent
Follow Highway 101 West from Port Angeles until you reach Lake Crescent. The trailhead for Mt. Storm King and Marymere Falls are right by Lake Crescent Lodge. To reach the Spruce Railroad Trailhead, turn North on East Beach Road from Highway 101, then follow signs to the Spruce Railroad Trail.
Suggested Packing List
Day Hike Packing List (edit)
Lightweight hiking shoes or hiking boots
Waterproof rain jacket and pants
Warm wool or fleece top
Warm hat and gloves (Spring, Fall, Winter)
Water bottles or bladder (2 liters total capacity)
Sunhat
Headlamp
Sunglasses, sunscreen and lip balm
Salty, calorie-rich snacks
lunch
backpack
trekking poles
1st aid kit
Please Respect Our National Parks – Leave No Trace
We strongly recommend abiding by all Leave No Trace ethics guidelines and practices so that our national parks and public lands are preserved for the enjoyment of future generations and for the people and animals who call these places home. Simple things like packing out your trash, obeying national park rules, and respecting the peace and quiet of our national park trails is a great start. If you're going on a backpacking trip, you can read about more about the 7 Leave No Trace Principles.