The Ultimate Guide to Lake Chelan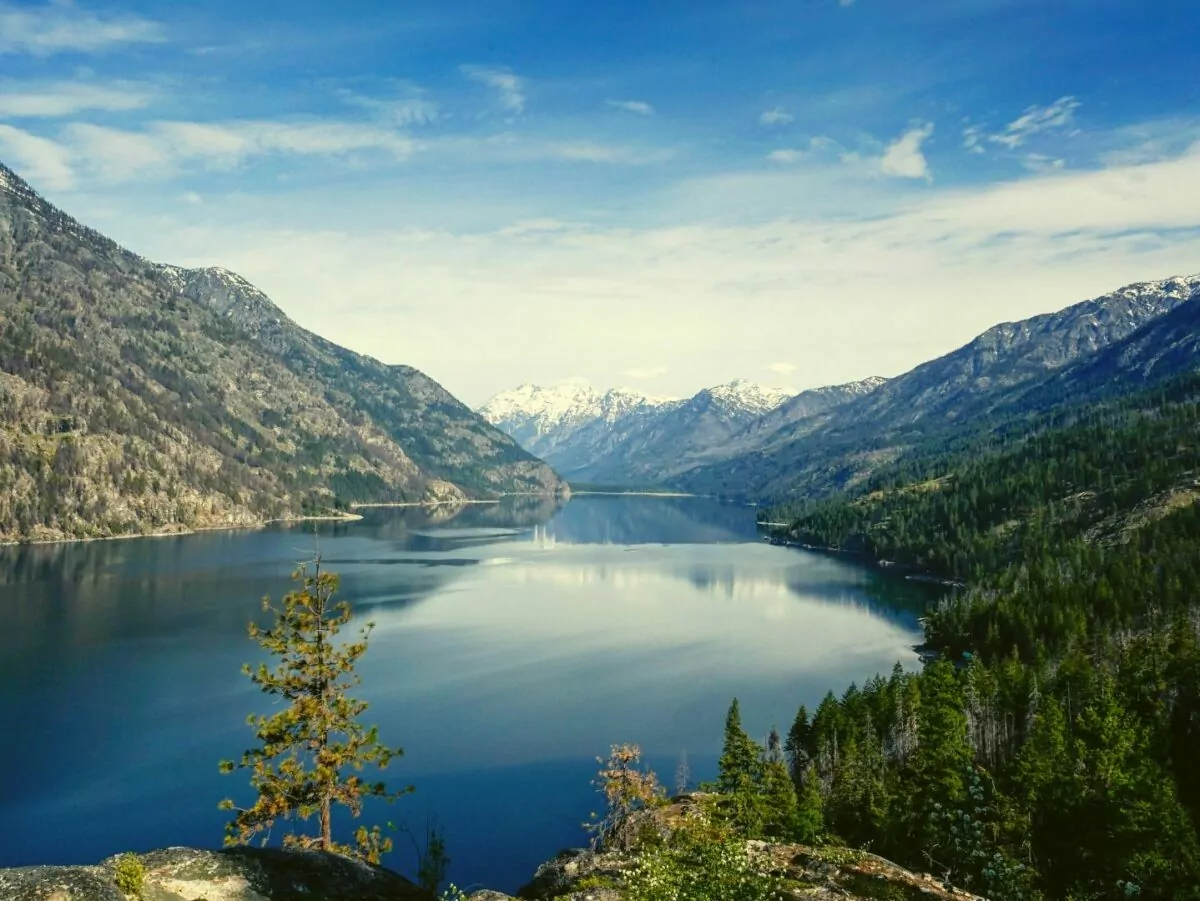 Nestled in the North Cascades, Lake Chelan is the third deepest lake in the United States. Glaciers carved out this fjord-shaped lake over thousands of years of erosion and deposition. After the Lake Chelan dam was built in 1927, the lake became even deeper than it was naturally.
Lake Chelan is over 31 miles long and nestled around its steep banks, you can find some of the most beautiful and wild land in the country. The North Cascades are known as the American Alps for the jagged peaks that cover this remote corner of the world. Many of the mountains in the North Cascades take days to access by foot, and few roads invade the heart of this range. 
Lake Chelan spans from sagebrush-covered buttes and the town of Chelan on the southeastern end, to remote granitic peaks and the small community of Stehekin, accessible only by foot or boat, on the northwestern end. 
Taking a trip to Lake Chelan could mean relaxing in a lakeside resort and swimming, kayaking, and lounging your day away. Or it could mean hiking 23 miles or taking a multi-hour ferry on the trip to Stehekin. The number of diverse recreation opportunities and views around Lake Chelan is unmatched. 
There's a trip for anyone at Lake Chelan, from days in the backcountry to lakeside lounging. Learn more and plan your trip to Lake Chelan with this ultimate guide.
Where is Lake Chelan?
Located in North Central Washington and the North Cascades, Lake Chelan is the largest natural lake in the state. In 1927, Lake Chelan was dammed, but it remains the largest lake in the state.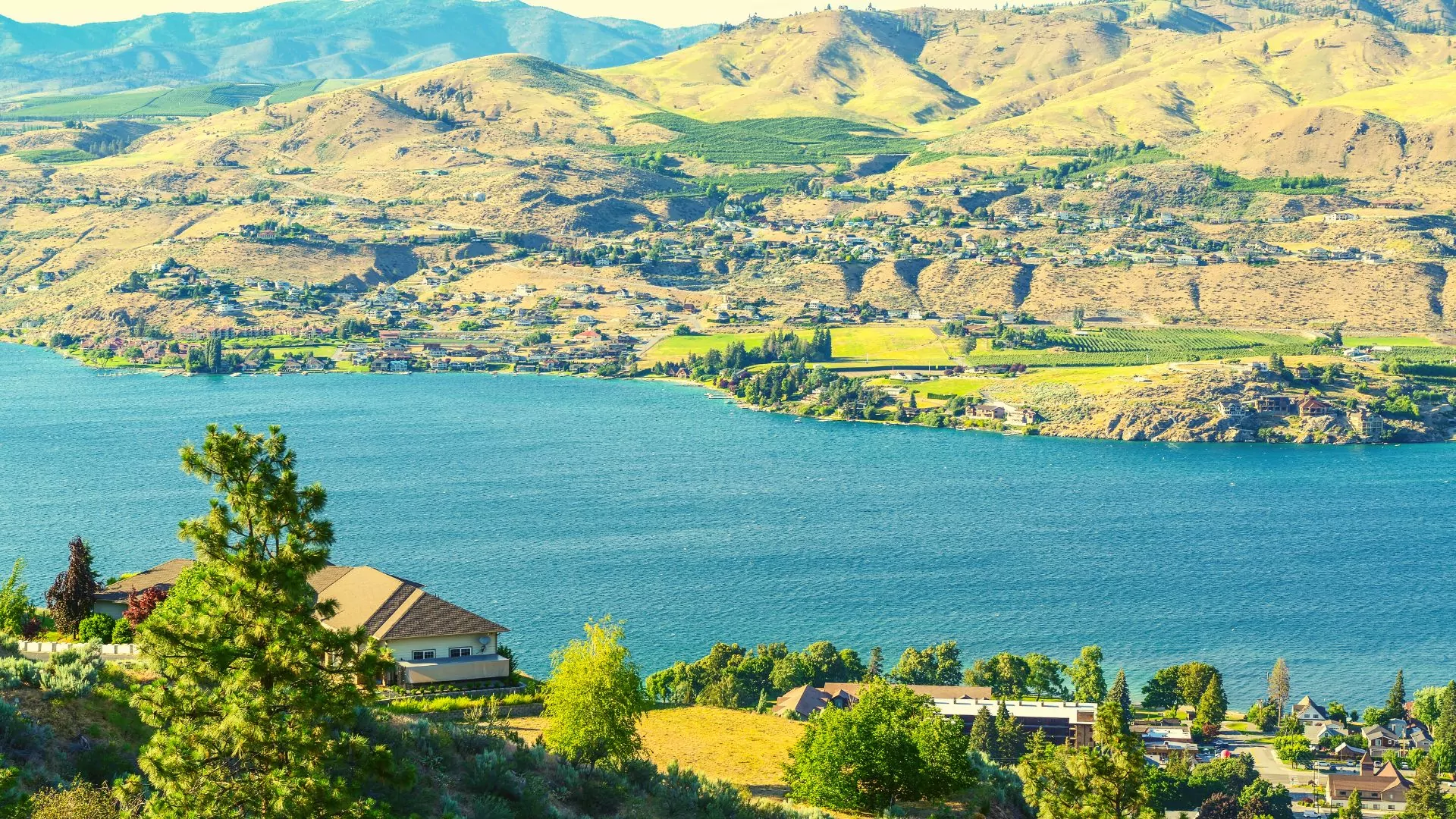 From the town of Chelan on one end, to the mountain community of Stehekin on the other, the lake is most accessible from Wenatchee, North Central Washington's largest city. But if you're flying to Washington to visit Lake Chelan, Seattle will be the most accessible jumping off point. From there, you'll need to rent a car and drive over Highway 2 to Wenatchee and the town of Chelan. 
Or, if you want to make a road trip out of visiting North Cascades National Park and Lake Chelan, take Highway 20 over Washington Pass and explore the park. From there head south to Lake Chelan, visit Lake Chelan National Recreation Area and Stehekin, and finally take Highway 2 back over Stevens Pass to finish out the loop.
For this Lake Chelan road trip itinerary, we'd recommend at least a week (more if planning to backpack or visit Stehekin) to experience the beauty of the North Cascades and the diversity of landscapes. 
To get to Stehekin, a small community located on the northwestern shore of Lake Chelan, you'll need to hike, ride a horse, take a boat or ferry, or go by plane. There are no roads to Stehekin. However, this waterfront outpost in North Cascades National Park is worth visiting if you want to get off the beaten path but still enjoy amenities. 
Why visit Lake Chelan?
Lake Chelan has something for everyone. Whether you're looking for adventure in the mountains or lounging by a beach, you can find it all on this 31-mile-long lake.
Stay in Chelan and explore the Recreation Area by hiking, spending time on the water, and relaxing on the beach. Or head into the North Cascades by foot, on horseback, or by boat to explore the wilderness. There are endless trails to hike, peaks to climb, and valleys to explore around Lake Chelan for year-round fun.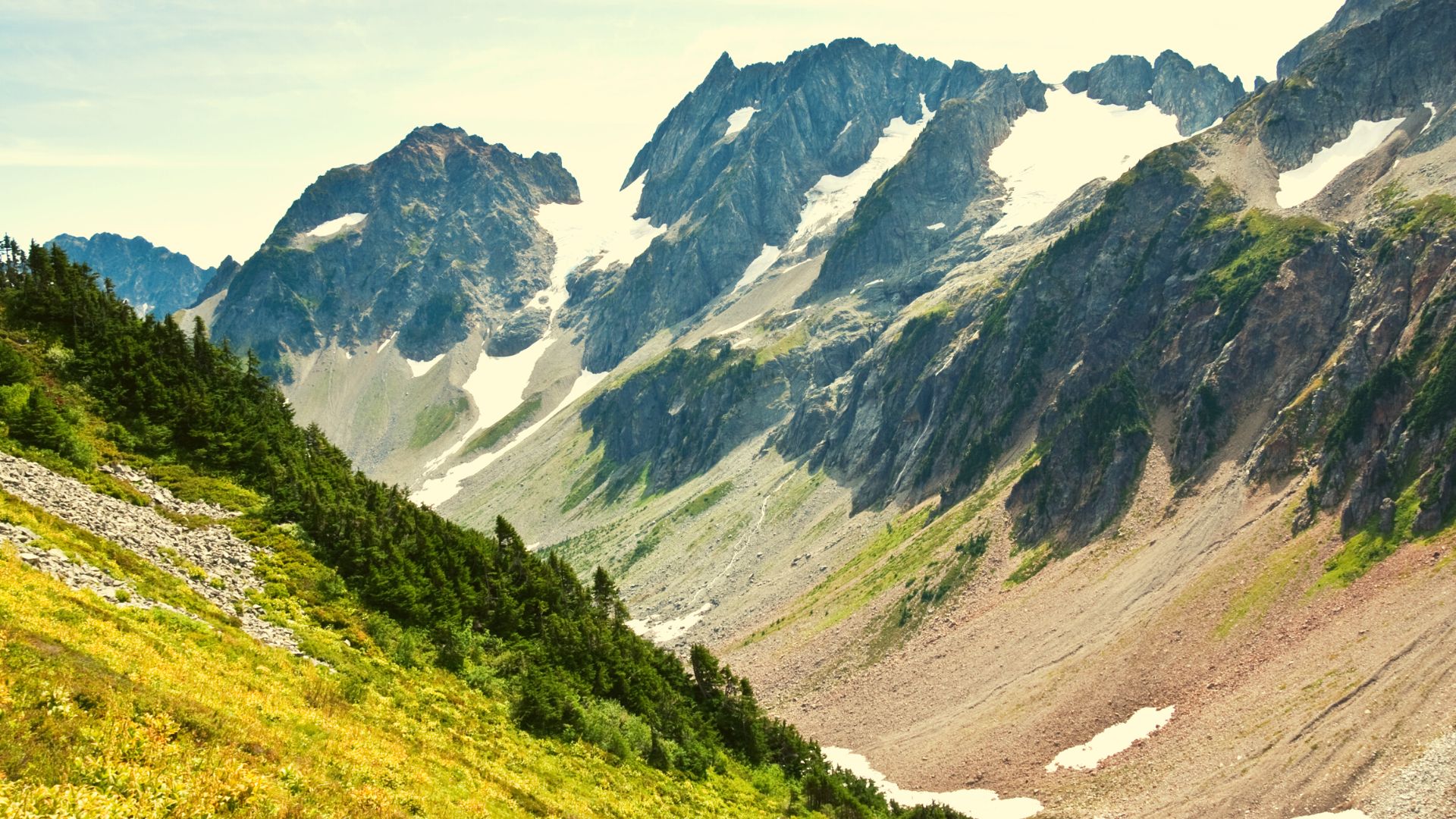 If you're looking for adventure and remote wilderness, but also love the comfort of a warm bed, there's nothing better than hiking or taking a boat to Stehekin and exploring the mountains and valleys around this remote town during the day. 
If this sounds like the ideal trip, but you're not comfortable or don't want to plan it on your own, our Mountain Traverse to Lake Chelan Lodge guided trip combines two nights of backpacking in the North Cascades with two nights at a lakeside lodge in Stehekin and a boat ride back to the start. It's one of Wildland Trekking's most unique guided trips, with plenty of balance between adventure and relaxation. 
LEarn more: Mountain Traverse to Lake Chelan
When to visit Lake Chelan?
Lake Chelan is a year-round destination, but each season brings something a little different. Depending on the activities you want to do, and the experiences you're craving, the time of year you visit matters. Hiking and swimming will be hard in the winter but snowshoeing and cross-country skiing make up for it! 
No matter when you visit, there's always something beautiful to explore in this diverse area of Washington.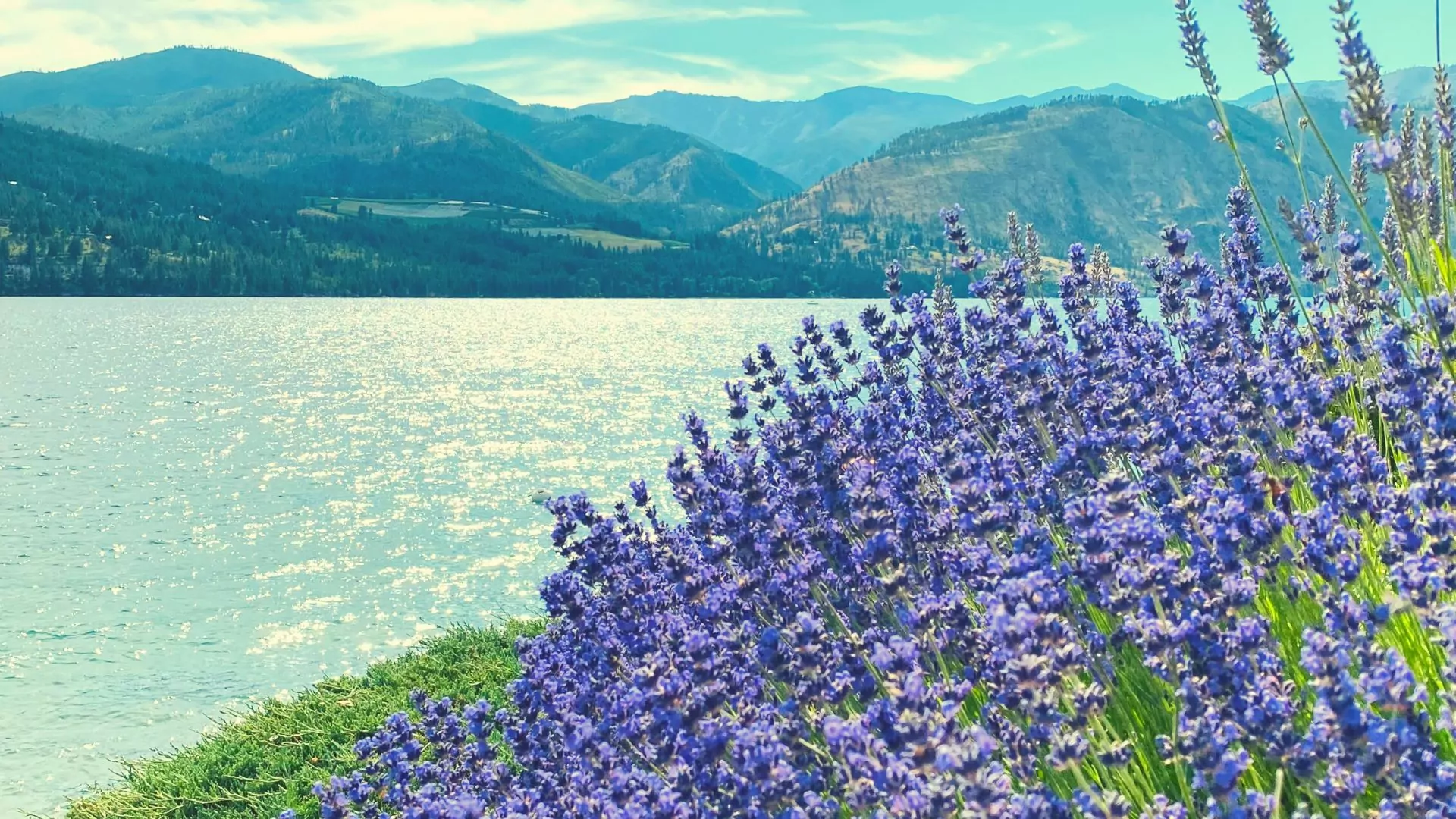 Spring
Spring can be a nice time to visit Lake Chelan, but as seasons go, it's probably not our favorite time in the area. There is snow in the North Cascades until well into summer, and highway 20 is often closed until May due to snow and avalanche danger. The town of Chelan is typically warmer and dryer than areas of Lake Chelan deeper into the mountains though, with the average temperature in April sitting between 40-60 degrees Fahrenheit. 
The best part of spring at Lake Chelan is the wildflowers. Flowers start blooming on south-facing slopes and lower in the valley in march, and throughout the spring and early summer move to higher elevations. Find glacier lilies, trillium, and desert buttercup in early spring, and then make sure to look out for the bright yellow fields of balsamroot and purple lupine in mid to later spring. 
Summer
Warm, generally dry, and beautiful, summer is a great time in the North Cascades. But do note that snow can remain in high elevations until late into the summer and make sure to inquire about current levels before hiking, scrambling, or planning a trip higher up.
Wildflowers like Indian paintbrush, lupine, columbine, and fireweed cover alpine meadows throughout the summer, and the mountains are more accessible than most other times of the year. However, in recent years, wildfires and smoke have been a big issue in the North Cascades and Lake Chelan area, so make sure to be aware of fire danger. Please, never leave a fire unattended or do anything that could start a fire. 
Fall
Fall in the North Cascades is something everyone should experience at least once. Fall comes early and ends early in the mountains, with snow storms often starting in October. But before then, it's often one of the most beautiful times of the year. Larches, the only deciduous pine tree, turn yellow starting usually in mid to late September, and cover the sub-alpine area with color.
Many hikes that have lots of larches can get PACKED in September and early October, so if you want to see larches, go early (sunrise) or late (and bring headlamps!) or pick a less popular trail. 
Winter
Cold and snowy but beautiful, winter can be a great time at Lake Chelan if you want solitude. The ferry to Stehekin runs year-round but is on a reduced schedule in the winter. Stehekin lodging is still open, however, but be prepared to be otherwise fully self-sufficient, as restaurants are closed during most of the off-season.
Lake Chelan is a great place for cross-country skiing and snowshoeing, and with 300 days of sun a year, the winter is still (mostly) sunny and beautiful. It's a great place to go if you want winter sports but without the clouds and rain. 
Where to stay at Lake Chelan?
The first thing to figure out when you're planning a trip to Lake Chelan is where you want to spend time. The lake is over 30 miles long, so you'll need to plan accordingly if you want to visit multiple areas.
Staying in the town of Chelan is the easiest if you have a car and want to visit other locations around the area. Another option accessible by road is the small village of Manson, on the north side of Lake Chelan. There are also various vacation rentals available along the lakeshore in Chelan and Manson.
The other option for non-camping lodging on Lake Chelan is Stehekin, which is only accessible by boat, horseback, foot, or plane. There are a few lodging options in Stehekin, including the North Cascades Lodge at Stehekin, several cabins, and other rentals. 

Lake Chelan Camping
There are a multitude of camping options around Lake Chelan, and if you're visiting in the summer and want to experience the beauty and nature of the area fully, camping is a perfect option.
There are campsites all around the lake. You can drive to Lake Chelan State Park campground and various campgrounds near the town of Manson. Other camping options include boat-in or hike-in campsites around the lake where roads don't reach (which is a significant chunk of the lake!). Renting or bringing a boat and camping in one of the many boat-in campsites around the lake can be a great way to get off the grid and enjoy lakeside life. 
Chelan Lakeside Lodge
If you want to stay in Chelan, the Chelan Lakeside Lodge is a great option. This hotel sits right on the water with views out over the lake. The dock makes it easy to jump in the water or rent a kayak or canoe and to take out. Explore the cider tasting the area is known for, or go horseback riding during the day, and return to the lodge to relax in the hot tub in the evening.
Staying in Chelan is great if you want access to dining, activities, and the greater Chelan area to explore. Go hiking one day and wine tasting the next. If you're looking for a lake-view hotel on Lake Chelan, the Chelan Lakeside Lodge would make a great hub for your Lake Chelan vacation.
Stehekin
Taking a trip to Stehekin is a North Cascades rite of passage, and it's a great vacation for Washingtonians and visitors alike. There are a few options for lodging in Stehekin, including the North Cascades Lodge, and various privately owned cabins available for rent. There are also several campgrounds in the Stehekin area. Remember, there are no roads to Stehekin so if you want to visit this beautiful area, you will need to boat in or hike in.
If planning a trip to Stehekin feels overwhelming, Wildland Trekking's Stehekin trip offers a great balance between wilderness and relaxation and is a great way to experience the area without stressful planning and dealing with reservations
What to do near Lake Chelan?
There are a seemingly endless amount of options for things to do near Lake Chelan. The coolest part of visiting Lake Chelan is that there's something for everyone. Not into getting dirty and roughing it? Great, there's wine tasting, golf, shopping in Chelan, and more. 
But Lake Chelan excels for people who love spending time outside, whether that's hiking, fishing, wildlife viewing, camping, kayaking, cross-country skiing, and so much more.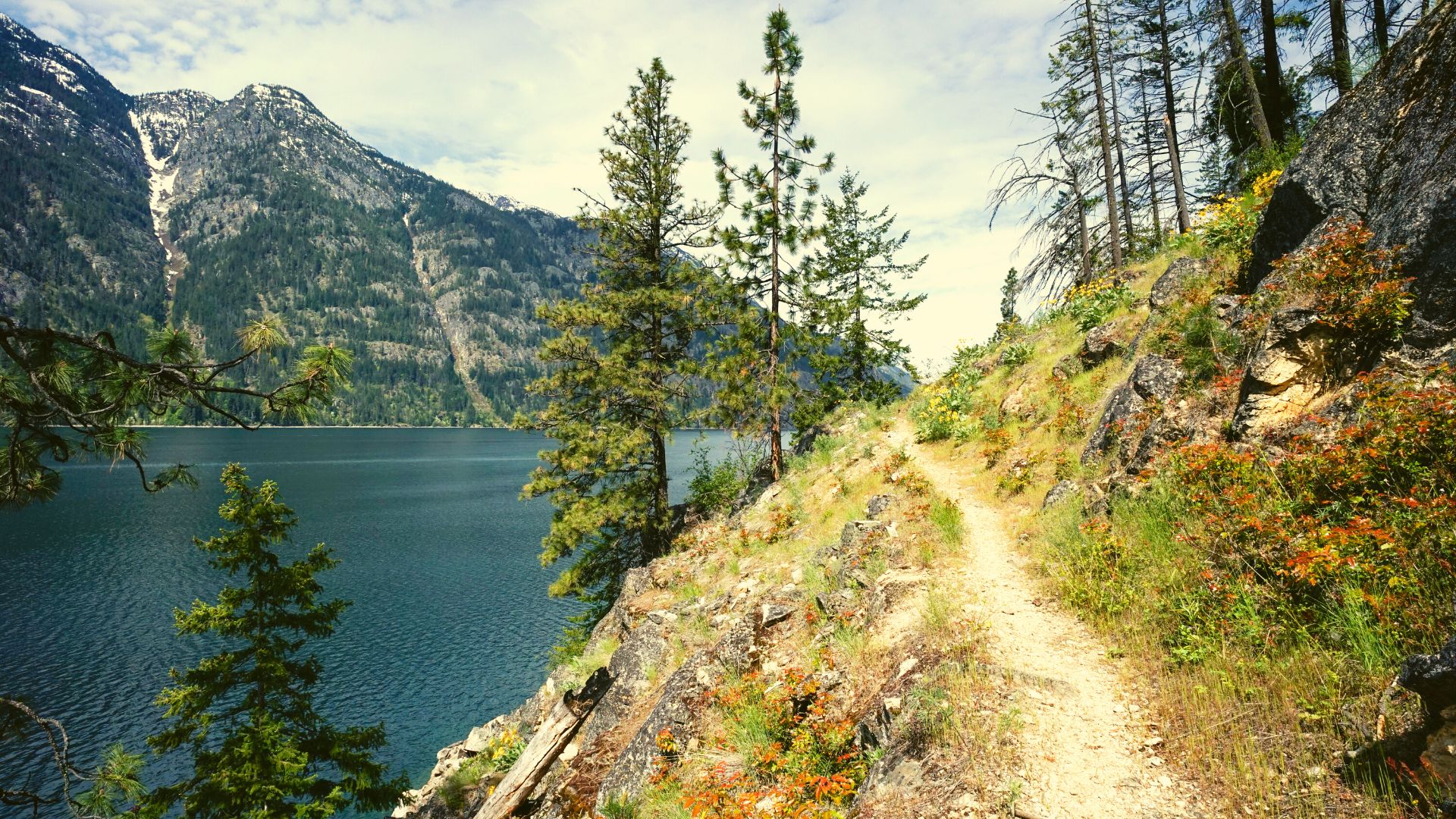 Hiking
Of course, we can't talk about things to do at Lake Chelan without mentioning hiking. Even around the town of Chelan, the hiking is beautiful and incredibly worthwhile. But by heading deeper into the North Cascades, the trails and views become some of the best in the Lower 48. 
If you love spending time in the mountains and aren't afraid of the miles and elevation gain, some of the longer day hikes around Lake Chelan and Stehekin are top-notch. Here are a few hiking ideas with options for all different distances, views, and locations.
This great (but big) day hike out of Stehekin is incredibly worthwhile if you're up for 15 miles and 5,700 feet of elevation gain! From the top of the pass, you'll be rewarded by views of the North Cascades and Lake Chelan stretching for miles. If you're up for a big day and itching to get in some elevation, this is a great option for a day hike out of Stehekin.
For something a bit more mellow in Stehekin, check out the river trail. This hike can be as long or as short as you want, but the full trail is 7+ miles round trip. This rambling hike takes you along the Stehekin river and various tributaries. With views of the valley and the peaks above Stehekin, this is a great option for a casual day outside. 
If you're staying in Chelan or anywhere near Lake Chelan State Park, the Little Bear trail is a good way to get outside and explore for a few hours. This short (2+ mile trail) makes a loop through ponderosa pine forests with views of Lake Chelan.
Chelan Butte is a moderate day hike near the town of Chelan that climbs to the top of Chelan Butte for beautiful expansive views over the south end of Lake Chelan and the surrounding area. Chelan Butte is also a popular spot for paragliders so keep your eyes peeled for parachutes!
Backpacking
The North Cascades have some of the best backpacking in the country, probably because many of the most beautiful areas lie so far away from any roads. If you're willing to put in the miles and carry your gear, the views, and experiences will reward you. From valleys to glaciers to peaks, there's so much beautiful terrain to explore in the North Cascades. 
While there are countless backpacking routes in the Lake Chelan area, here are a couple that we love to recommend.
We've already expressed plenty of love for Stehekin, but hiking there is a whole 'nother level. Not only do you get to spend a couple of days hiking through beautiful landscapes, but once you're done you can chill in a cute little village, eat some delicious baked goods at the Stehekin Pastry company, and spend your days swimming in Lake Chelan. It's a great experience. 
One of the top backpacking routes in the North Cascades, Cascade Pass, and Sahale glacier is incredibly worth the effort. With alpine meadows teeming with wildflowers, rocky peaks galore, and glaciers blanketing the mountains, the views on this hike are like no other. 
If you are planning this trip yourself, backcountry permits are needed to camp in North Cascades National Park. Permits for the Cascade Pass area are available on a first-come, first-serve basis at the ranger station in Marblemount, and permits for this area are very popular so get there early to increase your chances of getting one. 
If planning this trip yourself seems overwhelming, Wildland Trekking offers a backpacking trip to Cascade Pass and Sahale Glacier to take all the planning and stress out of your experience.
Scrambling/Mountaineering
There is a plethora of scrambling and mountaineering around Lake Chelan, much of which is more than a day's (or a very long day's) hike from a trailhead. If you're interested in scrambling or mountaineering, make sure that you have the proper education and gear to make it as safe as possible. Many local guiding companies have programs that teach glacier travel and rescue or can guide many of the peaks around the North Cascades and Lake Chelan. If you don't have the proper experience and gear, hiring a guide can be a great way to explore the mountains. 
Water Sports 
Of course, being a large body of water, Lake Chelan has plenty of water-related recreation opportunities. From boating and jet skiing to canoeing and kayaking, you could spend days on the water of Lake Chelan and never get bored. Rent a paddleboard from a local shop, or just jump in and swim, there are endless ways to spend time on the water. 
Multi-day boat trips, whether in a motor boat or human-powered one, are a great way to extend your time on the water and have a unique backcountry experience at any of the boat-in-only campsites around the lake. However you decide to do it, Lake Chelan is a water lover's paradise, surrounded by mountains.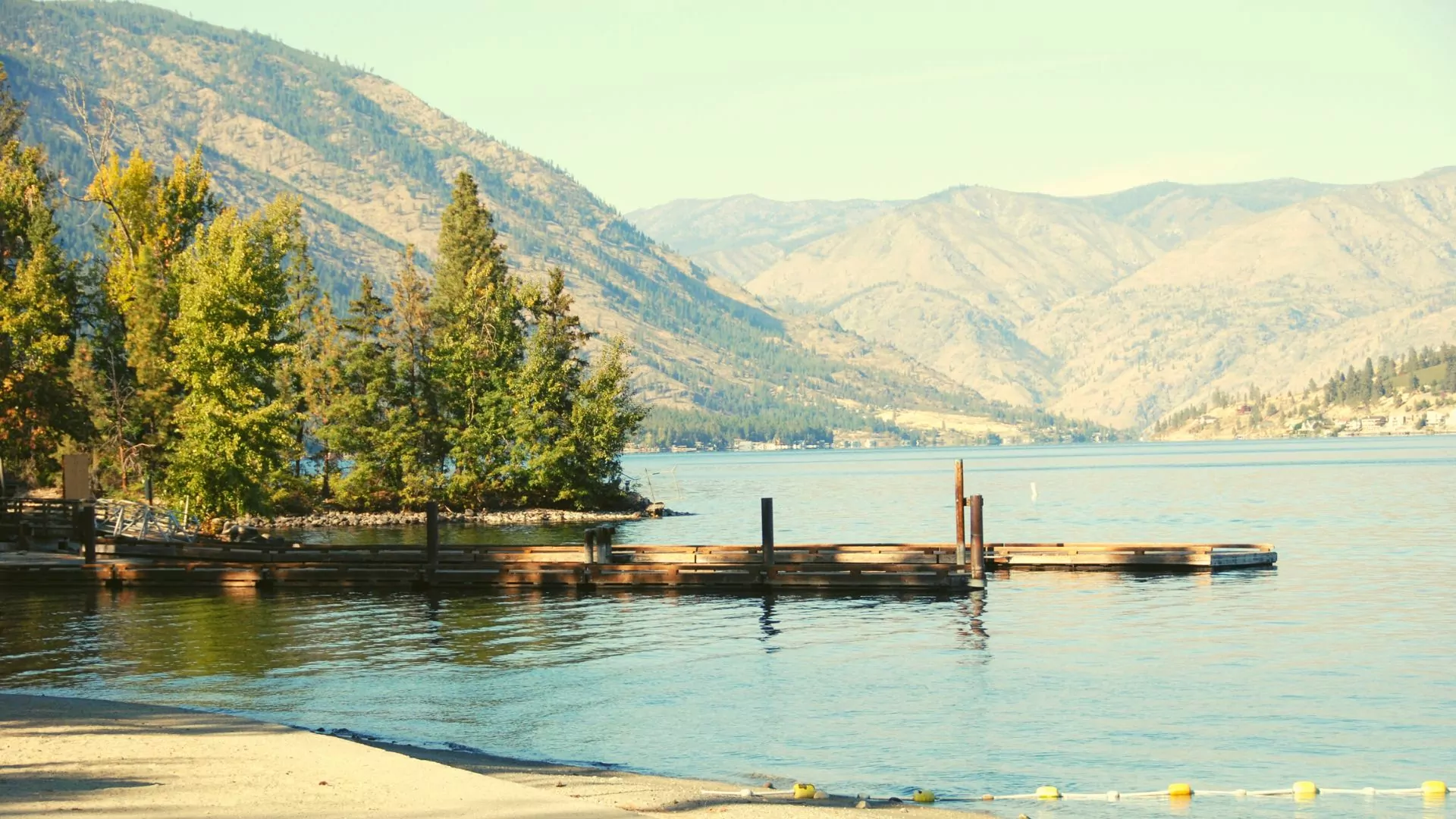 Visit Lake Chelan!
Whether you're visiting Washington from out of state, or you're looking for a break from work and a nearby vacation, Lake Chelan is loved by out-of-towners and locals alike. There are many ways to appreciate the beauty of the lake and surrounding area, from hiking and horseback riding to boats and paddleboards.
The variety of landscapes that you can explore around ranges from high-elevation jagged peaks to sagebrush-covered buttes. Stay in the town of Chelan, in the roadless village of Stehekin, or one of the many boat-in campsites around the lake. There's an experience for everyone at Lake Chelan.