4 Things We Love About Death Valley National Park
Without a doubt, the name Death Valley has deterred some from visiting the lower-48's largest National Park. Infamous among the general public for its scorching summer temperatures and arid environment, Death Valley is known among savvier travelers for its remarkable ecological diversity, rich human history, and prime location between California and Nevada. More than a desert, Death Valley encompasses a wide range of variety within its 3 million acres, including snow-capped peaks, endemic species, and slot canyons galore. 
The Wildland Trekking Company are long-time fans. For a guided hiking or backpacking experience, look no further. Wildland offers a variety of trips to this amazing National Park. While Death Valley has lots to love, this piece breaks them down into four categories worth your attention and affection. 
1. Ecological Diversity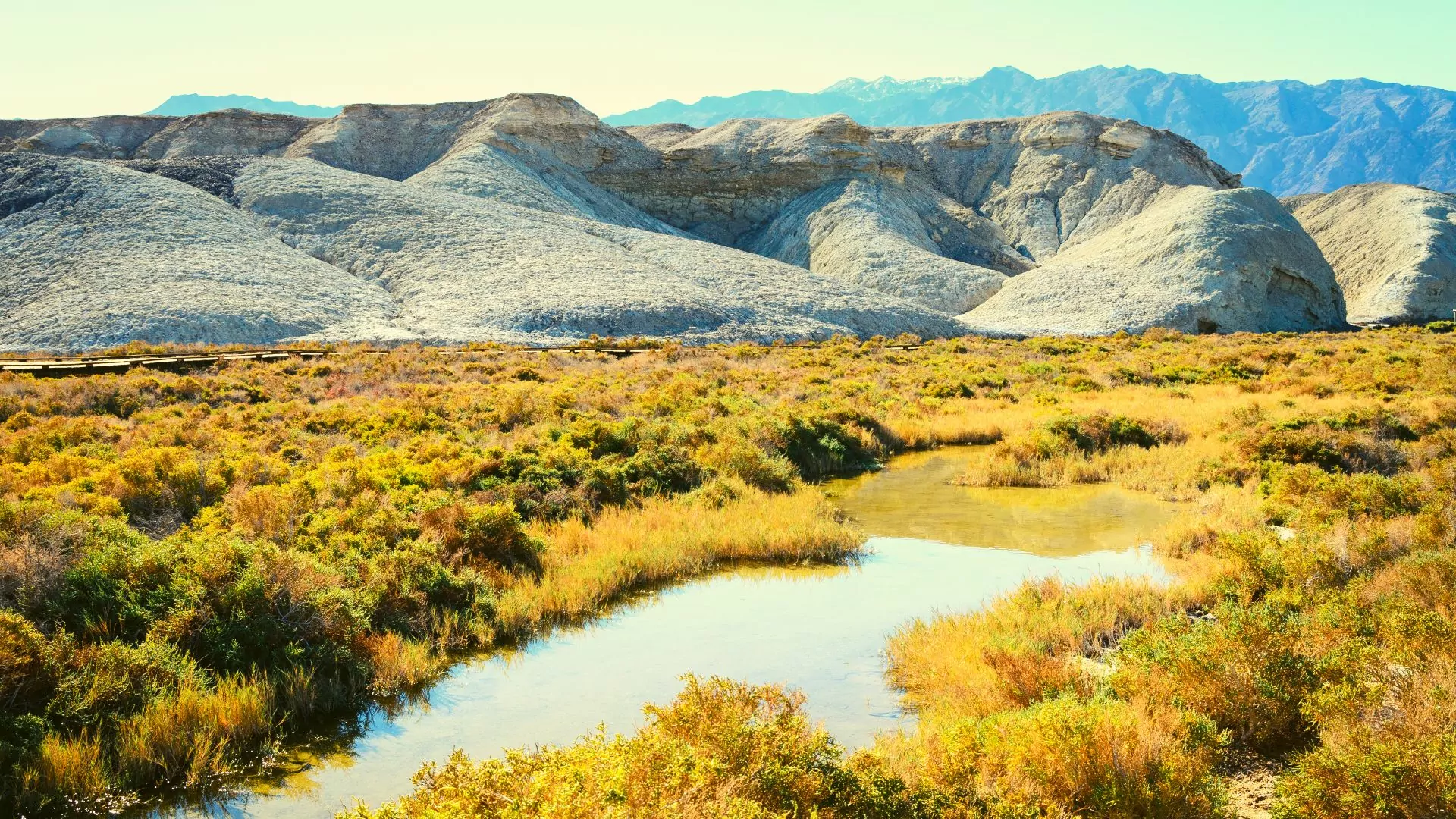 For a park misunderstood as an endless, homogenous wasteland, Death Valley has a surprising array of distinct ecosystems and wildly contrasting animal and plant life. Perhaps Death Valley's best known attraction are the Salt Flats at Badwater Basin, which sitting at 282 feet below sea level, mark the lowest point in the western hemisphere. But did you know that the park's highest mountain, Telescope Peak, caps out at 11,049 feet just 12 air miles to the east? In fact, Death Valley National Park is one of the only places on earth where you can both throw an icy snowball and catch a summery swelter in the same afternoon. Because the 156-mile long valley formed between two fault block mountain ranges, the park boasts huge swings in elevation and habitat that allow visitors to climb up mountains or descend to desert dunes, rugged canyons, and wildflower studded meadows, all in the span of a couple hours. 
If you're up for an absolutely unique sightseeing adventure, you can drive up to Dante's Point overlooking Badwater Basin. On clear days, you can just make out the Eastern Sierra Nevada Mountains and towering above them all, Mount Whitney, the highest peak in the lower 48 states. Death Valley is the only place you can see both the lowest and highest places in the continental United States at the same time. 
Perhaps living up to its stereotypes, Death Valley is known for the world's hottest recorded temperature, 134° Fahrenheit, observed in 1913 at Furnace Creek Ranch. However, Death Valley National Park also experiences extreme cold. The park's mountains get snow every year, but the coldest recorded temperature in the park was actually recorded at the same location as its hottest: Furnace Creek. It registered at a frigid 15° Fahrenheit. 
In addition to its unique geological form, Death Valley also boasts an array of ecological habitats. The plants and animals that have adapted to live here are some of the hardiest on earth and represent a huge spectrum of species. 
At some of the highest elevations, visitors can see desert bighorn sheep that can go days without drinking water, only to consume gallons at a time when it is available. The park also has bristlecone pine trees at its higher elevations, some of the oldest living organisms on earth. Descending a couple thousand feet will bring visitors to Joshua trees, which only grow in an elevation range around 2,000 ft, as well as pinyon and juniper trees and sub-alpine limber pine forests.
Once in the lower elevations of Death Valley, the flora and fauna begins to resemble more desert life. Coyotes chase jack rabbits across the dunes at night, the distinctive whirling track of the sidewinder snake is visible in the sand. Lucky guests might even see a desert tortoise which can spend up to nine months of the year underground, escaping both the intense heat and biting cold. 
In the spring, wildflowers begin to appear. Certain areas of the park can experience "superblooms" under the right conditions, bringing the arid landscape colorfully to life. The saltpan, as the area surrounding Badwater Basin is called, is devoid of most plants and animals, but a few persistent species still thrive here. In the various small, saline pools near the basin, the badwater snail makes its home. This snail has a shell height that is measured in millimeters, but is found nowhere else on the planet. Another endemic (found nowhere else) and critically endangered species is the Devil's Hole pupfish. Only about an inch long, this iridescent blue fish survives in 93° F water with very little oxygen. It only lives in the waters of the underground cavern Devil's Hole. 
And we haven't even mentioned Death Valley's lush oases (few though they may be), home to various amphibians and small mammals that rely on the ever present water to survive.
2. Rich Human History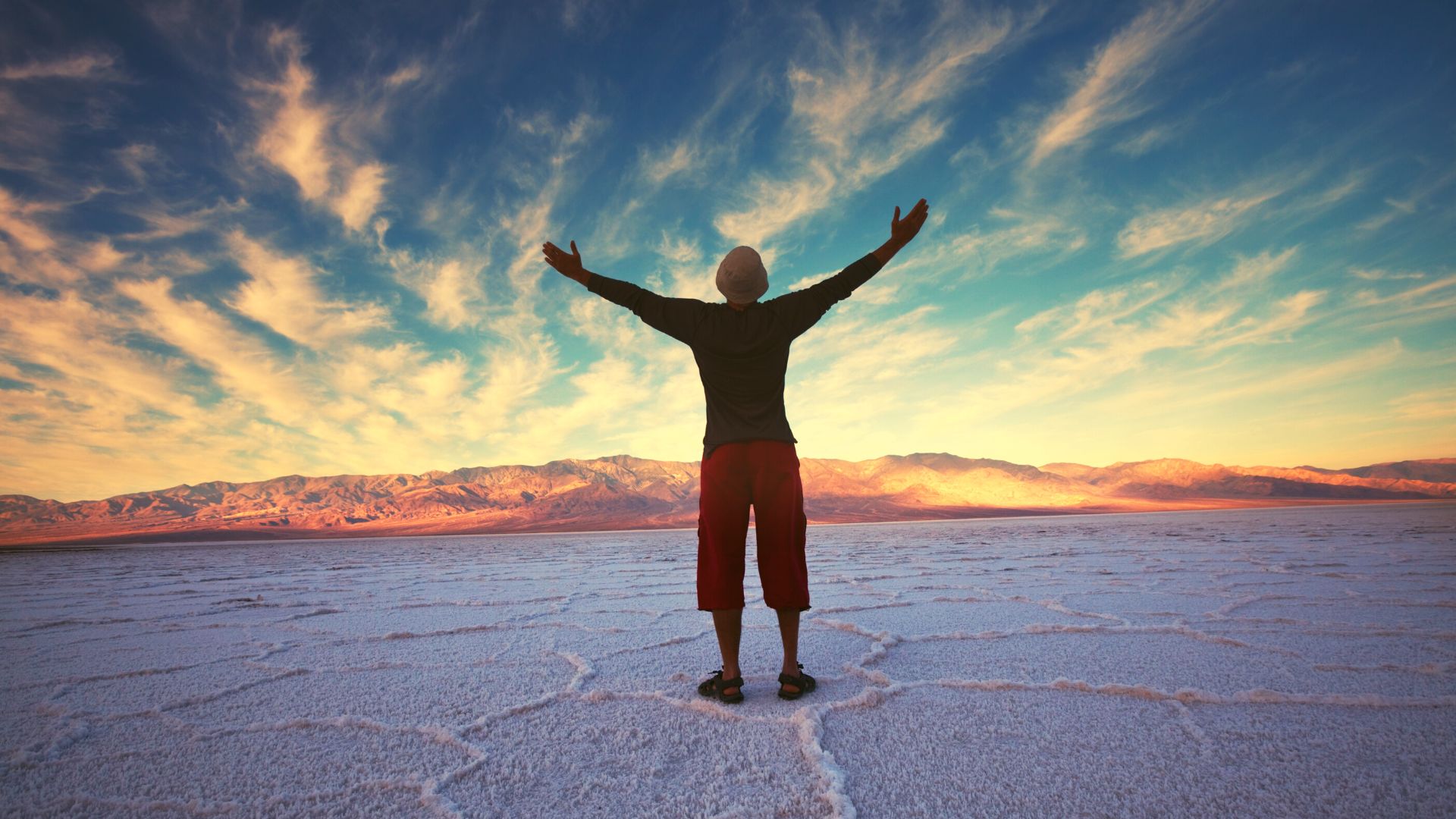 It isn't just that there's over 5,000 square miles to roam. It's what you can find here that makes Death Valley National Park a truly magical place to explore. A wealth of human history lives in this park besides the natural and ecological wonders that make this area so diverse. 
Native Americans dwelt in this valley for centuries before prospectors and miners arrived. The Timbisha Shoshone tribe lived in the valley during the winter but moved to the mountains in the summer to avoid the heat and gather pinyon pine nuts and mesquite beans as the seasons changed. Centuries old petroglyphs from various indigenous inhabitants dot canyons walls that visitors can hike through on their own or on guided tours and backpacking trips. Little is known about who made this rock art or what it means, but it is nevertheless a valuable experience to see and appreciate it. 
In 1849, a group of pioneers searching for a shortcut to the goldfields of California gave the valley its name, despite the fact that only one of their party died there. All the men in this group of 49ers assumed that they would die in the valley, but they were rescued by two of their young men, William Lewis Manly and John Rogers, sent out as scouts. This story of the lost 49ers has become part of the heritage of the Old West and is a pivotal pillar in the history and naming of the park. Climbing over the mountains to leave, one of the party was allegedly heard to say "Goodbye, Death Valley." 
The name stuck even when tourism began to become popular in the early 1920s, and resorts were built around Furnace Creek and Stovepipe Wells. Some prospectors came to the valley looking for gold, causing the eruption of a few boom towns, but the mining industry was met with borax as the only lucrative export. It was carried out of the valley by 20 mule teams that crossed the desert to areas where the borax could be sold. Some of these towns remain as ghost towns visitors can still see.
In 1933, Death Valley was established as a national monument and later, in 1994, expanded and declared a National Park.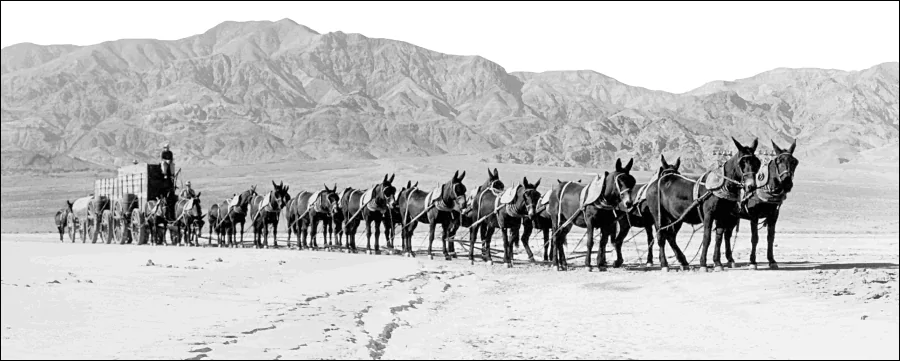 Iconographic Twenty Mule Team hauling an improbable 10-ton load of Borax some 165 miles across the desert.
3. Ease of Access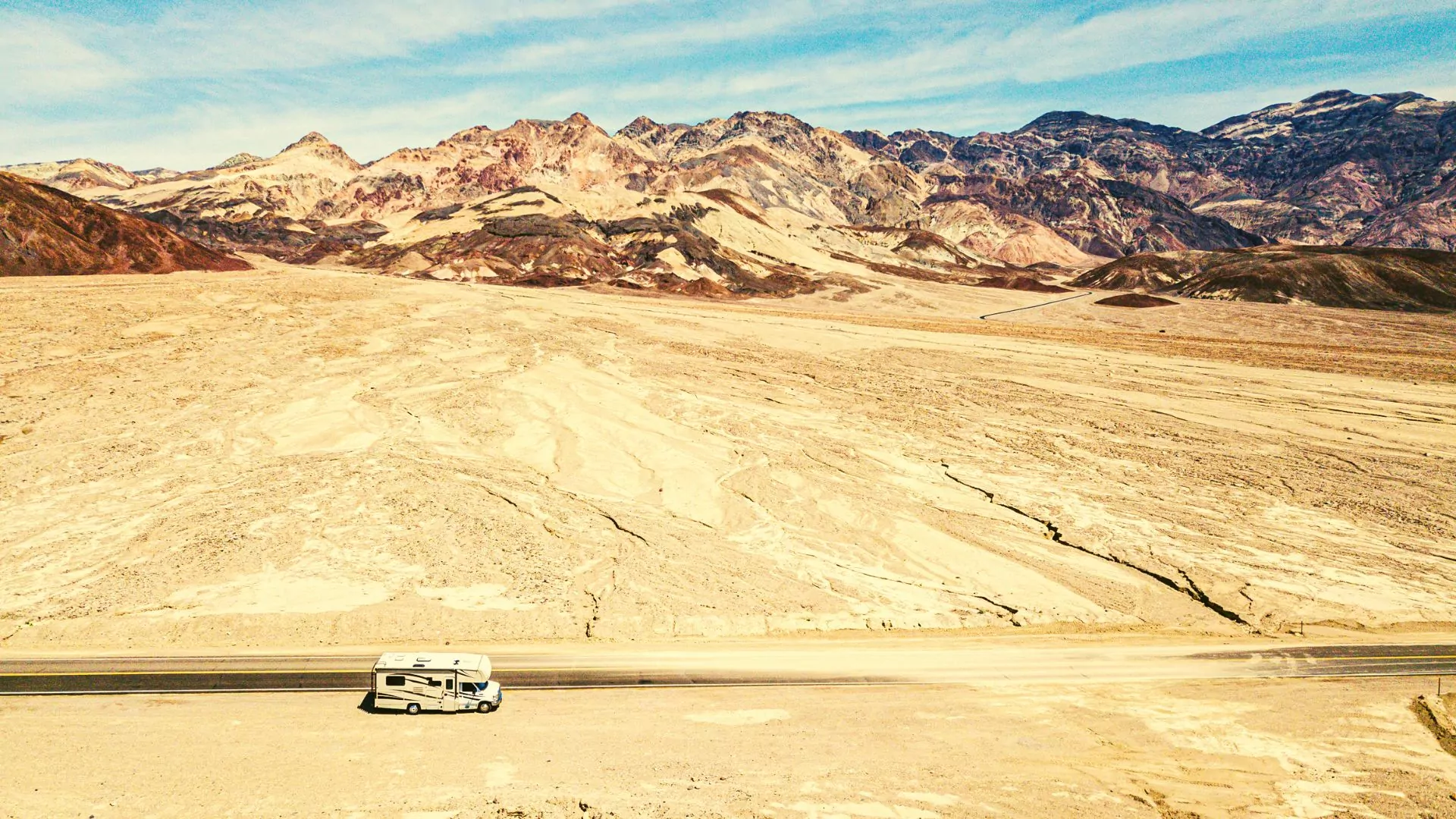 Death Valley presents a strange combination of remoteness and accessibility. This vast landscape is secluded away from metropolitan and urban areas and yet is just two hours drive from Las Vegas, NV, or 4.5 hours from Los Angeles, CA. The park is located along the eastern edge of south-central California with a small section protruding into Nevada. It is easily accessible from the CA side with a short jaunt east off of Highway 395 running along the Eastern Sierras. From the NV side, visitors can take Highway 95 north from Las Vegas to reach the park. There are multiple park access points, the two major options being from the east (NV) or the west (CA). 
And yet, despite the many ways to access the park, Death Valley still feels– and is– a remote wilderness. Cell service is scarce throughout the park, roads stretch for hours without passing a ranger station or town, and the skies at night devoid of light pollution are brilliant with stars. 
There are also many ways to enjoy staying in the park, whether your preference is to camp or to relax in a luxurious resort. The latter accommodations are available at the Oasis at Death Valley, a resort in the northern section of the park on the California side. Two hotels are found at this property depending on your taste: the Four Diamond Inn offers a serene and peaceful experience while the Ranch at Death Valley gives a more energetic scene straight out of a western movie (with modern conveniences, of course). Exploring Death Valley while staying at a hotel can provide a wonderful mix of luxury and immersing yourself in this wild landscape. 
Camping in Death Valley is also available. There are seven developed campgrounds in the park that both take reservations and walk ups. Setting up at a base camp and exploring from there can be a great way to experience Death Valley on your own or with a group. There are also a number of primitive campgrounds that visitors can drive to on dirt roads. Adventurous visitors might choose to backpack in the park and get further out into the wilderness. There are many backpacking trails and routes to follow, but you might consider going with a guide first to familiarize yourself with the desert environment. 
As the largest park in the lower 48 states, Death Valley can take days to explore, so food and a place to fill up your car are essential. These services are somewhat limited in the park and require careful planning. Gas is available inside the park at Panamint Springs, Stovepipe Wells, and Furnace Creek. The only grocery store is Ranch's General Store at The Oasis at Death Valley that has a small selection of food and souvenirs. There are also several restaurant options available in the park from the dining rooms at the hotels to Indian tacos and shaved ice.
4. Winter Escape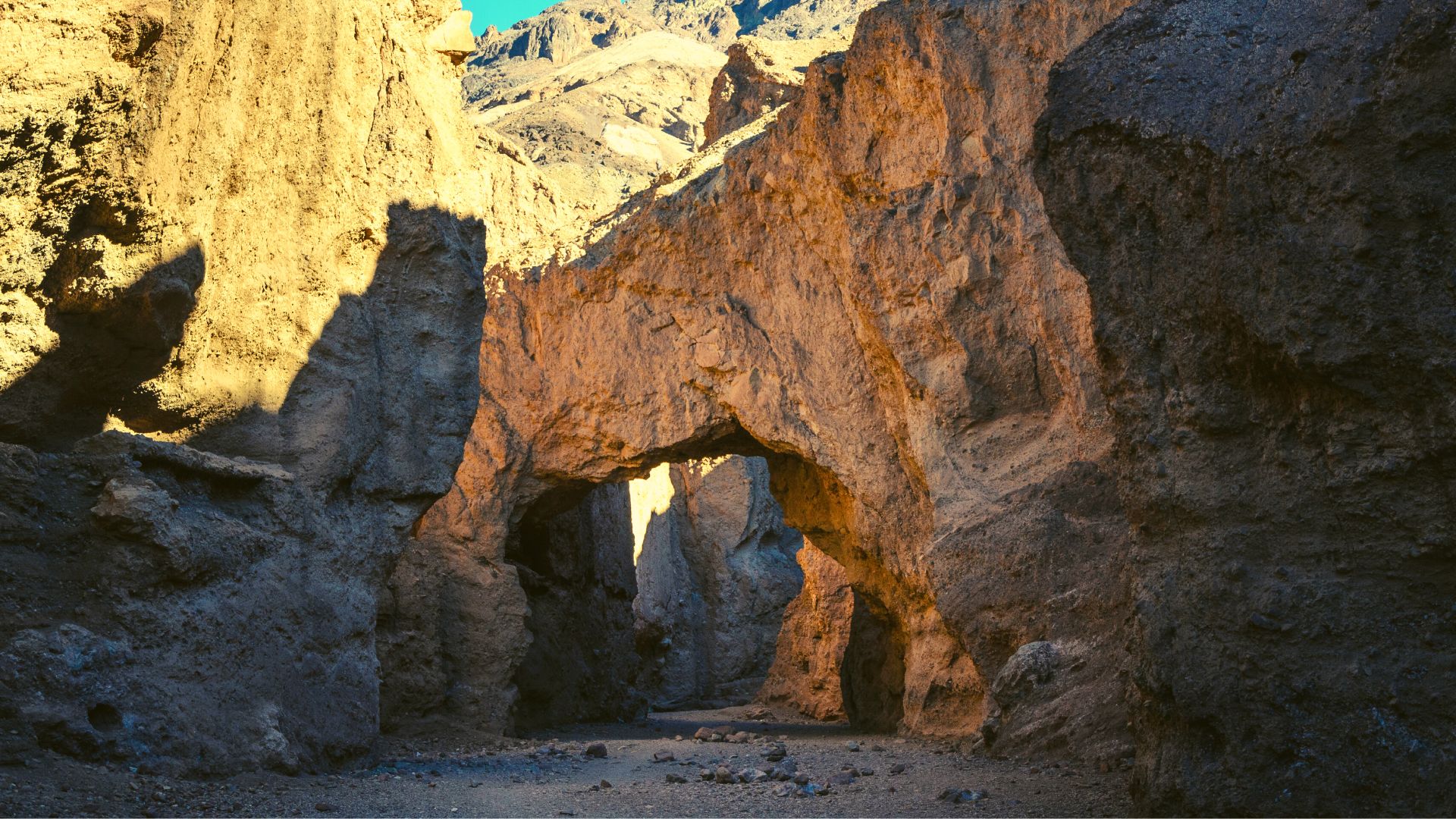 While many of our other favorite backpacks are buried in snow all winter, prime season at Death Valley is just hitting full swing. Winter is one of the best times of the year to visit the park as December temperatures typically warm up to 60s during the day with lots of sun. You will need to be prepared for colder nights in the upper 30s if visiting in winter, but overall the park is an excellent destination to escape cold elsewhere. Winter is also a great time to avoid the crowds that arrive in the fall and spring "shoulder seasons" with the period between Thanksgiving and Christmas marking some of the lowest visitor numbers all year. Do note however, that some of the roads to higher elevations, such as the access road to Telescope Peak, will likely be closed. If you'd like to visit the park in winter, but don't want to hassle with permits and logistics, Wildland Trekking offers a variety of backpacking and basecamp trips during this time each year. Experience all this desert paradise has to offer with a curated itinerary and professional guide. 
While winter is arguably the best time to visit Death Valley, spring and fall also have their perks. Many years, spring brings wildflower blooms to the park that attract thousands of visitors. Fall is a slower time of the year, but the weather remains warm and typically dry. Fall is also when camping season picks back up after the sweltering summer months. 
Most are aware of Death Valley's #1 deterrent in the summer: the heat. Summer isn't all bad, however, and for many visitors it is the only time they can manage to visit. If you have to visit Death Valley in the summer consider hiking in higher elevations, and hitting the trails early. Trails at higher elevations will have cooler temperatures than those on the valley floor, and early starts in the a.m. with rests inside during the afternoon heat, are a couple strategies for managing the weather. Consider taking a scenic drive to observe the park from an air conditioned vehicle and remember anytime you are venturing outside to take proper precautions around sun protection and water consumption.
Due to the arid landscape, Death is prone to flash floods even with very little rainfall. In the summer of 2022, what has become known as the DEVA Deluge created massive flash flooding that caused huge damage. At the time of writing, the Northern entrance from the East on Highway 95 remains closed due to damage from flooding. Check the national park's website for current updates.