Explore The Lost Coast With Wildland Trekking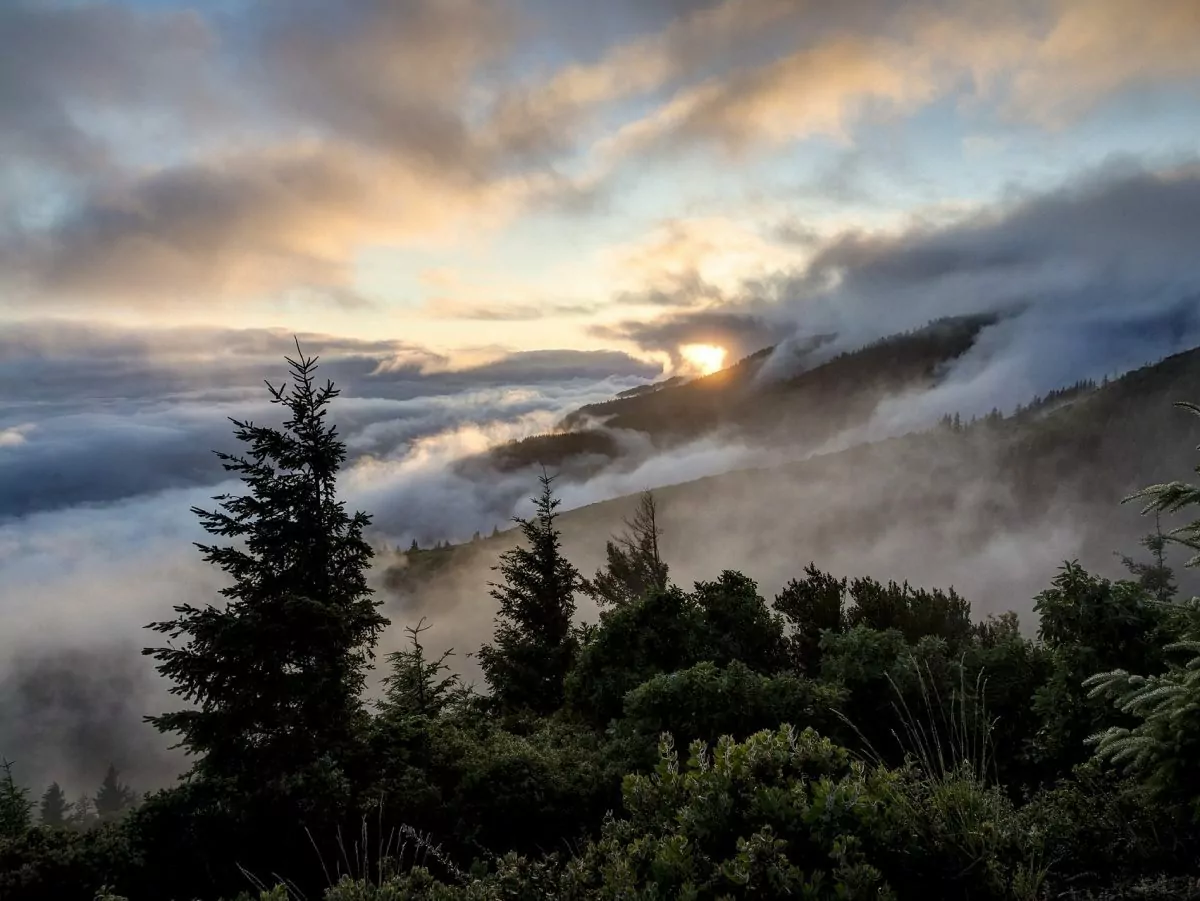 California is often synonymous with white sand beaches, sunshine, and movie stars. Still, it only takes a little bit of digging to recognize that The Golden State is much more than what Hollywood movies or the catchall tourism promotions portray.
If you know where to look, there are pockets of rugged wilderness and pristine landscape up and down the Pacific Coast, and perhaps no stretch of coastal California is more remarkable than The Lost Coast. This 25-mile stretch of shoreline is as remote as any you will find in the contiguous United States and offers the perfect escape from the crowds, heat, and traffic elsewhere in the state.
The Lost Coast is within both Humboldt and Mendocino Counties and earned its name following a significant population exodus in the 1930s. State Highway 101 runs along nearly the entire California seaboard – that is, until it hits The Lost Coast. Here, the jagged coastal King Range meets the ocean and made for an unsurpassable obstacle during the highway's construction in the early 20th century.
The lack of a major highway system has allowed natural beauty and quaint isolated communities on the outskirts of this region to thrive. Visitors flock here each season to marvel at the untouched shoreline, gaze in wonder as the mountains meet the sea, and cherish an individualized coastal wilderness experience. The only way to truly experience the magic and wonder of The Lost Coast is by foot, and for that, Wildland Trekking's five-day expedition can't be beaten.
When to Go
If you have spent any significant time on any coast, you know that the weather can be extreme and unpredictable. Wind, rain, and fog can be common occurrences when exploring shoreline at the more northern latitudes.
On The Lost Coast, the weather can be as demanding as the terrain itself, depending on when you choose to go. On the plus side, the Pacific Ocean itself helps create a temperate climate year-round – keeping temperatures relatively comfortable for camping all months of the year.
The summer months tend to be the most pleasant in terms of weather, but these months also generally see the most visitors. Regardless of when you choose to explore The Lost Coast, be sure to check forecasts and historical weather patterns to pack appropriately and guarantee comfort on the trail.
High Season
May to October is considered the high season on The Lost Coast. During these months, visitors can expect less rain and high daily temperatures averaging in the upper 60s or low 70s (Fahrenheit). Evening low temperatures could drop into the upper 40s or low 50s – making tent camping cool but pleasant.
The drier conditions of the summer months mean trails are in their best shape. In 2017, the King Range Wilderness Area started to require permits for overnight camping, which helped keep visitor numbers in check.
Shoulder Season
Shoulder season in Northern California can be identified as late September to mid-November and March into May. During these months, you can catch some good weather windows before or after the winter squalls hit, and simultaneously avoid the crowds coming into the region in the summer.
Shoulder season is a magical time of year for those working seasonal jobs across the country. During these months, on either side of a busy season, their bustling little tourist towns become quaint communities occupied mostly by locals. If timed right, the shoulder season can be an incredible time to travel anywhere, and The Lost Coast is no exception.
Low Season
The winter months from December to late February are considered the off-season on The Lost Coast, but with the right timing and a little bit of luck, this can be a great time to secure some valuable time in the wilderness.
High temperatures will rarely break 60 degrees Fahrenheit, and lows typically drop into the mid-40s. While these temperatures are pleasant, the winter months also bring the heaviest rain to the area. The Lost Coast sees an average of over 60-inches of rain during the winter. It is also not uncommon for precipitation to couple with harsh winds and big ocean swells in the winter.
If booking a backpacking trip in the off-season, expect parts of the trail to be hard to cross with streams and creeks being completely swollen. Dry bags, warm layers, and an extra dose of perseverance are essential if hoping to visit The Lost Coast in the winter.
In the winter months, accommodation is generally cheaper, but many summer attractions will likely be closed.
Deeper Dive: More About When to Visit

Climate

The climate of The Lost Coast is generally temperate, but it is also one of those fun places where you can experience multiple seasons over the course of a single day. At its core, though, The Lost Coast sees a dry season and a wet season loosely defined by summer and winter, respectively.

King Range rises from the ocean to the east and gets saturated with moisture from ocean storms. This mountain and ocean meeting creates one of the wettest stretches of coastal California, typically averaging over one hundred inches of rain each year. Snow is rare, but it can fall at elevation during the colder winter months.

Tides

While not technically weather, the tidal exchange on The Lost Coast will have as much of an impact on your trip as a little rainstorm. On the trail, there are three sections that you cannot hike when it is high tide. So, planning your trip around the tides is essential. Two of these stretches of trail are four miles long, so lousy timing could lead to some severe scenarios.

That said, reading tide charts is quite interesting, and your experienced Wildland Trekking guides are there for a reason. When examining the tidal exchange, seas below the 1.5 to 3-foot range make the suspect sections of trail accessible to most hikers, but this does vary with the wave conditions. If you are a little more agile, you can push these limits a bit further, but additional hazards such as waves, slippery rocks, or losing the trail should be mitigated whenever possible.

It is most desirable to hit these three risky sections at the lowest feasible tide. That will make more of the beach accessible and easy to walk, which can speed up your overall pace.

Trip Dates

We schedule our adventures well in advance. Therefore, take a look at our Trip Dates Page, select the month you wish to visit, and see if there are any trips planned. If you don't see what you're looking for, feel free to call us about the possibility of adding new trips to our schedule.

Weather Information

Because there is so much variability in the weather and this region is so demanding as far as terrain is concerned, you must check the weather before your adventure. Even once you've selected a time of year to go, in a particular season, one week can change drastically from the next.

Before departing, double-check the most recent forecast and adjust your packing accordingly. Maybe you can ditch that extra raincoat, or perhaps you should throw rain pants and gaiters into your pack.

Packing for the Weather

Like all of our expedition trips, packing smart is essential. In climates like The Lost Coast, thoughtful packing is especially important. Weather forecasts will help inform your decisions as should the desired weight of your pack and pace you hope to be hiking.

Additionally, in climates where the weather can change on a dime, you should pack your backpack to allow you easy access to essential items. Keep rain gear in an accessible spot in case a storm kicks up in the middle of the day's hike, always have snacks and water available and ready, bring a change of shoes for creek crossings or if the tide does come up on you, and don't forget a camera!

In The Lost Coast, dry bags are also worth their weight in gold as they provide an added level of protection in the elements.
Trip Styles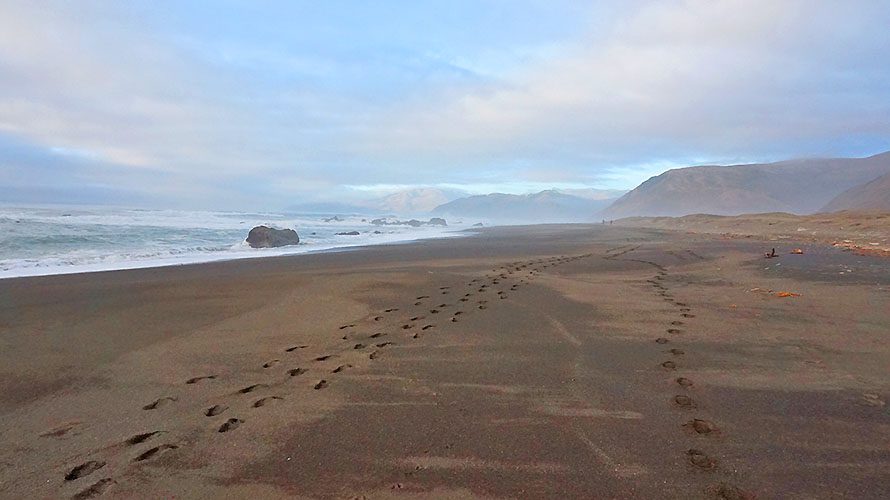 Wildland Trekking offers only one way to experience the magic of The Lost Coast, by backpacking. But trust us, there is no better way to explore this incredible landscape than spending several days seeing and experiencing everything the region has to offer! Our trek will take us from dune grass to fascinating tidal zones, and even provide the opportunity to view the historical Punta Gorda Lighthouse. Wildland Trekking's 5-day Lost Coast Trek gives you enough time to soak in everything there is to see in one of the most beautiful regions of California.
Deeper Dive: Our Top Trip

Lost Coast Backpacking Trip – The Best Way To Explore!

To truly see what The Lost Coast is all about, you need to put boots on the trail and spend a few nights out in the backcountry. That's what our Lost Coast Backpacking Trip is for! See and experience everything that makes this particular stretch of coast so unique and rugged and enjoy cozy camp meals, fascinating local information, and minimal planning as our guides handle all the logistics.

Itinerary

It is always our goal to stick to the planned itinerary, but, as is the case with travel, there are sometimes surprises you need to navigate. Below is a sample 5 day Lost Coast Trek itinerary. While the 25-mile trail stays the same, keep in mind that things such as tides, permits, and the weather could change the day to day plans.

Day 1

On Day 1, we will wake up early in Sacramento and make the 4.5-hour drive to the Black Sands Beach trailhead. From there, a private shuttle driver will bump us up to the Northern trailhead, and we will camp on the beach near the trailhead anxiously awaiting the real start of our adventure on Day 2.

While we won't be backpacking on Day 1, there is considerable travel involved, which allows us to get a jumpstart on the trek starting the following morning and enjoy a peaceful night on the coast.

Day 2

Day 2 marks our first day of the trek. We will plan to cover just shy of 7 miles on the ground on the Lost Coast Trail. After meandering through dune grass for a couple of miles, we will hit the first tidal zone – one of the three parts of the trail outlined above that cannot be hiked at high tide.

We will time our morning departure on catching this ½ stretch of beach at low tide and will emerge at the Punta Gorda Lighthouse on the other side. This coastal relic was first lit in 1912 and was fully operational until the 1950s. After passing Punta Gorda, we will reach Sea Lion Gulch and need to climb 200 feet up the cliffs, as they are too steep to navigate at sea level.

Two more miles down the trail, and we will reach a creekside camp overlooking the majestic Pacific Ocean.

Day 3

This is our longest hiking day, as we will aim to cover just shy of 10 miles. Right off the bat, we will encounter the second of three intertidal zones of the trek – this one stretching for 2 miles.

Again, timing is of the essence here as it is only possible to navigate this cobblestone section of the beach at low tide. Once we've safely beat the tide to the other side, we'll continue a bit further before winding up a forested hill with excellent views of distant King Range peaks. We will then drop down the backside, hit refresh at a beautiful creek, and continue a short few miles to this evening's camp.

Day 4

On Day 4, we will officially be over the hump, with most of the trek behind us and only 6.7 miles to hike today. Again, we will need to time our morning's departure with the tides. There is a section of trail this morning that is only accessible at low tide, as it skirts the cliff bands rising straight out of the sea.

We will exercise extra caution here by paying attention to swell and waves as we carefully navigate what many people think is the most spectacular section of the Lost Coast Trail. Four miles in the beach reemerges, and we can peacefully enjoy our stroll at high or low tide.

Our final campsite will be near Horse Mountain Creek – a perfect place to soak up the beauty and remoteness of The Lost Coast.

Day 5

After all we have done and seen, Day 5 of this trek will be a breeze. We are only about 1.8 miles from the Black Sands Beach trailhead, and a casual pace over the beaches and through the last few wooded hillsides will bring us toward Shelter Cove and our shuttle. Here, we'll enjoy our last oceanside meal before heading back inland toward Sacramento, reminiscing about an epic adventure on the California Coast.

Solitude

Wildland Trekking uses a five-point scale to rate the level of solitude participants can expect on any trip – a five being the most remote. Using this system, we have rated the Lost Coast Trek as a 4.

Given the remoteness of this stretch of coastline and the new permitting requirements, trekkers can expect to encounter no more than a couple of other groups on the trail during their five days out in the wilderness. The Lost Coast is an incredibly special place for many reasons, and the serenity of having it almost all to yourself is certainly one of them.

Learn more and book your Lost Coast backpacking adventure today! 
Need to Know
Our professional team does an excellent job of handling all trip logistics. However, there are still a few points we need to cover to make sure you're adventure goes as smoothly as possible.
Primary Starting City For The Lost Coast
The primary departure location for this trip is Sacramento, CA, and participants should plan on arriving no later than the day before departure. As with all travel, though, it is helpful to give a little bit of a buffer to shake any jet lag, settle, and account for any unforeseen circumstances.
On the evening before the trip departs, your guide will hold an orientation meeting at the Hampton Inn & Suites Sacramento-Airport-Natomas, and we will leave from here on the day of departure. Logistically, it makes the most sense to stay here for any nights spent in Sacramento.
During orientation, your guide will inform the group of the departure time for the following morning. At the end of the trek, we will drop you back off at this same hotel. Like your arrival, it is helpful to stay an extra night at the end of your trek to account for any unpredictable circumstances.
Booking Advice
Our trips tend to fill up very quickly, so make sure you book far and advance to ensure you get the trip dates you want! Also, please book your trip with us first and hold off on paying for transportation and lodging until we confirm your reservation with us. Once your trip is confirmed, you're all clear to plow ahead with your travel arrangements.
Lodging
As mentioned, the Hampton Inn & Suites Sacramento-Airport-Natomas is our recommended lodging for before and after the Lost Coast Trek.
We will be camping for four nights in the beautiful and pristine wilderness of the California coast during the trek. Wildland Trekking will provide industry best tents, sleeping pads, and sleeping bags. Additionally, a technical pack and trekking poles are included, as we will be moving camp every day.
Finally, all entrance fees and permits are covered by the organization as are meals from breakfast on Day 1 to lunch on Day 5.
Transportation
One of the many great things of our Lost Coast Trek is that transportation is mostly human-powered and self-sufficient. During the trip, we will be hiking every day. We will be traveling via shuttle to access the trailhead on Day 1 and to return to Sacramento on Day 5. The cost of this shuttle is included in the trip cost.
The only transportation cost you are responsible for is how you choose to get into and out of Sacramento.
Deeper Dive: More Need to Know Info

Trip Insurance

It is always a good idea to purchase trip insurance. While we pride ourselves on the safety and flexibility of all of our itineraries, the simple act of traveling has an inherent risk and unpredictability. The last thing you want is for something to happen that jeopardizes your safety or adventure.

We offer a few travel insurance packages meant to cover any of the most likely risks of the Lost Coast Trek adventure. While we strive to avoid situations such as medical evacuations, natural disasters, extreme weather, or travel restrictions, our insurance plans are in place to remedy anything if the most unfortunate were to happen.

If you have travel insurance through your provider or an outside company, double-check what is covered, so you are guaranteed to be fully protected.

Packing List

Backpacking requires a good amount of gear, and Wildland Trekking will provide all big-ticket items for the Lost Coast Trek adventure. You will be given a top-of-the-line tent, sleeping pad, sleeping bag, and a technical backpack along with trekking poles. All food and cookware are also included.

You will need to bring your clothes, rain gear, and proper footwear in addition to any toiletries or personal items. You will also need your water bottle and headlamp/flashlight.

Meals

All meals will be provided on the Lost Coast Trek, starting with breakfast on Day 1 and ending with lunch on Day 5. While on the trail, each meal is carefully crafted to be healthy and include all essential carbohydrates, proteins, and fats to keep you energized in the wilderness.

We will eat well in the wild, and all of our meals are built around backcountry convenience. You can expect a wide variety of dishes made with rice, pasta, lentils, couscous, beans, prepackaged meats, oatmeal, granola, and more!

We always carry an all-encompassing spice kit for flavoring and additional butter, sugar, cheeses, fruits, veggies, and herbs to enhance our dining experience. There are always enough snacks to go around as well.

Finally, our guides are well equipped to handle all dietary restrictions or food allergies. Let us know these special dietary requirements upon registration, and we will build a menu that tastes great and keeps you healthy and energized for your five-day trek.

Conditioning

Wildland Trekking uses a five-point system to rate the difficulty of our trips, with a five being the most difficult. Using this scale, the Lost Coast Trek comes in at a 5. The metrics for this include a pack weight of 30 – 40 pounds and a distance of 4 – 9 miles covered every day on the trail. Additionally, trails in this category are generally less maintained or completely nonexistent.

The Lost Coast Trail itself earns a Level 5 on our scale as much of the hiking is on sandy beaches and up and over coastal ridgelines. This trip is particularly special given the dynamics of the tidal areas described above that sometimes require us to wake up early or move quickly.

As far as personal conditioning goes, participants that enjoy this trip the most are already active and healthy. Those that exercise a few times a week will do well. A familiarity with hiking for a few hours at a time, ideally with a heavy pack, is a major plus. Given the nature of this trail, participants can expect to be walking on sand and cobble beaches often. Those with weak joints and balance issues may have a harder time than others. It's never too late to start getting into backpacking shape, and if this trip sounds like something you may want to begin your training regimen today!
Gallery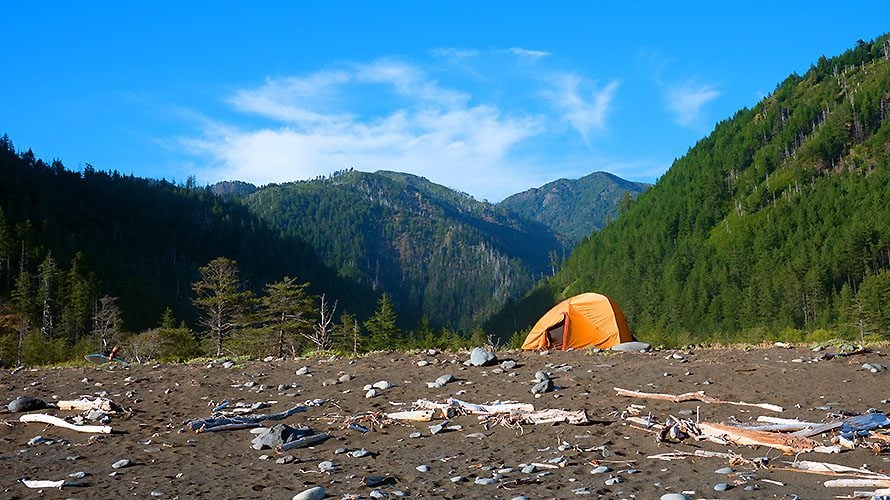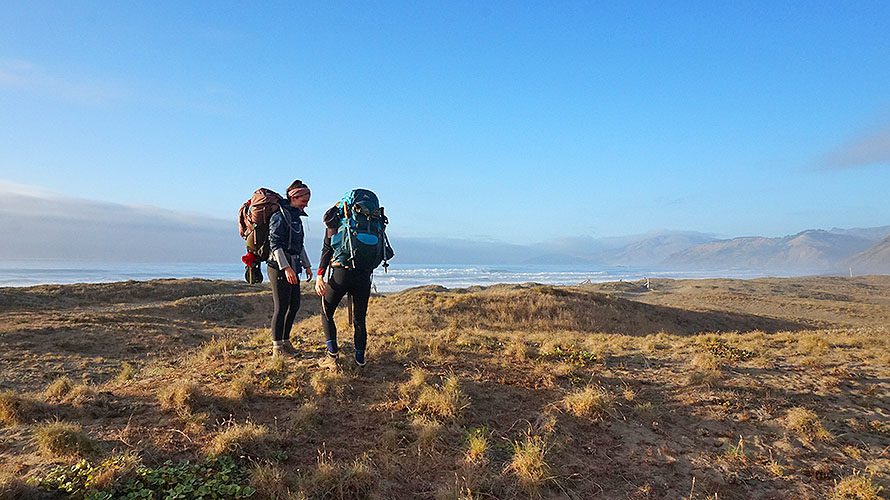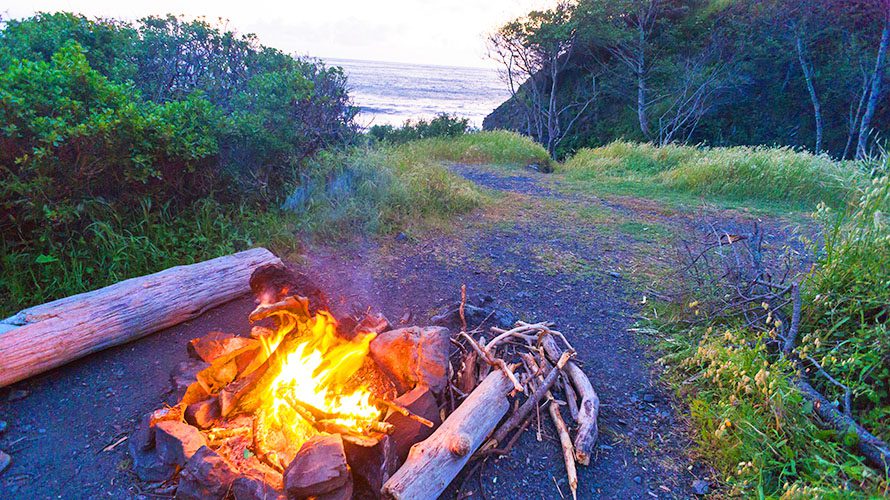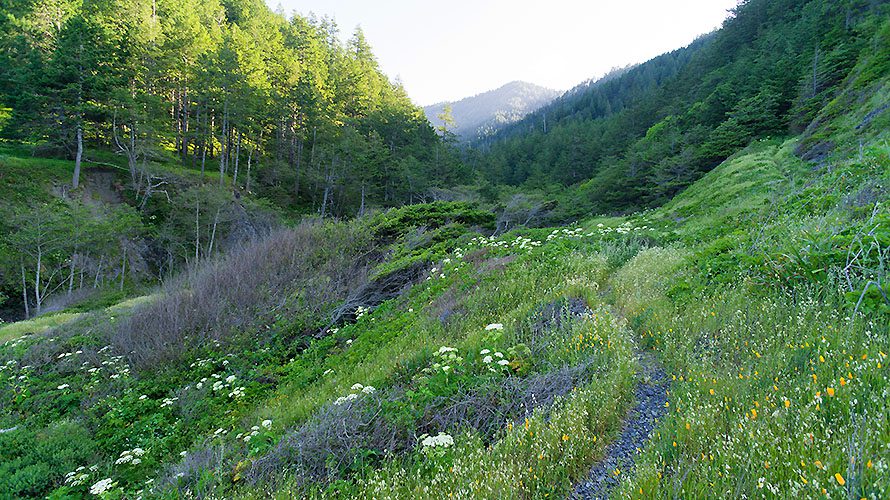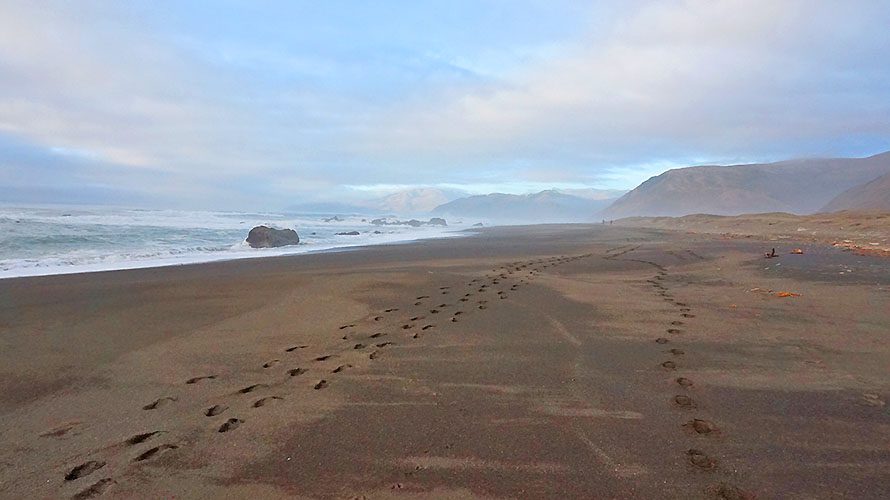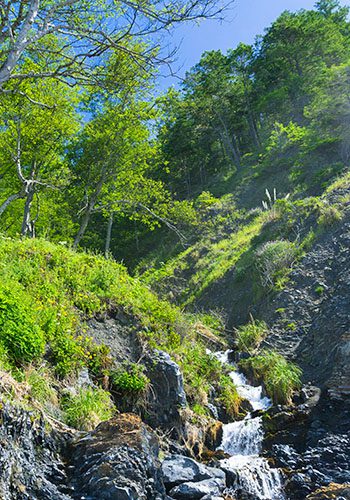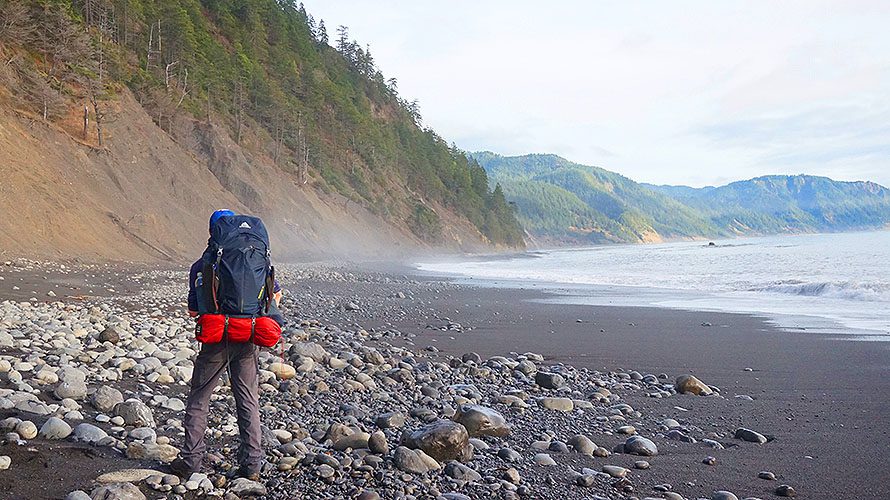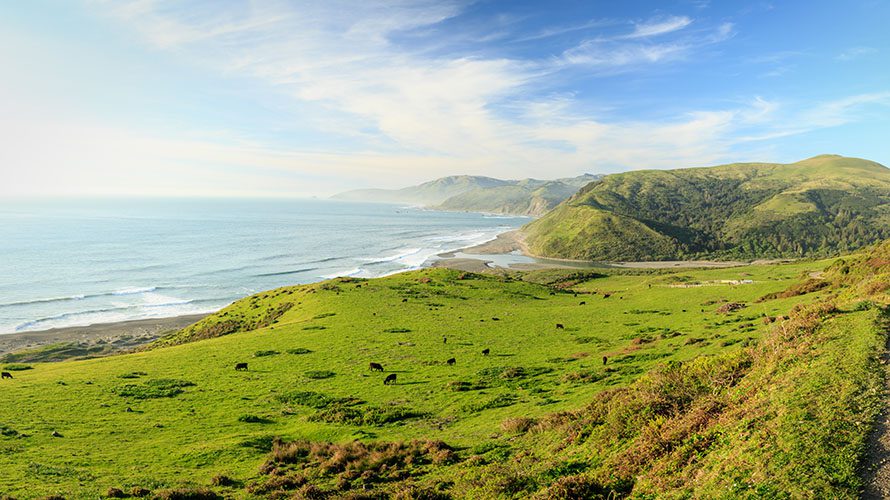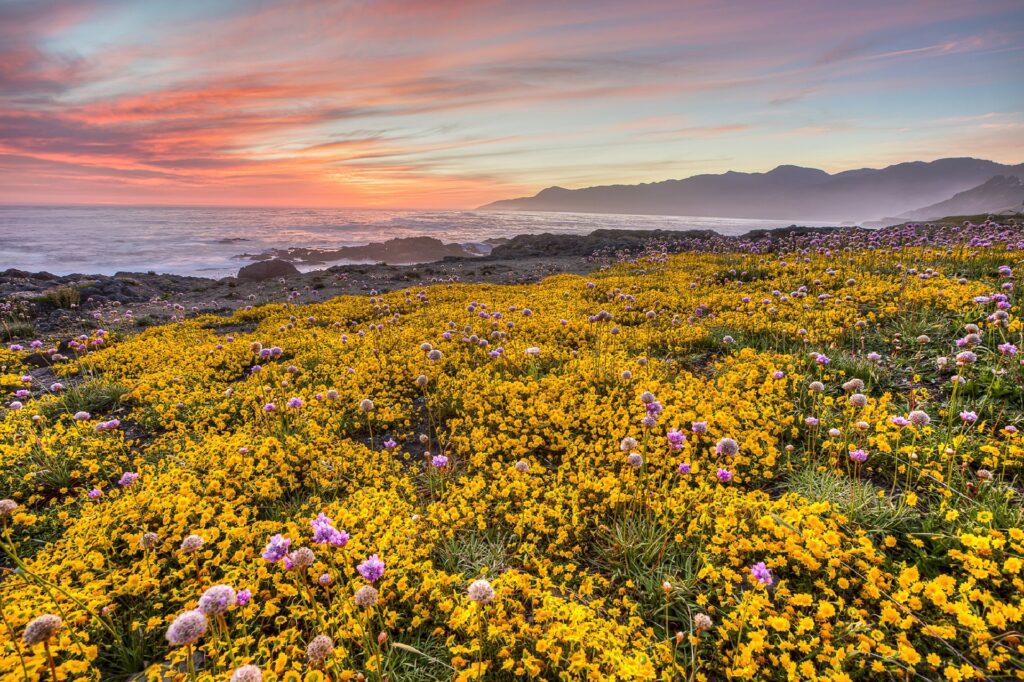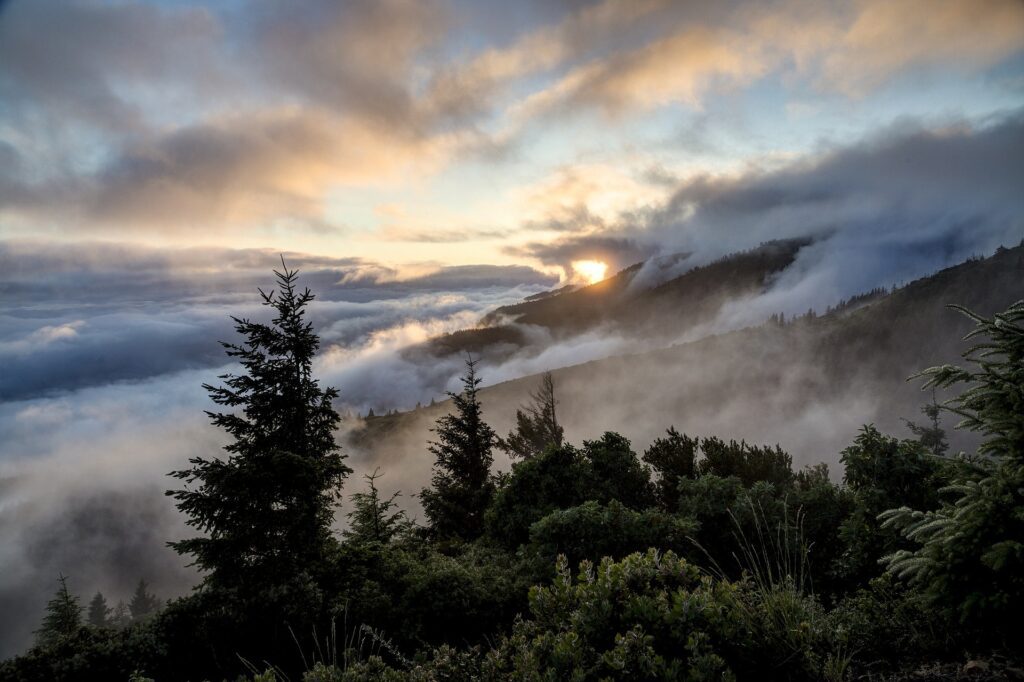 Have Questions?
Have more questions? Send us an email or call us at 800-715-HIKE (4453). We're here 7 days a week from 9:00 to 4:30 Mountain Time to make sure your trip planning goes as smoothly as possible.
Trip Information
For more information about all your options, check out our Lost Coast page on the website with the button below! Individual trip pages have detailed itineraries, trip specifics, travel information, and more.