Explore New Zealand With Wildland Trekking
Sit back, close your eyes, and think about the perfect wilderness hiking destination. What do you imagine? Untouched natural beauty? Magnificent landscapes? Rewarding trails? Stunning views? Friendly people to meet along the way?
If you are thinking "all of the above," then allow us to introduce you to New Zealand. The little country tucked into the corner of the map, most famous for Lorde, Lord of the Rings, Flight of the Conchords, and the All Blacks rugby team also happens to be one of the world's top outdoor adventure destinations. If you are looking for your next international outdoor getaway, the wild places of this little country down under should be at the top of your list.
When to Go
Aotearoa (AH-oh-TEH-ah-ROH-ah, the Maori word for New Zealand) is full of outdoor adventure opportunities at almost any time of the year. The country is such a treasure trove of inviting wilderness that even the "low season" has options for the enterprising explorer.
Don't forget; the southern hemisphere has opposite seasons. When it's summer in the USA, it's winter in New Zealand. When you are drinking hot cocoa and wearing three sweaters in the USA, New Zealanders are getting ready for a warm Christmas on the beach. If you're looking to escape the cold, a trip down under will sort you out!
High Season
Months: December to March, and July to September for Winter sports
Summer in New Zealand is a time of endless outdoor opportunity. From Cape Reinga in the north to Bluff in the south, the whole country puts out the welcome mat to hikers, kayakers, climbers, cyclists, beachcombers, swimmers, surfers and fishers between December and March.
The long, narrow geography of New Zealand offers many different environments for wilderness lovers. In the far north, the climate is almost tropical in summer. The Bay of Islands, the Bay of Plenty and the Coromandel Peninsula are all incredible at this time of year if you are looking for a beach escape. The central part of New Zealand has milder, drier summers with beaches, wineries, mountains, and forests, all waiting for you to explore. The far south offers cooler climates and rugged, untouched mountains that stay snow-capped throughout the year, an environment so perfect for hiking you will regret buying a return flight.
For the cold-blooded folk out there, New Zealand also has a great winter sports scene. From July to September, the powder falls thick and fast across the South Island, and world-class skiing and snowboarding slopes open up across the country. Queenstown is most famous for its outdoor winter sports, but the central South Island and central North Island also have plenty of options for winter tourism.
Shoulder Season
Months: April – May, and November – December
Shoulder season in New Zealand is a time when the weather is cooler than summer, and a few select attractions around the country close due to inclement weather.
However, most of the country is still open for business at these times of the year. While Fiordland and the far South are generally too cold for hiking, the rest of the South Island still has a lot to offer during the shoulder seasons, particularly the valleys and the lower peaks. In the spring, the native forest comes into flower, a beautiful scene that also attracts native birds. In the fall, some parts of the country turn to those truly spectacular red and brown colors that make for great photo opportunities. At these times, the tourist numbers will also be reasonably low, so you will have plenty of solitude to disconnect from the busy, demanding, modern world and reconnect with the wilderness.
Low Season
Months: June, and September to November
During spring, the weather in New Zealand is generally fairly unpleasant, which makes it a less attractive destination during the latter part of the year. The weather is usually chilly, wet, and blustery, making it a poor time for hiking but still just a little to warm to enjoy winter sports. The locals generally suffer through these months and wait for the sun to come through again. Early winter is similar: the cold weather arrives, but there is not enough snow for good skiing until July.
That said, spring is one of the better times to see some of New Zealand's wildlife, particularly if you are a fisherman. There are splendid opportunities for ocean and lake fishing across the country during this time, along with excellent whale watching. The native birds are also active during this time of the year, but you will need a guide to find them as most species are endangered and very shy of humans.
Deeper Dive: More About When to Visit

Wildlife

New Zealand is famous for its weird and wonderful wildlife, from the Kiwi to the Kakapo to the Kea. Almost all of the native wildlife is birds, reptiles, and insects, as there are no native mammals and very few native amphibians. Unfortunately, you are unlikely to see many of these fascinating native creatures in the wild, even in midsummer. Many of New Zealand's unique native species are endangered, especially the Kiwi, and live in very remote corners of the country.

Most of the native wildlife population is also very shy of humans, although the Kea is a notable exception. The Kea (KEY-ah) is the only alpine parrot in the world, and they are remarkably curious and intelligent birds. However, if you are up in the mountains of the southern South Island, you will almost certainly have to guard your lunch against one of these green devils. Fun fact, a group of Kea is known as a 'circus,' now you know.

Conservation Centers

If you want to see more native wildlife during your trip, you should schedule a stop at a conservation reserve before or after your tour. These are outdoor locations managed by the New Zealand government or NGOs which protect and foster endangered animals for eventual release into the wild. By visiting these places, you will not only have a unique opportunity to see the country's most beautiful wildlife, but you will also support their survival with your patronage.

Marine Life

The country also has many places for marine life enthusiasts, many of which are best enjoyed during the high or shoulder seasons. The town of Kaikoura in the South Island is host to spectacular whale watching opportunities, where tour boats get very close to the whales as they rise majestically to the surface. In the Marlborough Sounds, you can find some of the best Snapper fishing in the country, and if you ask the locals, they are always happy to show you their secret spot – so long as you bring a few beers along for the trip!

High Season Weather

During summer, the weather across most of the country is warm and dry. Days are long and sunny, with highs in the 70s Fahrenheit and lows in the 50s. Occasional storms will sweep across the country during this time, but it is doubtful to last more than a day or two in most areas. In general, the weather is perfect for hiking, but it can be unpredictable.

In the deep south and alpine regions of North and South Island, it is cooler in the day and frosty at night, but still quite dry. Temperatures in these areas are usually between 25 and 60 degrees Fahrenheit, but the weather can change very quickly. The Southern Alps are full of microclimates where the weather is almost impossible to predict, so it is always good to be prepared for anything. In some places, the temperatures dip below freezing at night, even in the height of summer. So be sure to set out with warm sleeping bags if you plan on camping in these regions.

In the far north, you have the opposite story: a subtropical climate that creates lush, humid bushlands. This warm climate is the perfect place for a beach retreat as you have near infinite choices along the northern coastlines. The Bay of Islands, Coromandel Peninsula and the Bay of Plenty are all highly recommended getaways.

If you ever want to double-check the weather reports, the New Zealand Bureau of Meteorology is a very reputable service that provides accurate reports for different backcountry areas.

High season advantages

Besides the main benefits of good weather and incredible scenery, New Zealand is one of the only outdoor destinations in the world with no predators or venomous creepy crawlies. That's right! No snakes, no spiders, no bears, no wolves, no big cats, no poisonous insects, nothing. You can sleep in peace at night and keep your food wherever you want, so long as it's safe from the regular, non-venomous insects.

High season drawbacks

There are a couple of drawbacks to summer in New Zealand. The major one is the sun, which is much stronger in the southern hemisphere. Many unwary tourists end up with lobster-skin burns from a day at the beach without sunscreen, and even a cloudy day can carry a high risk of UV exposure. For this reason, it is essential to pack SPF 30+ sunscreen if you make the trip down under. Or consider buying some as soon as you arrive.

Another disadvantage is biting flies, which can be very aggressive in some parts of the country. Biting insects are an unfortunate part of backcountry hiking in New Zealand. We, therefore, recommend strong insect repellant, especially if you are going near any wet areas.

Finally, don't forget that international tourists aren't the only ones who want to see New Zealand's beautiful scenery – the locals love it too! Think twice about traveling to any well-known locations during the nation's public holidays as roads, hotels, trails, and campsites become choked with domestic and international tourists. That said, there are plenty of beautiful places off the beaten track which offer a lot more solitude, and these can be found relatively easily if you are willing to do a bit of homework. The best source of information is the Department of Conservation, the government agency that manages New Zealand's national parks.

Trip Dates

Our fantastic New Zealand adventures only run a few times a year, so be sure to check out our Trip Dates Page for scheduled trips! Or, navigate directly to your preferred New Zealand trip and click on the trip dates tab.
Trip Styles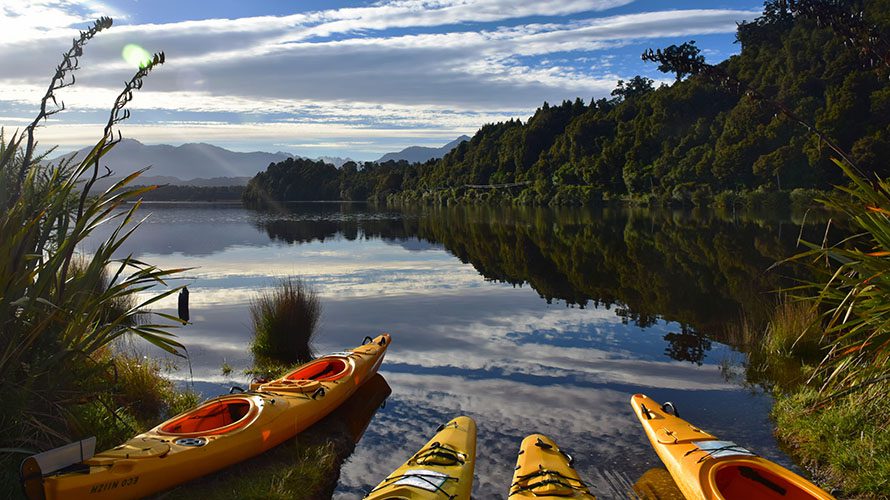 Experience the absolute best of the South Island on a ten-day epic adventure! This incredible trek takes you on foot, by car, by plane, and by jet-boat to some of the most spectacular scenery in Aotearoa (New Zealand). Massive glaciers, perfectly blue lakes, soaring mountains, snowcapped scenery, fantastic wildlife, and – most importantly – the adventure of a lifetime. All in one incredible trip. This trek needs no tents, as you will spend some nights in a beautiful hotel and some nights in a warm, dry, backcountry hut. This adventure will take you to many hidden gems in the backcountry of the South Island, as well as famous attractions such as the Franz Josef Glacier and the Cardrona Saddle.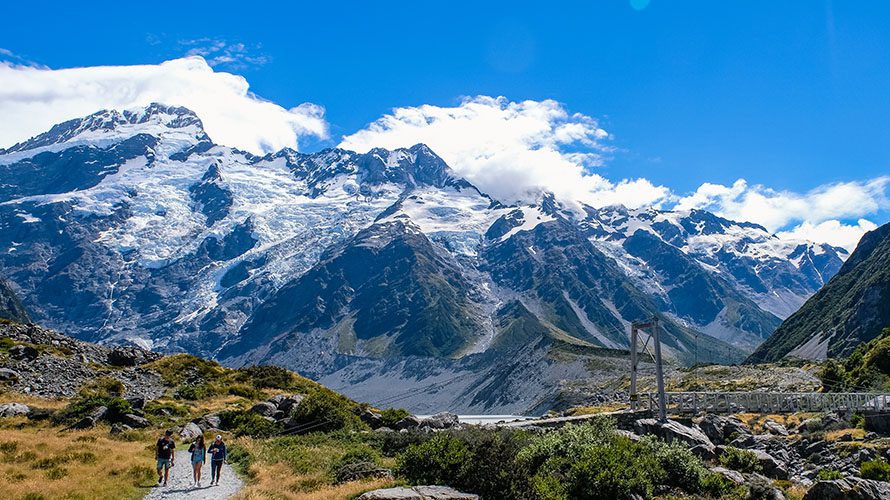 If you want to take a more leisurely trip through the wildlands of New Zealand, the lodge-based trek may be for you. Featuring full days of exploration and wonder, followed by nights in luxurious accommodation with restaurant-quality food, this is truly the most comfortable way to experience the wilderness. On our lodge-based trek, you will be able to embrace the beauty and solitude of the wilderness without leaving behind your favorite creature comforts. You will explore New Zealand's most pristine natural attractions and still get to enjoy a restaurant dinner and a warm bed every night in some of the country's most beautiful hotels. This trip includes guided tours of the famous Routeburn, Kepler, and Milford Tracks, as well as visits to lesser-known but equally impressive natural areas.
Deeper Dive: Our Top Recommended Trips

South Island Hut Trek – Our Top Recommended New Zealand Adventure

If you are unsure about which tour you would like to do, we would highly recommend the hut-based trek to experience the wonder of New Zealand.

The first question you may have is, what are these huts? Are they just fancy bivouacs? Far from it. The government maintains the huts we will be staying in, and all of them are built to strict wilderness standards. They're maintained year-round to ensure that they are secure places of refuge for all outdoor adventurers who may happen upon them, meaning that they are always warm, dry, and safe. The huts we stay in have bunk beds, fireplaces, and toilet facilities, and all we need to bring are sleeping bags and food.

However, we don't spend every night in these huts. Six nights will be spent in hotels, either in the mountain towns of Queenstown and Wanaka, along with some beautifully isolated locations in the wildlands of the South Island. At these locations, you will enjoy a hearty restaurant dinner to prepare you for the next day.

On the trail, we will provide you with quality bush tucker (trail food) at breakfast and lunch, as well as enough snacks to keep your energy up. We will also provide you with some gear such as backpacks and hiking poles. All transport, gear, and food costs are included in the tour price.

Trip Highlights: 

Enjoy boat rides, float planes, and kayaking
Explore New Zealand's beauty from glacial lakes to hot springs
Stay in beautiful lodges along with backcountry huts
Optional heli-hike on Franz Josef Glacier

See more and book your South Island Hut Trek today
Need to Know
Although we will cover the logistics of your tour for you, there is still some planning to do on your part before you leave.
Primary Departure Cities
For the hut based trek, the starting point will be Queenstown, the adventure capital of the South Island. Getting to Queenstown is easy by plane with plenty of connecting flights from Auckland, Wellington or Christchurch at all times of the year, as well as some direct flights from Australia. The tour ends in Christchurch, which has a well-connected international airport, with direct flights to many locations in the USA.
The lodge-based trek goes the other way, starting in Christchurch and ending in Queenstown. There are plenty of direct flights to Christchurch from destinations around the world and the United States, and the flight back from Queenstown to Christchurch is less than an hour.
Book in Advance
Arranging an international tour always takes plenty of careful planning around weather, crowds, permits, bookings, and visas. For these reasons, we ask that you book your New Zealand tour several months in advance to avoid disappointment.
As for your travel plans, we recommend that you add at least one extra day on either side of your tour booking. Doing so will allow you some time to enjoy yourself and relax before and after your big adventure. This extra time will also give you flexibility in case of any unforeseen changes or delays to your travel.
Conditioning
Our outdoor adventure tours are always best enjoyed in good physical condition. Remember, our itinerary always includes physical activity of some kind for each day of our New Zealand tours. We, therefore, recommend that you spend some of the time before your adventure preparing your mind and body to hike for several days in a row.
Wildland has a training tips page to help you get into the right shape no matter what your starting abilities are.
Travel Advice
New Zealand has very relaxed border restrictions for American tourists. Every US citizen is granted a 90-day visa on arrival, with no need to send your passport to an embassy in advance. However, the New Zealand government does require most international travelers (including Americans) to register online and pay a small fee before you fly to the country. For more information, please visit the New Zealand immigration website
The Center For Disease Control also recommends that you're up to date on all standard recommended vaccinations before your trip. Check the CDC's New Zealand page for up-to-date information.
There you go world-travelers. You have all the information you need to visit the land of Kiwis and Kea for an unforgettable and magical adventure. Join us for with a lodge-based or hut trek, and soak up everything this fantastic country has to offer.
Deeper Dive: More Need to Know Info
Gallery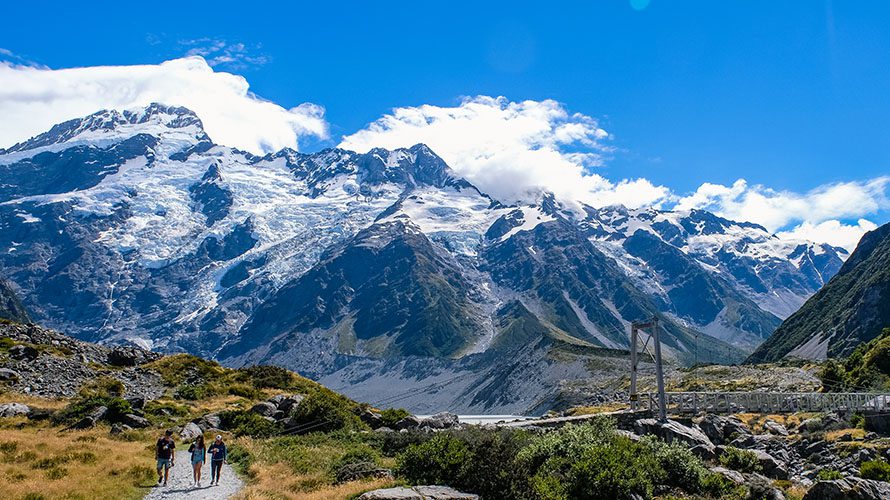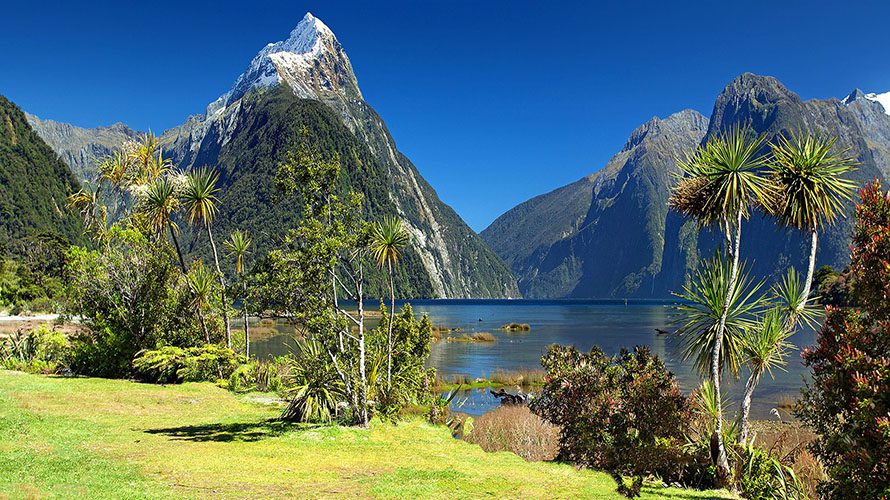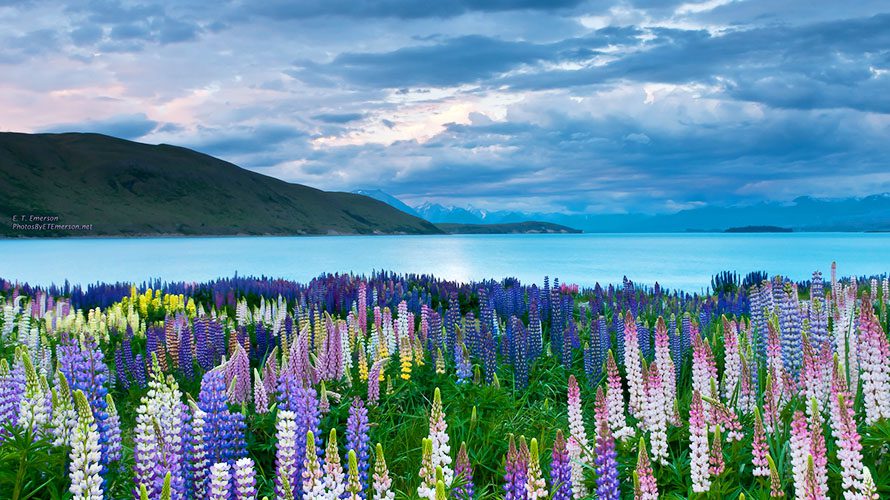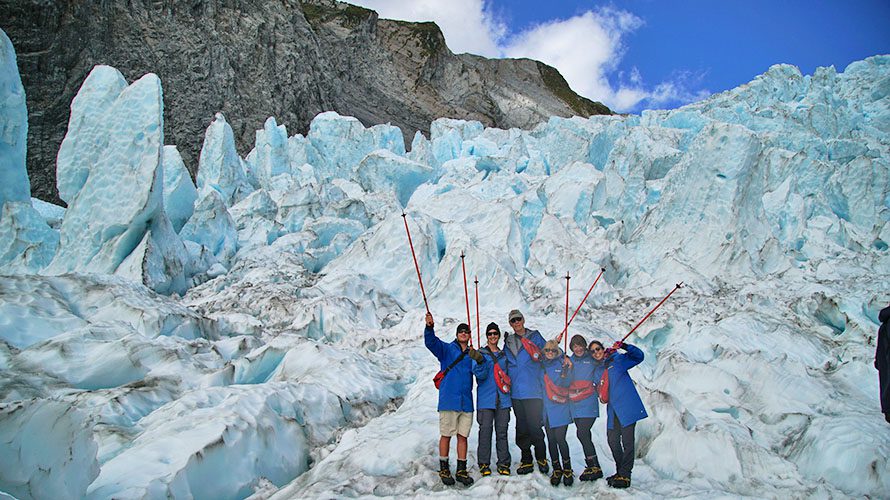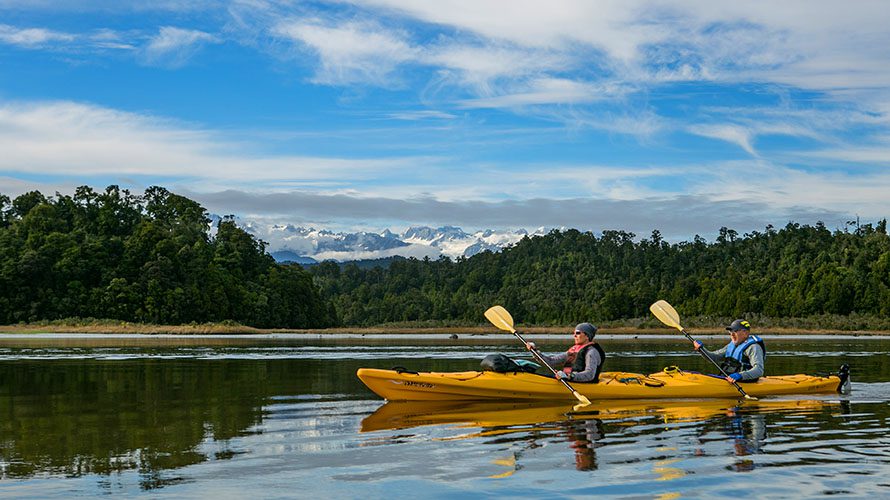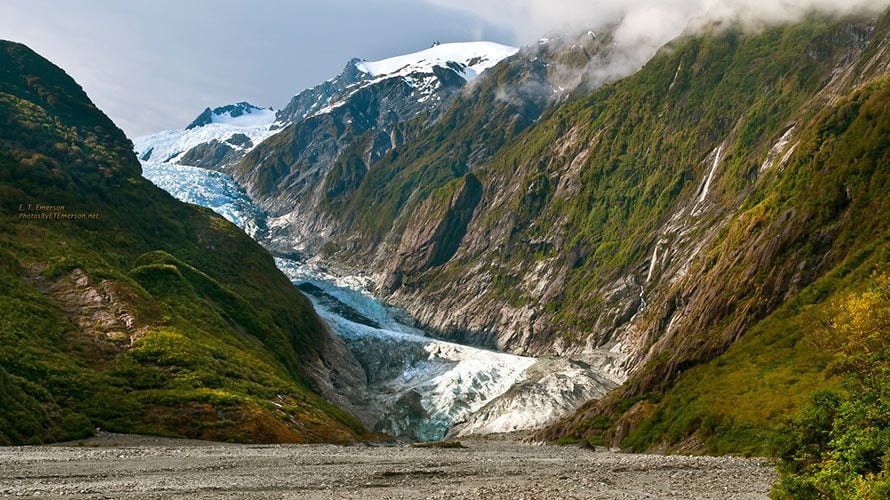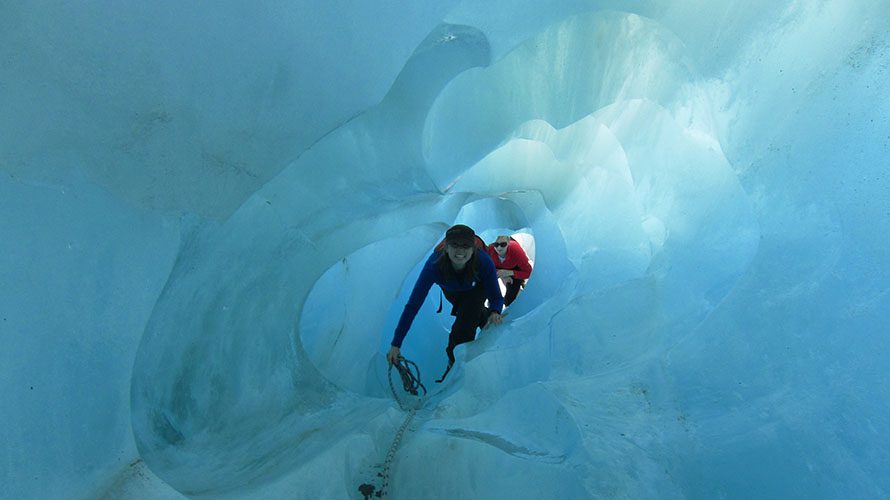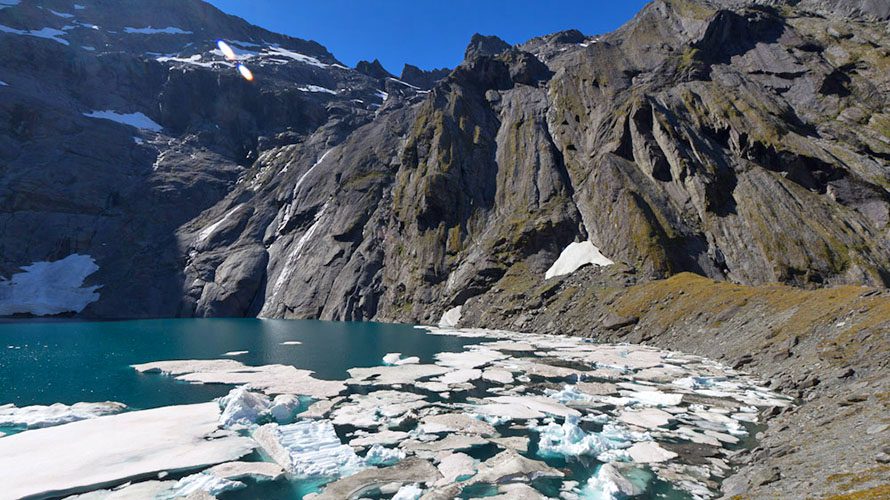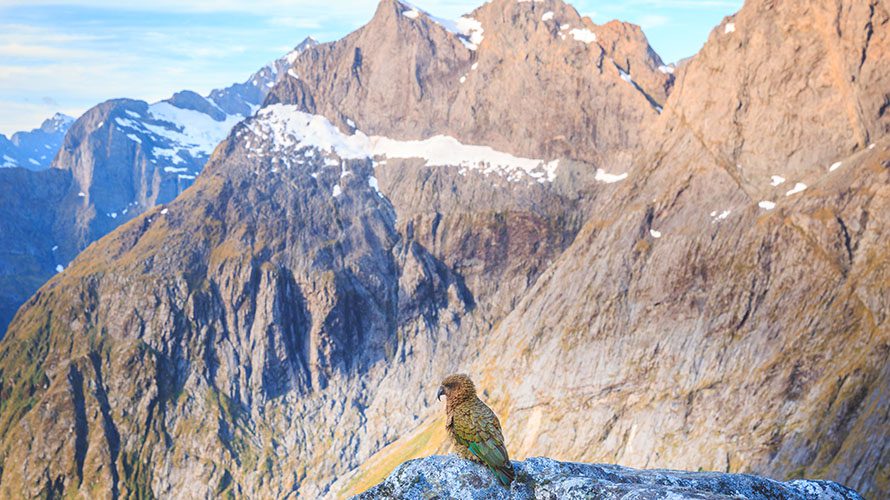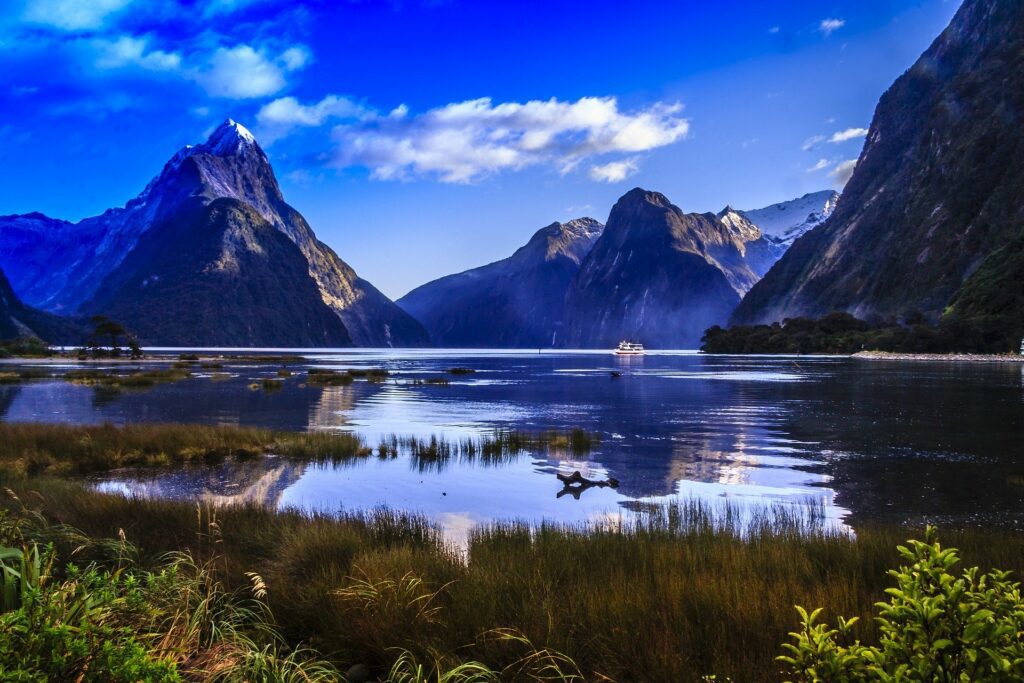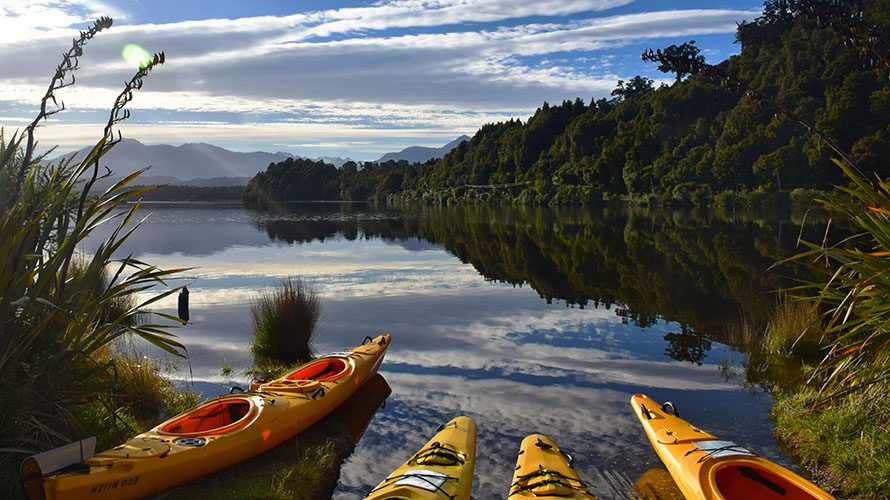 Have Questions?
Have more questions? Send us an email or call us at 800-715-HIKE (4453). We're here 7 days a week from 9:00 to 4:30 Mountain Time to make sure your trip planning goes as smoothly as possible.
Trip Information
For more information about all your options, check out our New Zealand page on the website with the button below! Individual trip pages have detailed itineraries, trip specifics, travel information, and more.