Explore Canada With Wildland Trekking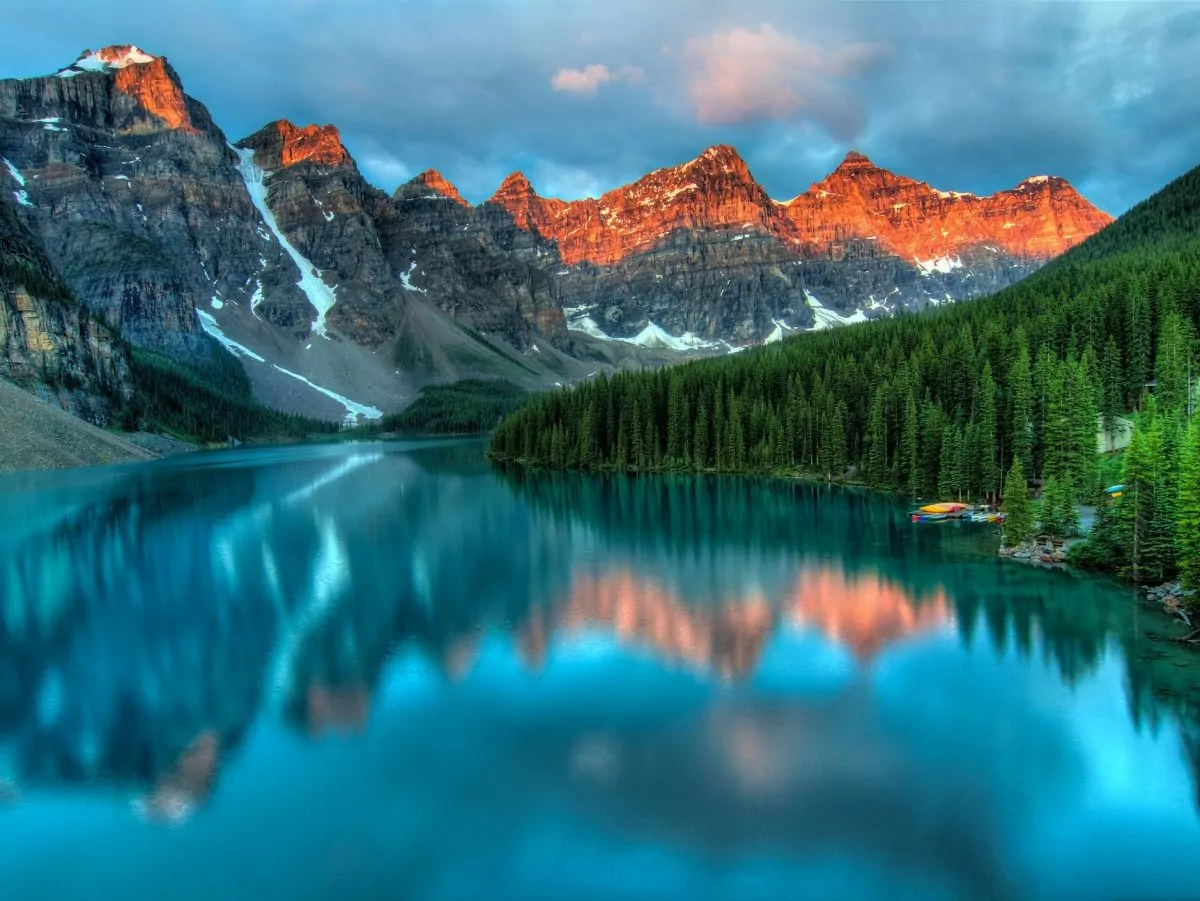 Canada is the second-largest country in the world but has only 0.5 percent of the world's total population. It's a stunning wildland filled with turquoise lakes, towering mountains, and breathtaking waterfalls. Stretching across six different time zones and over 3.8 million square miles, the country is vast and diverse with thriving cities, frozen arctic landscapes, and expansive forests.
One of the highlights is the Canadian Rockies in British Columbia and Alberta, which offers incomparable natural beauty and endless outdoor activities. With Wildland Trekking, you'll experience this wild backcountry filled with bighorn sheep, mountain goats, wolves, coyotes, moose, elk, deer, and bears through an immersive backpacking trek or lodge-based hiking tour.
When to Go
Canada has a diverse climate because it extends over such a wide area. The Canadian Rockies have typical high mountain climates with sunny weather, summer thunderstorms, and radical temperature changes. Meanwhile, the northern regions have frigid winters and cool summers, while the southern inland areas have cold, snowy winters and hot summers.
All of Wildland Trekking's Canadian Rockies tours take place in the summer (June through August), but it's still good to consider all your options.
High Season
June, July, and August are the summer months and the most popular time to go to Canada. The days are longer, and the temperature is warmer. However, there will also be more crowds. In the Canadian Rockies, temperatures range from the low 70s Fahrenheit during the day and high 30s at night with surprise thunderstorms and the occasional snow shower.
Inland, especially around Southern Ontario and Quebec, expect hot and humid temperatures. On the coast and at higher altitudes, you can expect more temperate conditions.
National Parks at this time will be stunning, accessible, and have plenty of opportunities for wildlife viewing. They will also be exceptionally crowded, so it's a good idea to book well in advance and expect higher prices. Some other attractions during this time include Banff's Summer Arts Festival in June and Canada Day on July 1.
Shoulder Season
March through May and September through November are Canada's spring and fall. Both times tend to be cooler, cheaper, less crowded, and more colorful (with flowers or fall foliage). The official tourist season is either just opening up or closing down, so places will be quieter, but some attractions may not be available.
Specifically, May, September, and October are all solid times to visit Canada because temperatures aren't too cold, but tourists aren't swarming. In May, Tulips and Daffodils will be in full bloom, while you can enjoy the Vancouver Fringe Festival and prime leaf-peeping in September and October.
Low Season
December, January, and February mark the winter season when you'll find cold temperatures and continuous snow cover in most parts of Canada (in Vancouver, however, you won't find much snow). As long as you come prepared for below-freezing weather, this is the prime time for winter adventures like skiing, ice climbing, snowshoeing, dog sledding, and snowmobiling.
In the winter months, accommodation is generally cheaper, but many summer attractions will likely be closed.
Deeper Dive: More About When to Visit

Trip Dates

We offer challenging but stunning backpacking trips from late June to August in the Canadian Rockies and will soon be offering lodge-based trips from June to September. This time of year provides the best chance for drier, warmer weather as we hike through some of the most spectacular sites in Banff, Jasper, Yoho, and Kootenay National Parks.

To look at what's already on the calendar for Canada, check out our Trip Dates Page. If you have specific dates that you're interested in, you can also give us a call, and we may be able to add new trip dates.

Weather Information

Keep in mind that we seldom cancel trips due to weather, so it's best to be prepared for whatever may be in the offing! To that end, be sure to check the weather specifically for the Canadian Rockies before you go in order to be as prepared as possible. Also, remember that the weather can change dramatically and very quickly. We like to say, always expect four seasons in a single day in the Rockies.

Packing for the Weather

Layers are going to be your best friend for the Rockies because of the wide range of conditions. We recommend non-cotton clothing and breathable waterproof rain gear (jackets and pants). Be sure the gear you bring is trustworthy and up for the task of standing up to freak thunderstorms and 40º Fahrenheit temperatures. We'll dive into more detailed packing advice later in this article.
Trip Styles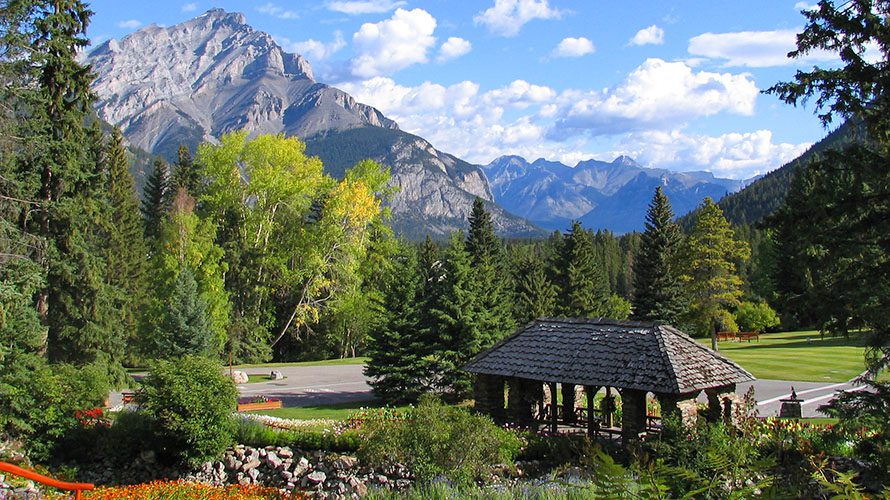 For this tour, you'll spend your days hiking with a small group of like-minded travelers. Each night, you'll cozy up in a beautiful, rustic lodge that comes complete with a Gazebo fire pit, spa, pool, and breathtaking views of the Canadian Rockies. This trip features moderate hikes between 5-7 miles each day. Our experienced guides will lead you through some of the best hikes of Banff, Jasper, and Yoho National Parks to see waterfalls, crystal clear alpine lakes, high mountain passes, glaciers, and wildlife.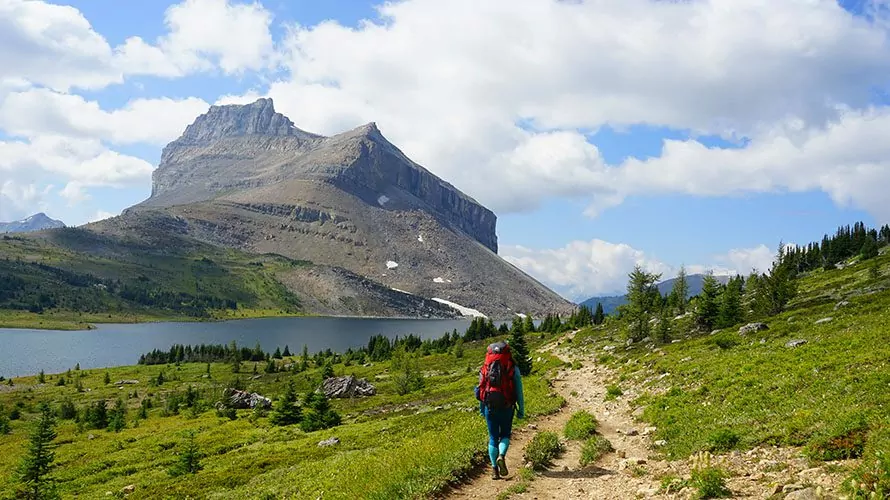 Adventure into Kootenay National Park for an epic backpacking adventure full of stunning views, cozy evenings at camp, and unforgettable memories. You'll carry everything you need for a week and experience towering limestone walls, majestic hanging glaciers, wildflower-filled meadows, and spectacular waterfalls. This is an all-inclusive package with expert guides to lead the way and ensure you have the best adventure possible. We provide all the backpacking gear you need, including a multi-day backpack, tent, sleeping bag, sleeping pad, trekking poles, and more.
Need to Know
While we love taking care of the logistics for your trip, there are still a few items we need to cover before you start your adventure. Let's take a look at them below and get you all set for your Canadian Rockies trip!
Primary Starting City For Canada Trips
All guests should arrive in Calgary, Alberta, for their treks. For our lodge-based trips, we will pick you up directly from the Calgary International Airport (YYC). If you are joining us for a backpacking adventure, we will all meet the night before our trip start date at the Holiday Inn Canmore – 1 Silvertip Trail – where we will have an orientation. The next morning, we'll pick you up from your hotel and bring you to the trailhead.
You can always check your trip's logistics for meeting times and lodging under the 'logistics' tab on the individual trip webpage.
Booking Advice
Our trips often fill up very quickly. We recommend booking your trip with us first. Once we've confirmed your reservation, you can then move on to arranging your transportation and lodging for before and after the trip.
Remember that our trips do not include your pre- and post-trip travel plans. It's therefore up to you to arrange all your travel so you can meet your guide at the designated time. Your guide will be in touch well before your trip start date to coordinate your meeting, and this is also the perfect opportunity to ask any questions that you may have regarding your trip.
Transportation and Lodging
How much additional planning for transport and lodging will depend on the trip. You will be picked up directly from the Calgary International Airport for our lodge-based tours, where all transportation and accommodation are included in the price of your trip. Or, you will have to arrange your transportation to Canmore for our backpacking trips along with lodging on your own for the nights before and after the trip.
If you plan to extend your stay before or after the tour, there is transportation available by shuttle or scheduled bus lines from Calgary airport, downtown Calgary, Banff, and points further west. There are also rental car agencies available at Calgary airport and in Canmore.
During the summer months, lodging can fill up quickly, so we recommend making any additional reservations ahead of time and ideally up to six months in advance.
Travel Advice for Canada
Passports and Visas
If you are not a Canadian citizen, you will need a valid passport in order to gain access to the country. If you don't have one or your current passport will expire within six months of the trip, we recommend applying for a new passport six months ahead of time.
Citizens of the United States do not need any additional permits or visas to enter Canada. However, we recommend US residents enroll with the STEP program and check on any current alerts or restrictions.
International Flights
Flights to and from Calgary are not included in our trips. Multiple airlines operate flights to Calgary from many US and European international airports. Some primary US departure cities include Phoenix, Denver, Portland, Boston, Washington DC, San Francisco, Seattle, New York, and Minneapolis.
As travel is always unpredictable, we highly recommend that you book your flights with a one day buffer before and after your trip. Doing so will give you a little extra time to get settled and relax, and will also be invaluable should one of your flights be delayed or our trip wraps up a little late.
Deeper Dive: More Need to Know Info

International Pre-trip Vaccination Suggestions

We always recommend discussing immunization requirements with your doctor at least one month before your trip. The Centers for Disease Control recommends that you should be up to date on all routine vaccinations for any international travel.

Some additional vaccinations may be required, such as Hepatitis A, Hepatitis B, and Rabies. Please also bring any prescription medications you may need with you and keep them clearly labeled.

Trip Insurance

While we hope your trip will provide nothing but good experiences – and we do everything we can to ensure that happens – but sometimes the unexpected occurs. We recommend getting traveler's insurance to cover the duration of your adventure so you can enjoy your journey without worrying about additional expenses from unforeseen issues.

All of our guides have extensive experience in the backcountry and first aid, but any outdoor activity assumes some risk. Travel changes, family emergencies, travel delays, illness, or natural disasters can all cause changes to your trip, so getting a comprehensive insurance plan can help mitigate that risk.

If you wish to get travel insurance and want to learn more about what plans we offer, please visit our Trip Insurance Page.

Currency and Banking

During our all-inclusive trips, everything you need will be set up and paid for, so you don't need to worry about money during your travels. However, souvenirs, alcoholic beverages, and any plans before and after your trip will not be included.

All of Canada uses the Canadian dollar, but most urban areas will accept credit and debit cards. You, therefore, don't need to bring too much cash with you. However, we do recommend you exchange some cash for Canadian dollars at your home bank before you go so you have a backup to your card along with payment for more rural areas that may not accept credit cards.

Before you go, also be sure to call your bank and let them know you will be out of the country. This will stop them from locking your card due to 'suspicious activity'.

Packing List

All of our trips in the Canadian Rockies require a sturdy pair of hiking boots or shoes, rain gear, and plenty of cotton and non-cotton layers. You'll also want to bring at least three pairs of wool or synthetic hiking socks.

While we provide some of the main gear you'll need for our hiking excursions, we do ask that you bring two 1-liter water bottles per person, sunscreen, bug repellent, lip balm, and all the toiletries you may need.

Physical Training

Backpacking, while very rewarding, is strenuous. Seasoned hikers may be ready to dive right in, but most hikers will need some training before starting a new trip. But before beginning any workout program, we recommend talking to your physician about any specific considerations.

Our tours to the Canadian Rockies all include a large amount of hiking and physical activity at high altitude (7,500+ feet above sea level). To make sure you get the most out of your trip, we strongly recommend you prepare with some fitness training. We've listed some ideas that will help get your fitness where it needs to be for the trip, but the most crucial part of any training plan is that it works for you.

Training by Hiking

If you have access to hiking trails and time in your schedule to accommodate them, we highly recommend getting out there at least three days a week! Look for steep, hilly terrain so you can prepare for the type of hiking you'll be doing in Canada.

Start with short, hour-long hikes with a light daypack. Over time, build up the length and difficulty of your hikes and add weight to your pack until you can comfortably hike six to eight hours carrying the weight you'll have on your trip.

First Week of Training:

Tuesday: 1-hour hike with a daypack.
Thursday: 1-hour hike with a daypack.
Sunday: 2-hour hike with a daypack.

Remember that this is also an ideal time to break in your hiking boots or shoes. Wear them as much as possible on these hikes, and be sure to note if you develop any hotspots. These hotspots will eventually lead to blisters, and you'll now know where you need some extra tape to ensure a pain-free hiking experience.

Continue this weekly hiking routine while gradually increasing both duration and pack weight. Ideally, your workout schedule two weeks before the trip will look like this:

Monday: 3.5-hour hike with a 20-pound pack.
Wednesday: 2-hour hike with a daypack.
Thursday: 3.5-hour hike with a 20-pound pack.
Sunday: 7-hour hike with the weight you'll have on your trip.

Supplemental Training Ideas

If you don't have access to hiking trails or you just want some additional cross-training to round out your routine, these are a few additional ideas. If done correctly, all of these activities will benefit your overall fitness.

Stairs
Bike commuting
Gym workouts
Swimming
Walks
Yoga and/or Pilates
Intramural sports
Jogging

Other Training Considerations

Two weeks before your trip, be careful not to over-train and risk arriving tired. During the 72-hours before your trip, be sure to have sufficient amounts of sodium and water to give yourself the best chance of starting your trip strong and healthy.

If you are using your own pack for your trip, be sure to wear it during your training sessions and adjust for a snug and comfortable fit.
Gallery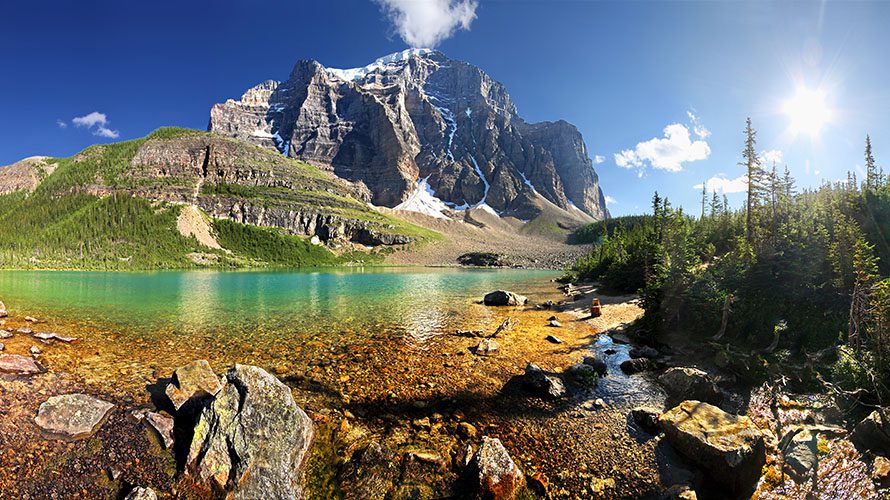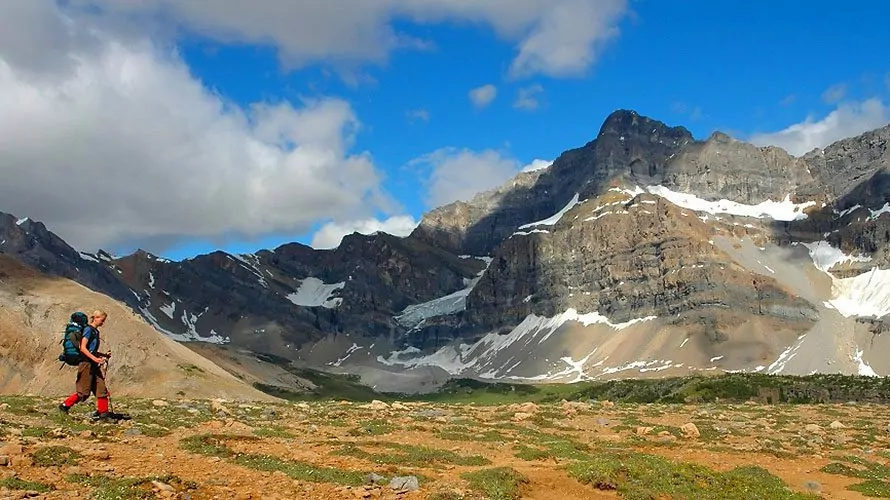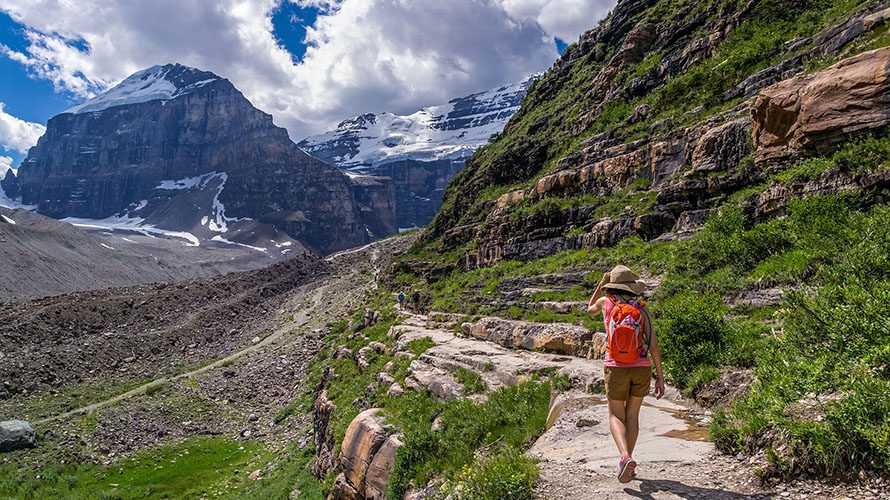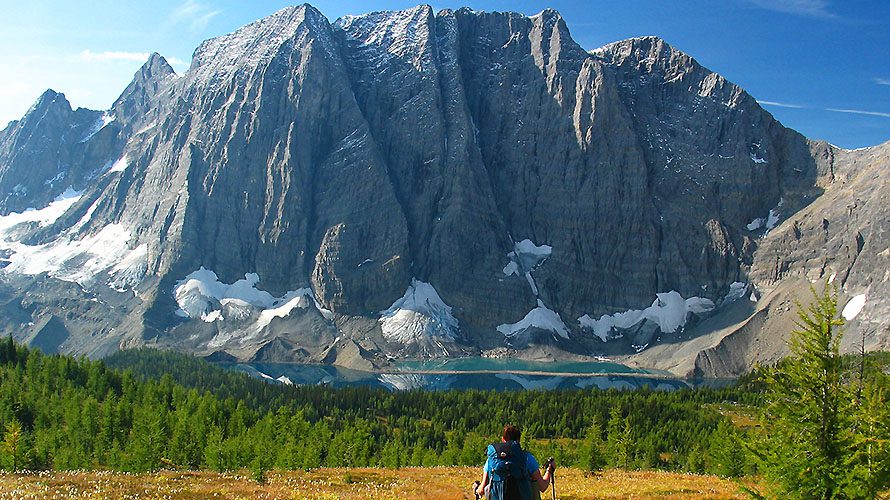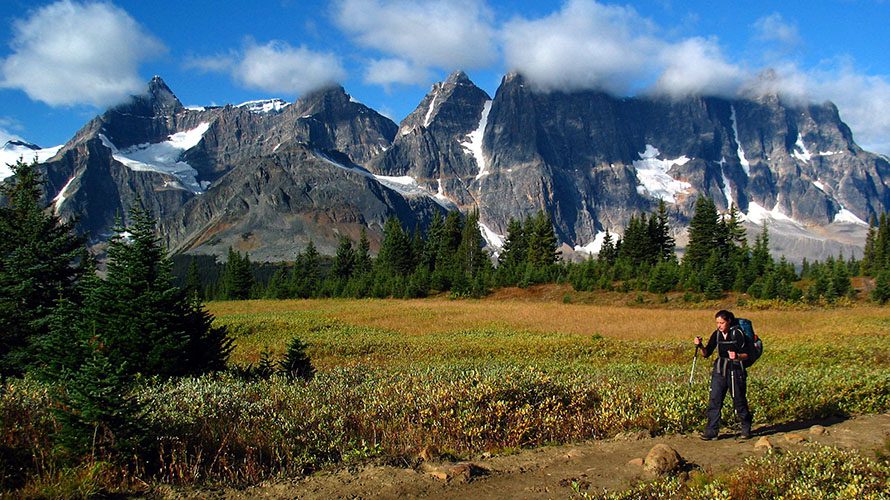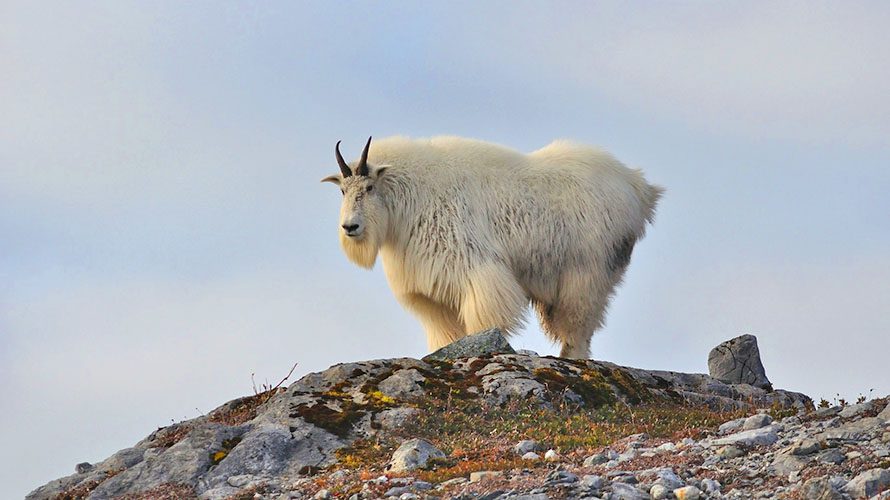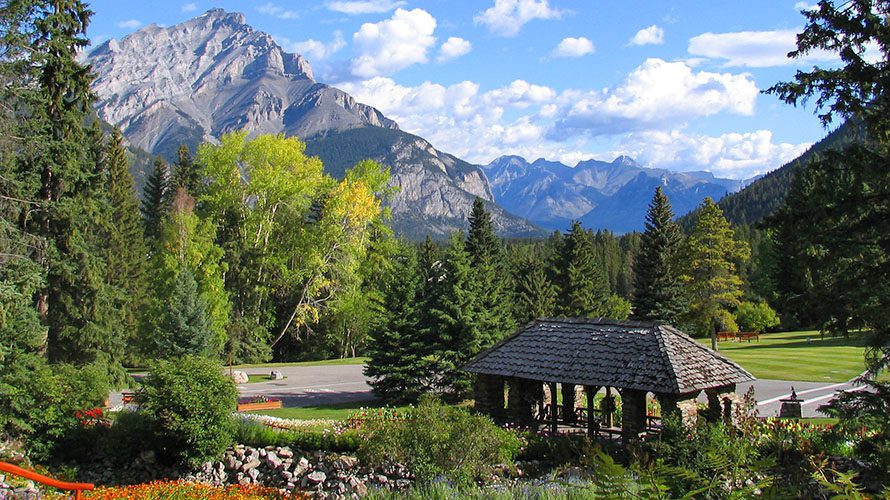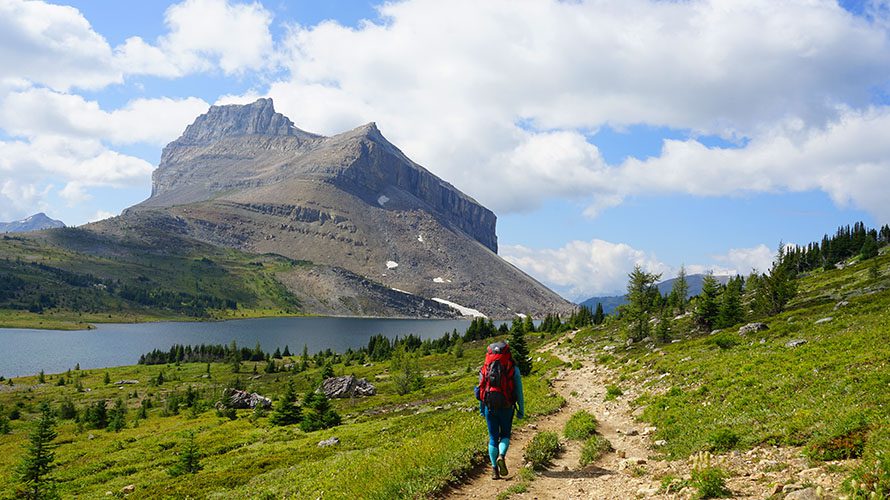 Have Questions?
Have more questions? Send us an email or call us at 800-715-HIKE (4453). We're here 7 days a week from 9:00 to 4:30 Mountain Time to make sure your trip planning goes as smoothly as possible.
Trip Information
For more information about all your options, check out our Canada page on the website with the button below! Individual trip pages have detailed itineraries, trip specifics, travel information, and more.