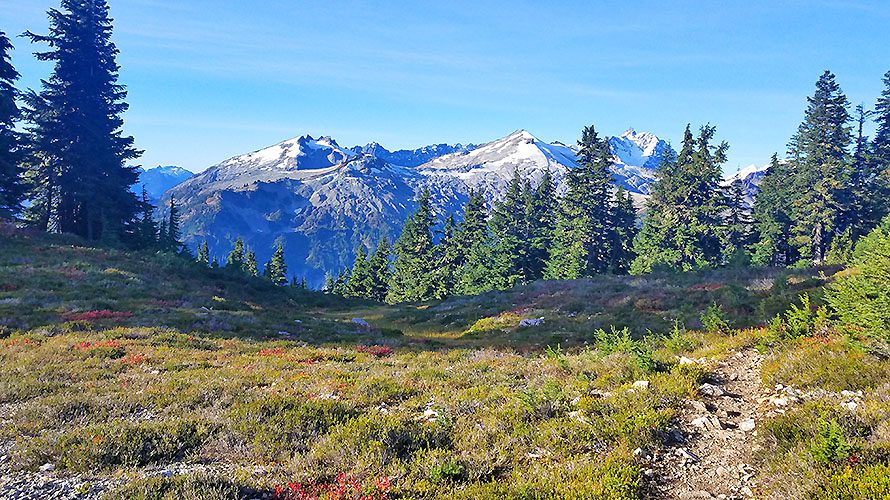 Cascade Pass Trail
General Description
Hannegan Pass is one of the northernmost access points to the North Cascades, and is the entry point to a wonderland of alpine meadows and ridges, panoramic views of peaks and glaciers, and swift moving streams filled with spawning salmon. Beginning Northeast of Mt. Baker, the Hannegan Pass Trail climbs up past Ruth Mountain to access the Copper Ridge Trail, the Chilliwack River, and more. Multiple side trails allow for a variety of loops, dayhikes, and alpine explorations, while marmots, pikas, bears and more grace the alpine landscape. Come when the snow melts for a brilliant display of wildflowers, or come late in the season for slopes stained scarlet and gold by fall colors. Whether you come early or late, for a day or for a week, Hannegan Pass is fill of hidden wonders.
Explore the North Cascades with Expert Guides
Getting to the Hannegan Pass Trailhead
Follow Highway 542 past Mt Baker, turn East on NF-32 and follow it 5 miles to the Hannegan Pass Trailhead.
History of Hannegan Pass
Like many of the high passes cutting through the North Cascades, Hannegan Pass was once a contender for a trans-mountain highway linking Bellingham to farm and cattle country east of the Cascades. While much of the area was first surveyed by Henry Custer in 1858, Hannegan Pass itself wasn't documented by Europeans until the Cascade Road Commission began surveying for potential cross-Cascades routes in 1893.  A small expedition led by Banning Austin of Bellingham discovered and mapped Hannegan Pass, naming it after one of the commissioners–T. P. Hannegan. The trail was established, but the road would never follow, and in 1894 most of the plans were scrapped. Today, we are left with the trail and the name–and access to the historic fire lookout on Copper Mountain!

Best Day Hike on the Hannegan Pass Trail
There's only one place to go in a day from the Hannegan Pass trailhead–up, up, up, and then back down, down, down. The rewards are worth the effort, though! Head to Hannegan Pass and then back down, or extend your dayhike a bit further to reach the summit of Hannegan Peak and the 360 degree views from the top.
| | | | | | |
| --- | --- | --- | --- | --- | --- |
| | Destination | Miles | Elev | Difficulty | Style |
| | Hannegan Peak | 11.4 mi | 3,100 ft | Moderate | Out and Back |
1. Hannegan  Peak
The Hannegan Pass Trail begins in low forest near Ruth Creek, following a mellow grade up to greater views peaking through the trees. Keep an eye out for views of Mount Sofrit and Nooksack Ridge early on, and then for the glaciated mass of Ruth Mountain as you gain elevation. Small creek crossings and waterfalls grace the forested part of the hike, until steeper switchbacks carry you up to Hannegan Pass itself. Views are limited but delightful at Hannegan Pass, but a short push further is well worth it. Take a break at Hannegan Pass, then climb up a spur trail to the summit of Hannegan Peak–an extra 1.1 miles and 1,000 feet. It's the steepest push of the hike, but the rewards are panoramic views of Mount Baker, Mount Ruth, Shuksan, the peaks of the Canadian North Cascades, and more all around you. Soak up the views, then return down the trail the way you came.
Maximize Your Visit to North Cascades National Park on Hiking Tour
Multi-day packages allow visitors the opportunity to make the most of their time in North Cascades National Park and to do it hassle-free. Guided tours include gear (backpack, trekking poles, crampons in winter), meals, accommodations on multi-day tours, local transportation, and a professional Washington hiking guide. Through their knowledge, stories, and personal passion, guides can bring a place to life in a way that's much more difficult to do on your own. Read more about North Cascade Hiking Tours.
Award Winning USA Hiking Vacations

3 Hannegan Pass Trail Backpacking Trips
The Hannegan Pass trail has a backpacking trip for every level–as long as your level includes steep! From a short overnight trip to Boundary Camp, to a loop trail traversing Copper Ridge and the Chilliwack river, to a traverse all the way to Ross Lake, there are plenty of jaw-dropping options.
| | | | | |
| --- | --- | --- | --- | --- |
| | Route | Miles | Difficulty | Campgrounds |
| | Egg Lake Camp | 17 mi | Moderate | Egg Lake CG |
| | Copper Ridge Loop | 34 mi | Strenuous | Boundary CG, Copper Lake CG, Indian Creek CG, Copper Creek CG |
| | Hannegan Pass to Ross Lake Traverse | 35 mi | Strenuous | Copper Creek CG, Graybeal CG, Twin Rocks CG, Perry Creek CG |
1. Egg Lake Camp (2-3 days
Egg Lake is a perfect destination for an overnight trip up Hannegan Pass, or for a leisurely three day trip complete with a dayhike up to the stunning Copper Mountain Lookout on the middle day. High ridge walking, panoramic views of mountains, and a quiet campsite nestled into an alpine lake await you. Begin at the Hannegan Pass Trailhead, and climb up and over Hannegan Pass and into the National Park. From Boundary Camp you'll hang a left at the junction and eventually gain the spine of Copper Ridge, and the peek-a-boo views of mountains through the forests give way to wide open mountain ranges and expansive views. Follow the ridge, keeping an eye out for the fire lookout atop Copper Mountain in the distance. At 8.2 miles, follow a side trail off the ridge and down to a campsite at Egg Lake. A small aquamarine lake tucked into a glacial cirque will be your home for the next night or two. If you choose to spend two nights, consider a 4 mile roundtrip dayhike up to the Copper Mountain Lookout on your layover day. To complete the trip, return to your trailhead the way you came.
2. Copper Ridge Loop (4-5 days)
A full loop of Copper Ridge is a grand way to spend 5 days in the North Cascades, and the variety and diversity of the terrain and views will keep you smiling despite the sometimes painful ups and downs. With over 8,600 feet of elevation gain and loss it's not easy on the knees, but for those up to the challenge the rewards include glacier-capped mountains, scarlet red sockeye salmon spawning in crystal clear creeks, wildlife, and dramatic forests. Most people hike the Copper Ridge Loop counter-clockwise. Begin on the Hannegan Pass Trail, spend your first night at Boundary Camp or Egg Lake, and then continue on past Copper Mountain to Copper Lake Camp for the second night. The high country gives way to deeply nestled streams on day three, with switchbacks dropping nearly 4,000 feet to Indian Creek. Suspension bridges and cable cars add a sprinkle of excitement to the fourth day on your way to Copper Creek. Round out the trip by rejoining your original trail at Boundary Camp, and dropping down past Hannegan Pass to your trailhead and waiting car.
Hannegan Pass to Ross Lake Traverse
If transportation logistics are no obstacle, consider hiking from Hannegan Pass all the way to Ross Lake. You'll need to arrange a car shuttle on one end and a water taxi on the other, but the payoff is a series of dramatic alpine passes, remote wilderness, old growth forest, and an impressive traverse through a substantial part of the North Cascades. Start at the Hannegan Trailhead, hike to Copper Creek on the southern leg of the Copper Ridge Loop, then turn south off the Chilliwack River and follow the Brush Creek Trail towards Whatcom Pass. A second night camp at Graybeal divides the hike up comfortably, giving you a chance to start fresh on the steep climb up and over Whatcom Pass on day three. Soak up views of the Challenger Glacier, Whatcom Peak and more, before dropping down into the Little Beaver Creek drainage and heading to Twin Rocks for the night through a sometimes brushy but always beautiful forested trail. Continue along Little Beaver all the way to Ross Lake, or spend one last night on the trail at Perry Creek for an easier exit. From the trail's end at Ross Lake you'll need to catch a water taxi back to the Ross Lake Resort. Make sure to make your arrangements in advance! Enjoy the views of Ross Lake and there surrounding mountains from the leisure of a water taxi after your strenuous hike, and feel accomplished in your epic traverse of a significant chunk of the North Cascades!
Join a Guided North Cascades National Park Backpacking Trip
Joining an North Cascades National Park backpacking tour  is a worry-free, adventurous way to experience North Cascades National Park. With your gear, meals, local transportation, permits, and fees taken care of for you, you can travel light and focus 100% on enjoying the hiking experience, while the guide company takes care of everything else. Also, by going with local experts you'll enjoy a greater level of safety and gain a much better understanding of the history and ecology of this remarkable region. Read more about guided North Cascades backpacking trips.
All-inclusive North Cascades Backpacking Adventures

When to Hike and Seasonal Considerations
North Cascades National Park is a land of extremes: heavy snowfall in the winter, rain in the shoulder season, but perfect weather all summer long. The Cascade River Road is often closed by snowfall and avalanches during the winter and spring, but is usually open by July–check the NPS website for road conditions. Snow in the high country makes this route challenging before July, unless you are comfortable with an ice ax and snow travel skills. July-September is the perfect window, but October can have lovely weather and perfect huckleberries as well. Make sure to check the weather before you go!
Necessary Permits
Day Hike Permits
No permits are needed to day hike in North Cascades National Park.
Backpacking Permits
Backpacking permit are require in North Cascades National Park. While some walk-up permits are available, reservations are recommended to ensure you get your desired itinerary. Permits must be picked up at the Marblemount Wilderness Information Center, where rangers can also help you plan your trip, answer questions about trail conditions, and loan you bear canisters to keep your food safe from animals.
Suggested Packing List
Day Hike Packing List (edit)
Lightweight hiking shoes or hiking boots
Waterproof rain jacket and pants
Warm wool or fleece top
Warm hat and gloves (Spring, Fall, Winter)
Water bottles or bladder (2 liters total capacity)
Sunhat
Headlamp
Sunglasses, sunscreen and lip balm
Salty, calorie-rich snacks
lunch
backpack
trekking poles
1st aid kit
Backpacking Packing List
all items listed for day hikes PLUS
multi-day backpack
3-season tent
sleeping bag
sleeping pad
backpacking stove and fuel
backpacking meals
3 pairs wool socks
extra t-shirts
Please Respect Our National Parks – Leave No Trace
We strongly recommend abiding by all Leave No Trace ethics guidelines and practices so that our national parks and public lands are preserved for the enjoyment of future generations and for the people and animals who call these places home. Simple things like packing out your trash, obeying national park rules, and respecting the peace and quiet of our national park trails is a great start. If you're going on a backpacking trip, you can read about more about the 7 Leave No Trace Principles.