Best Pacific Northwest Waterfall Hikes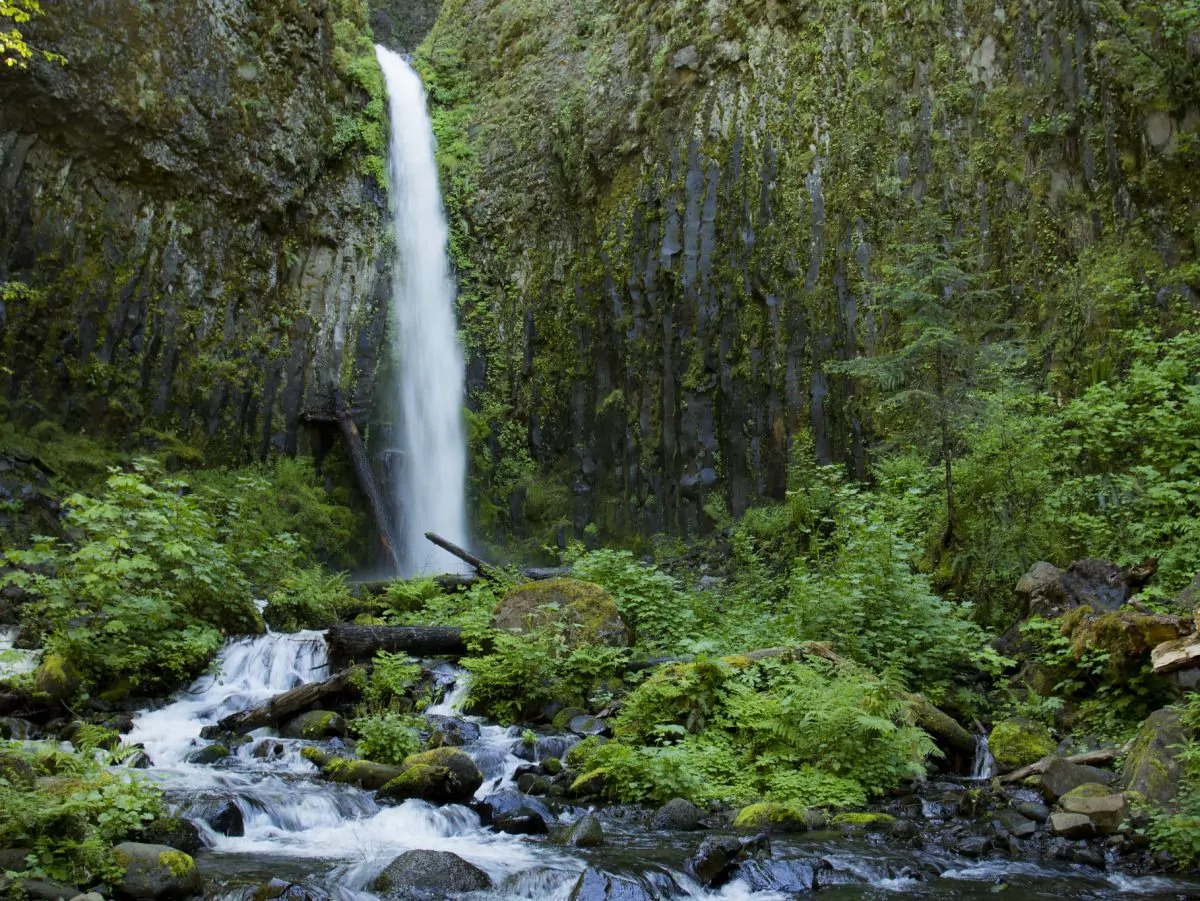 The Pacific Northwest overflows with water: thousands of waterfalls of every form decorate the landscape across Washington and Oregon. As rainfalls, more and more water flows in local rivers and creeks, carving impressive channels through lush forests and dramatic canyons. Water ripples, gushes, rolls, cascades, swirls, and crashes—mesmerizing the beholder as it endlessly transforms. Human fascination with water is undeniable: people are simply compelled by it.  Researchers have studied the positive effects of water on human health, and have determined that individuals prefer images depicting bodies of water over other landscapes. So, it's not a surprise that spending time around water can be calming, entrancing, and inspiring.
Waterfalls, especially, have captivated the attention of hikers. As streams plummet from cliff faces, the strength of water is palpable. In the Pacific Northwest, impressive waterfalls flow generously. There is no shortage of trail options, so we've rounded up some worthwhile destinations to make your decision a bit easier. Return to these trails in all seasons to watch the falls change as the water levels fluctuate.
| | | | |
| --- | --- | --- | --- |
| Trip | Difficulty | Days | Miles |
| Comet Falls, Mount Rainier National Park | Moderate | 1 | 3.8 |
| Steelhead Falls, Central Oregon | Moderate | 1 | 1 |
| Sol Duc Falls, Olympic National Park | Easy – Moderate | 1-3 | 1.6 – 17 |
| Boulder River Trail, Washington | Easy | 1 | 3-9 |
| Dry Creek Falls, Columbia River Gorge, Oregon | Easy | 1 | 4.6 |
Explore Your World. Award Winning Hiking Guides
1. Comet Falls, Mount Rainier National Park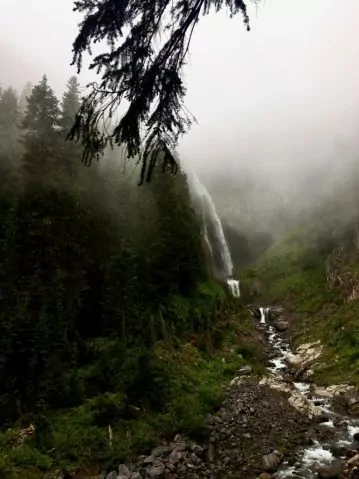 Trail Overview
The hike to Comet Falls in Mount Rainier National Park isn't merely a waterfall hike. It's a glorious trek along the cascading Van Trump Creek, over beautiful bridges and up hand-made ladders, through talus slopes, past the three-tiered Bloucher Falls, and then finally, the spectacle at the end, the 300-ft Comet Falls. This impressive waterfall earned its name because, at high water levels, it resembles the blazing tail of a comet as it plunges from the basalt precipice.  In less than four miles roundtrip, you pack in some of the best forest hiking that Mount Rainier has to offer. Whether you hike to Comet Falls on a brilliant summer day as dappled sunlight dances between the tree canopy or a moody autumn morning while waves of fog roll through the river valley, you're sure to delight in the mist of the falls and the roar of the crashing water. 
Trail Details
Van Trump Creek
Start at the trailhead along the Longmire-to-Paradise Road. This discreet trailhead is served by a parking area along the side of the road, only a quarter-mile past the Christine Falls Viewpoint. With few parking spots and no amenities, arrive early and be sure fill up your water in advance.
Set out steeply on the Van Trump Park trail before easing into mellow terrain. Soon, you'll reach the Van Trump Creek bridge at 0.3 miles. Stop on the bridge and admire the deep pools of Van Trump Creek. Water froths and flows in this gorge before descending to Christine Falls by the road below. Continue ahead, now gaining elevation as you hike through the verdant mossy forest. After you pass a few switchbacks, the trail peeks out between talus slopes, where you might catch sight of skittering pikas. Listen for their high-pitched squeaks among the rocks. At 1.2 miles, ascend the ladder, which was built by trail crews after a landslide took out the hillside in 2012.
Bloucher Falls and Comet Falls
After you've been hiking for about 1.6 miles, you must cross the East Fork of Van Trump Creek. A log bridge with a handrail has been constructed for safe crossing. Here, look to your right at the 124-ft Bloucher Falls. Although shorter than Comet Falls, this three-tiered beauty is worth a photo break.
Pick up the trail on the other side of the creek, and hike a few hundred feet until you get a straight line view of Comet Falls. This viewpoint is a worthy destination for many hikers, but for those looking for more challenge, continue along the right side of the creek. Hike through old avalanche debris and into the spray zone, where you'll stare face-to-face with Comet Falls.
Van Trump Park
If you want to add mileage to this hike, continue hiking as you gain over 1000′ elvation before you arrive at Van Trump Park. Sweeping views of the Nisqually River Valley, Mount St Helens, Mount Adams reward your effort.
Permits, Fees, and Reservations
An entrance fee* of $30 per vehicle, or $15 per individual, is required to enter Mount Rainier National Park.
*The America the Beautiful National Park Pass would cover this entrance fee.
When to Hike
Late-May through October. Snow covers the trail in the winter, making travel difficulty and increasing avalanche risk. If you hike during the snowy season, go prepared with traction devices and trekking poles. Many signs of avalanche debris and chutes exist along the trail, so have avalanche awareness and check the forecast before you hike in winter and spring.
Hike the Comet Falls with A Guide
The hike to Comet Falls is offered as part of the six-day Olympic and Rainier National Park Inn-Based Tour by Wildland Trekking Company. The tour company handles gear, snacks, lunch, and accommodations and provides a professional, knowledgeable guide so you can focus 100% on enjoying your adventure. Read more…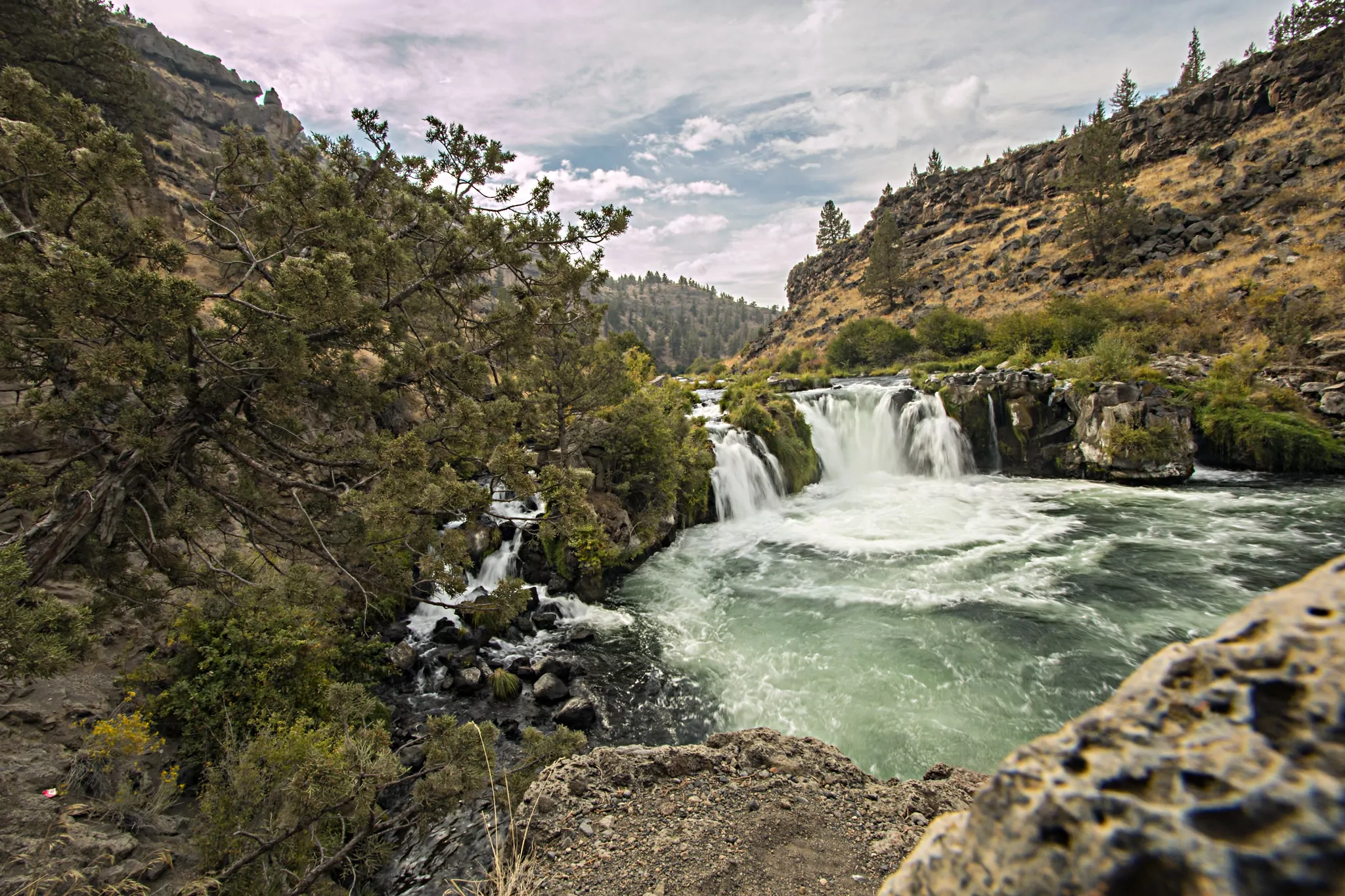 Trail Overview
This hike is unique for this list—instead of a creek rippling through a lush, cedar forest, Steelhead Falls sits lows in a dry, rimrock canyon where the Deschutes River flows beneath the canyon walls. In the summer, swimmers and cliff-jumpers flock to this hidden oasis. Anglers search deep pools to catch rainbow and brown trout. In the winter, snow drapes across the hills as ice forms along the edges of the falls. This short one-mile excursion rewards you with spectacular views of a 20-foot waterfall, and a glimpse at the desert life as lizards scurry across the dirt, and golden eagles soar overhead.
Trail Details
Steelhead Falls is located in Central Oregon, off US-97 north of Redmond. Twist and turn on dirt roads until you reach the Steelhead Falls Trailhead. There is a small parking area with an outhouse but no potable water, so be sure to bring a few liters. Pack a towel and some snacks, and lounge in the sun for the afternoon. You can even bring the pup, just keep 'em on leash.
From the trailhead, hike downstream, following a trail for 0.5-miles until you reach the falls. There is a lot of erosion along the path, and steep, loose slopes make this otherwise-easy hike moderately tricky. Trekking poles can be helpful for those with unsteady feet.
Once you reach the waterfall, observe the falls from high above, or meander down to the sandy shoreline to dip your toes in the icy waters. If you plan on cliff-jumping, always check water depth before making the plunge! Sit down and enjoy the roar of the falls and the air of juniper.
Hikers often see rattlesnakes in this area, so be mindful of where you place your hands and feet.
Permits, Fees, and Reservations
No fees. You do not need a permit to park at the trailhead. Overnight camping sites near the trailhead are first-come, first-served.
When to Hike
This trail is open and accessible year-round. July and August are the best months for swimming, although hot temperatures require hikers to carry extra water. If you hike to Steelhead Falls in the winter, check the conditions and bring microspikes for the steep sections if necessary.
All Inclusive Backpacking Trips
3. Sol Duc Falls, Olympic National Park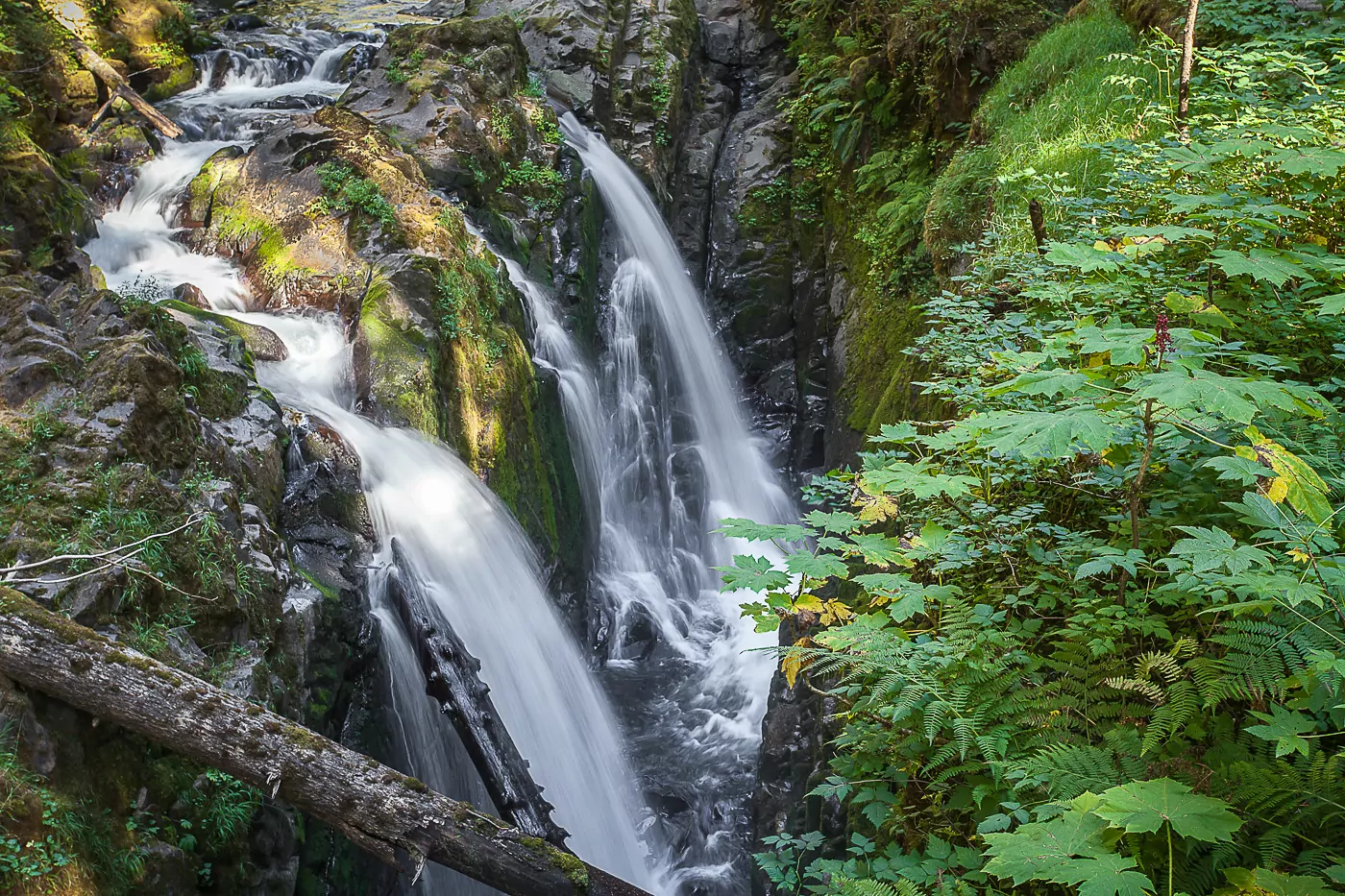 Trail Overview
Sol Duc Falls, a foamy-white sprawling cascade set amidst moss-laden old-growth trees, is one of Olympic National Park's most revered destinations. Black-stemmed maidenhair ferns and thimbleberry leaves dance in the mist of the roaring waterfall, as sunlight beams through the dangling branches of cedar and hemlock trees. This tumbling display of whitewater enchants you as you stand on the bridge spanning the creek.
Sol Duc Falls is accessible year-round and family-friendly. However, you can extend this short 1.6-mile hike by including it in a Seven Lakes Basin backpacking trip to experience even more wonder of the Olympic Mountains.
To top it all off, Sol Duc Falls lies upstream of Sol Duc Hot Springs Resort, where you can relax in the steamy pools after your hike.
Trail Details
Day Hike to Sol Duc Falls
This casual 0.8-mile trail (one-way) winds through dense, moss-covered rainforest, past turquoise-blue waters, to a cascading stream surging through a narrow gorge. At just under two-miles roundtrip, this hike is suitable for many ability levels. Start at the trailhead near the Sol Duc Hot Springs Resort, and walk until you reach a wooden structure at the half-mile mark. This shelter, built by the Civilian Conservation Corps in 1939, gives respite to hikers in inclement weather. Continue along the Sol Duc Falls, where many vantage points treat photographers to excellent photo opportunities.
Seven Lakes Basin Backpacking Trip
If you wish to include Sol Duc Falls in a longer itinerary, a Seven Lakes Basin backpacking trip is the perfect option. Many people hike this 17-mile trail in two or three days, trekking through the rainforest to high alpine lake basins, ending at Sol Duc Falls.  This loop immerses you in the heart of the Olympic mountains as you hike along High Divide.
Start at the Sol Duc River Trailhead and hike the loop counter-clockwise. Continue until you reach Deer Lake at 3.3 miles. Here, set up camp for the night or advance towards the lakes basin if you got an early start. Once you arrive at the Seven Lakes Basin, you have many options for exploration. Summit Bogachiel Peak at 5,474′ for awe-inspiring views of Mount Olympus, the highest peak in the park. If you're here in July or August, watch as the rainbow of wildflowers flutters in the breeze. Explore the basin, camping at Lunch Lake, or continue to Heart Lake to set up camp for the night. In the morning, six downhill miles bring you to the raging Sol Duc Falls. From here, it's an easy 0.8 miles to the trailhead.
Permits, Fees, and Reservations
A $30 entrance fee per vehicle is charged to enter Olympic National Park. An Annual Park Pass would cover these costs. No permit is needed to hike to Sol Duc Falls; however, if you plan to spend the night in the backcountry, a permit is necessary. Reservations are recommended from May 1st through September 30th. Half of the permits are available for walk-up bookings, but these are hard to secure in the busy season.  Obtain your permit at the Wilderness Information Center in Port Angeles once you arrive.
When to Hike
You can hike to Sol Duc Falls any time of year, but it is best-accessed spring through autumn. Rainfall in the spring and autumn are a bonus, raising water levels so that the waterfall is flowing at full force. Hike this trail in late fall to watch for spawning salmon swimming upstream. In winter, the Sol Duc Road may be closed, but you can access the falls by snowshoeing along the road. If you plan on visiting Sol Duc Hot Springs Resort, it generally operates from March through October.
4. Boulder River Trail, Washington
Trail Overview
The Boulder River Trail doesn't emphasize its waterfalls—they're not even in the name— and is more of a wilderness journey than a destination hike. However, with two impressive falls along the trail, this is a spectacular waterfall hike. A 4.5-mile (one-way) path leads you through pristine forest and along a rolling river in the Boulder River Wilderness. Old-growth trees line the way as waterfalls tumble down steep canyon walls across the river. Mats of vibrant green moss fill the spaces between the streaming water, as maidenhair ferns sway in the spray of the falls. Along the trail, multiple braided cascades crash straight into the rumbling river below. Past the waterfalls, wooden bridges cross tributaries and the trail climbs away from the river and into the lush, dripping forest.
Trail Details
Start at the Boulder River trailhead and follow an old road bed at a gentle grade. Soon, you will enter the Boulder River Wilderness and witness the forest of second-growth trees transform to that of old-growth
Douglas fir, hemlocks, and cedar.  After less than a mile, Pre-Show Falls, the first waterfall visible along the trail, peeps through the trees. Stripes of moss parallel the falls as it trickles down the steps in the rocks to find the path of least resistance. But keep hiking after you admire it: there are more waterfalls in store.
As you walk, the roar of the next falls reaches your ears before you see it. Feature Show Falls, about 1.5-miles in, soon becomes visible as it tumbles 259 feet down the side of the canyon. This display of water is at once both delicate and powerful, as it showers, veil-like, from the canyon edge. A nearby bench is a great location to stop and take in the majesty of the falls. This waterfall is the destination of many day-hikers, and a decent turn-around spot if you're with kids or looking for something quick.
However, hike further, and at the 3-mile mark, you will approach an unnamed waterfall (sometimes called Meditation Falls by locals.) This spot, less busy than the more-popular Feature Show Falls, is mesmerizing. Sit by the river in solitude, entranced by the rush of the water.
The trail becomes tricky with roots and mud as you hike towards the campsite at the end, so wear waterproof shoes in the wet season. Even if you don't plan on sleeping under the canopy of old-growth trees, this site serves as an idyllic picnic spot beside the Boulder River.
Permits, Fees, and Reservations
None. If you plan to spend the night at the campsite at mile 4.5, follow Forest Service wilderness regulations.
When to Hike
Year-round, but check trail and French Creek road conditions before you go. Springtime brings wildflowers, while mushrooms and other fungi pop up in the wet months of autumn. This is also a spectacular winter hike: at a mellow grade, the trail through the Boulder River Valley is accessible even in snowy conditions (which rarely occur at these low elevations).
Inspired Exploration with Wildland Trekking
5. Dry Creek Falls, Columbia River Gorge, Oregon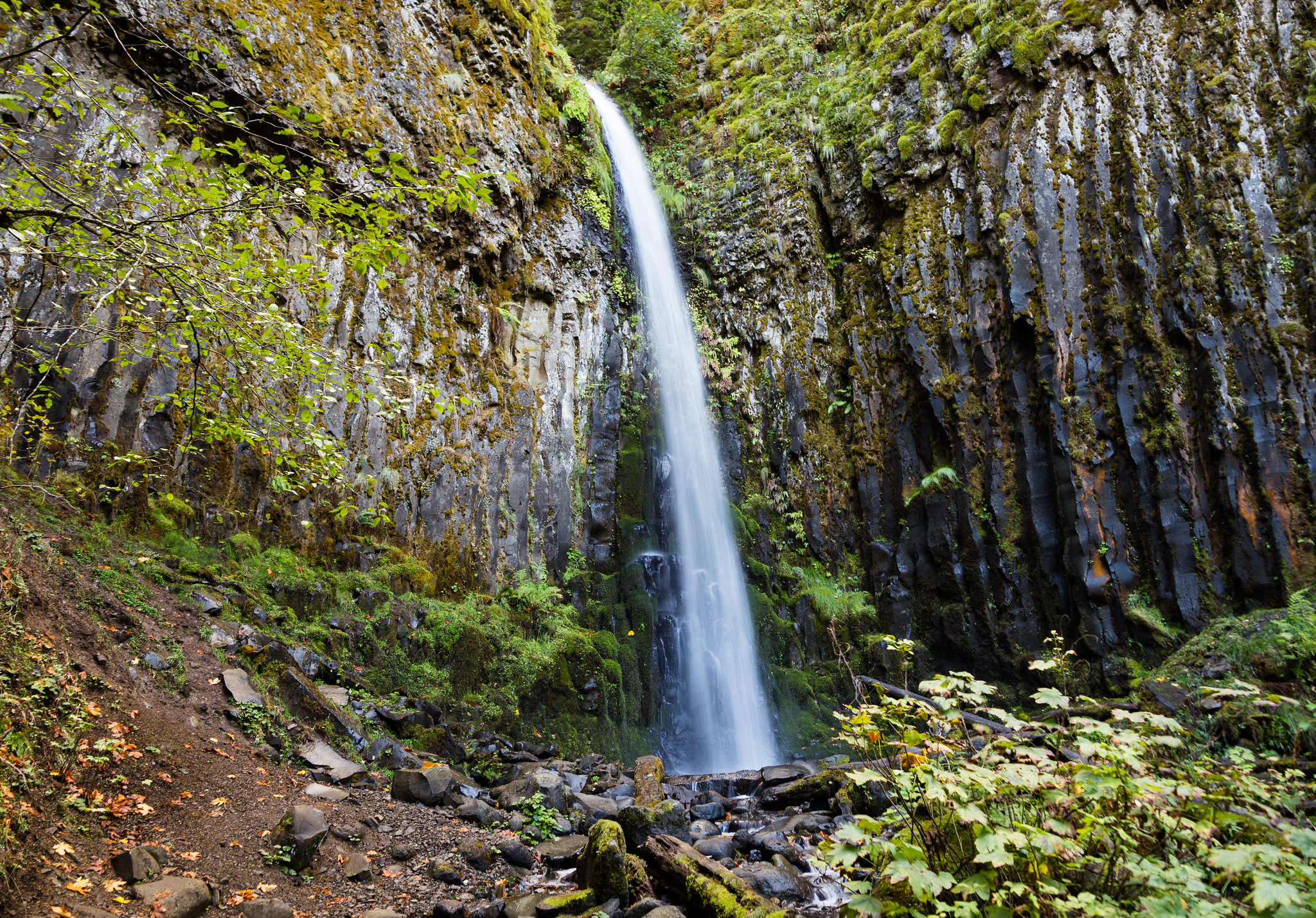 Trail Overview
After the Eagle Creek Fire in 2017, many hikes in the Columbia River Gorge remain closed due to the risk of landslides and other hazards. However, Dry Creek Falls along the Pacific Crest Trail (PCT) is now open and is an Oregon classic. Grand cliffs of columnar basalt encircle this horsetail-shaped waterfall, which plunges over the lip of a natural amphitheater. In the spring, shades of green burst from the rocks and wildflowers sprout up at the base of the falls. This 4.4-mile out-and-back hike takes you through a vivid, Pacific Northwest forest to the base of the falls.
Trip Details
Park at the Bridge of the Gods Trailhead to access this hike. Cross the road, follow signs, and head east for the Pacific Crest Trail, which parallels I-84. Once you come to Moody Street, turn right and follow this road uphill to pass under the interstate. Keep right at the fork to continue on a gravel road (Harvey Road.) After a few yards, you'll find two trailheads: take the left one for the PCT (also called Gorge Trail #400).
Now, most of the difficult navigation is complete and you can enjoy a casual hike through the forest to Dry Creek Falls. Lichen clings to the furrowed bark of Douglas-fir trees and moss rests heavy on deciduous maples. In autumn, these big-leaf maples put on a dazzling show of yellow and orange hues. Charred evidence from the fires remain along the trail. After one mile of hiking, approach a powerline access road and turn right before picking up the path back into the woods. Shortly after, you'll ascend a steep slope before dropping down into the canyon towards Dry Creek.
Immediately before the PCT crosses Dry Creek on a footbridge, you will arrive at a junction. Instead of continuing straight to the bridge, turn right on this spur trail to get to Dry Creek Falls.
Ever since the Eagle Creek Fire in 2017, the Forest Service releases up-to-date information on trail closures. Be sure to check notices before attempting to hike in the Gorge area.
Permits, Fees, and Reservations
A Northwest Forest Service Pass or America the Beautiful Pass is required at the trailhead.
When to Hike
Dry Creek Falls is accessible year-round, however, the Bridge of the Gods Trailhead closes in the winter. In this season, there is nearby parking available by Moody Street under the bridge.
Wildland Trekking Hiking Adventures
As the world's premier hiking and trekking company, Wildland believes in connecting people to fantastic environments in amazing ways. Wildland Trekking Company offers an array of incredible hiking and trekking experiences in 9 states and 11 countries. Read more about our world-class destinations.
To learn more about our guided backpacking trips and all of our award-winning hiking vacations, please visit our website or connect with one of our Adventure Consultants: 800-715-HIKE.