Best Hikes in Great Smoky Mountains National Park

Straddling the border between Tennessee and North Carolina, Great Smoky Mountains National Park is a beloved destination for its majestic peaks and extreme biodiversity. Although some tourists stay choose to stay in their car during their visit, it is only on the park's vast trail network that you can experience most of its extraordinary wonders. Below are some of our favorite Smoky Mountain hiking trails, which we hope will inspire you to plan a trip for yourself.
Charlies Bunion and the Jump-Off
Charlies Bunion is an impressive rock feature that offers incredible views to hikers who reach its summit. Once called "Fodderstack," this peak got its name when a man named Charlie, who was on a hike with the Smoky Mountains conservationist Horace Kephart, took his shoes off and noticed he had a bunion resembling the shape of the rock. Kephart declared he would rename this rock after Charlie's bunion.
Not far from Charlies, the Jump-Off is a famous 1,000-foot cliff face. When you see it, it's easy to understand how it got its name.

Wildland Trekking offers an exciting day hike to both of these geographical features. For a one-day excursion, it packs a big punch, including hiking along the famed Appalachian Trail, stunning scenery from an exposed ridge and unique geological formations. This nine-mile excursion has a moderately difficult rating and features an elevation change of 1,640 feet. We offer it year-round, and it typically lasts five to seven hours.
On our tour, we begin by picking up our guests in Asheville and then traveling to Newfound Gap, where the hiking begins. The first couple of miles of the trail feature an ascent, but the payoff comes in the form of breathtaking views of the mountains and beautiful wildflowers. A large portion of the hike follows a narrow ridge and offers incredible 360-degree views.
After visiting Charlies Bunion and the Jump-Off, we'll stop for a delicious picnic lunch and then make our way back to the starting point.
Ramsey Cascades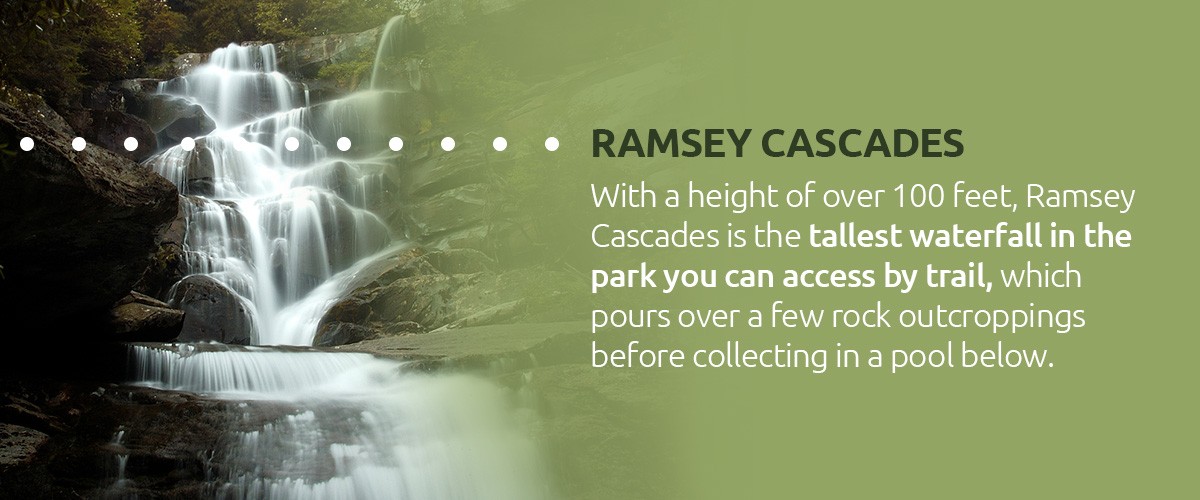 With a height of over 100 feet, Ramsey Cascades is the tallest waterfall in the park you can access by trail, which pours over a few rock outcroppings before collecting in a pool below. Although the hike to the falls is long and strenuous, there's plenty of nature to enjoy along the way, including beautiful tulip trees, silverbells, basswoods and yellow birch trees. All of these turn stunning shades of red and orange in the autumn, giving a warm glow to the landscape.
Wildland Trekking offers a day hike to these popular falls. This roughly eight-mile hike, which has 2,375 feet of elevation gain, is of moderate difficulty and lasts five to seven hours. During the hike to these impressive cascades, you will pass through the park's largest old-growth forest, which allows you to experience the extraordinary biodiversity of the park firsthand. Whether you're an avid nature lover or a family with kids, hiking in the Smoky Mountains is a fantastic choice.
Clingman's Dome
Clingman's Dome is the park's highest point, which also makes it one of the most popular. As you might imagine from a peak that's 6,643 feet in elevation, the views are practically endless and the sunrises and sunsets are unforgettable. Many guests who visit this summit hike along its one-mile round-trip path to the observation tower.
Wildland Trekking offers a four-day, 33-mile adventure that includes Clingman's Dome and Andrews Bald, which is one of the most stunning viewpoints in the backcountry. The excursion starts with a pickup in Asheville and is of moderate difficulty.
This trip into the North Carolina wilderness has everything you could ask for: spectacular views, sparkling mountain creeks, famous grassy balds, diverse ecosystems, plunging cascades and memorable historic sites. Whether this is your first time to the park or you've been many times before, you're sure to find this epic excursion inspiring.
We begin our hike at Clingman's Dome. Over the next four days, we'll visit Andrews Bald, explore a variety of ecosystems with an exciting and turbulent history, traverse majestic, remote river valleys, take in gorgeous cascades and visit fascinating sites of historical interest.
Gregory Bald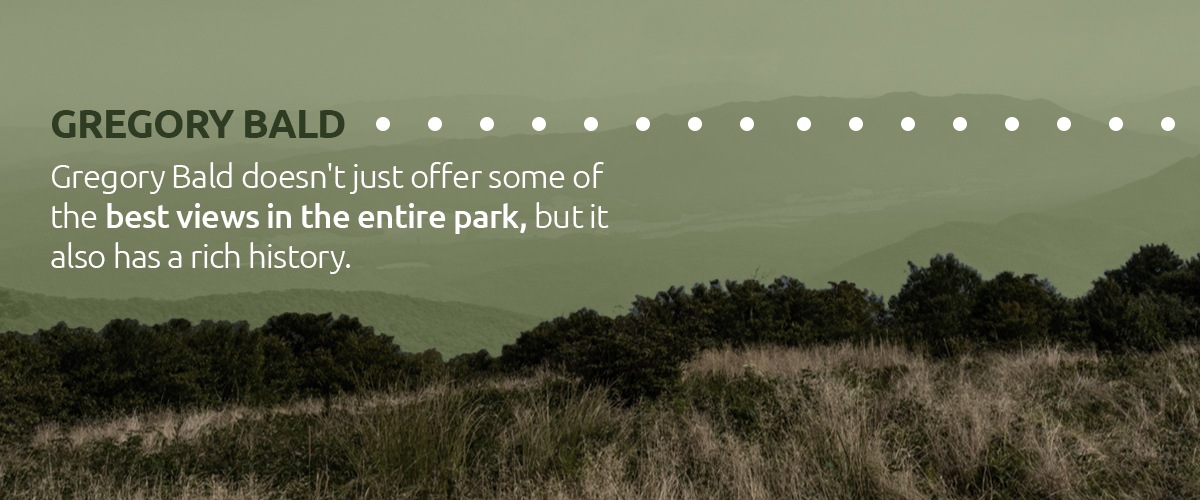 Gregory Bald doesn't just offer some of the best views in the entire park, but it also has a rich history — the Cherokee called this peak "Tsistu'yi," which means "Rabbit Place," believing the Great Rabbit, who was the chief of all rabbits, lived on this summit.
Wildland Trekking offers a three-day loop excursion to this iconic and scenic feature. Guests who join us on this 16-mile journey will have the opportunity to soak up amazing views of the historically significant Cades Cove and the mountains that surround it. They'll also have a chance to see lots of wildlife, as hikers on this trail regularly spot deer, bear and elk, who rely on the grassy balds' resources. This hike has a moderately difficult rating.
The route starts along the banks of the Little Tennessee River and works its way up several mountain creeks that lead to higher mountains. Guests will pass cascades, hike along dramatic ridges, make stops to explore the amazing flora and fauna and eventually arrive at Gregory Bald.
After visiting Gregory Bald, as the camp is nearby, we'll return to the peak in the evening to enjoy a sunset dinner. On the way home, we'll take a different route, creating an excellent loop hike.
Mount Sterling and Mount Cammerer
Mount Sterling and Mount Cammerer offer some of the park's most stunning views, and Wildland Trekking offers a four-day hike that visits both of these unforgettable viewpoints. This fantastic 28-mile trip is one of the best hikes in the Smokies, as it offers such a wide variety of experiences. It includes old-growth forests, several historic sites, a fire lookout built from rock, the park's highest-elevation campsite, a swimming hole, waterfalls and gorgeous creekside hiking. This trip follows a historic route Native Americans, early settlers, loggers and herders of livestock used before the park existed.
This hike is a loop, meaning there is little backtracking and we'll get to experience something new every day. The route begins low in the valleys and follows several creeks that lead up into the high mountains, which will reward guests with unbelievable views. On this hike, we will experience the park's diverse ecology, which includes temperate rainforest. Guests who participate in this exhilarating trip usually leave feeling accomplished and rejuvenated.
Andrews Bald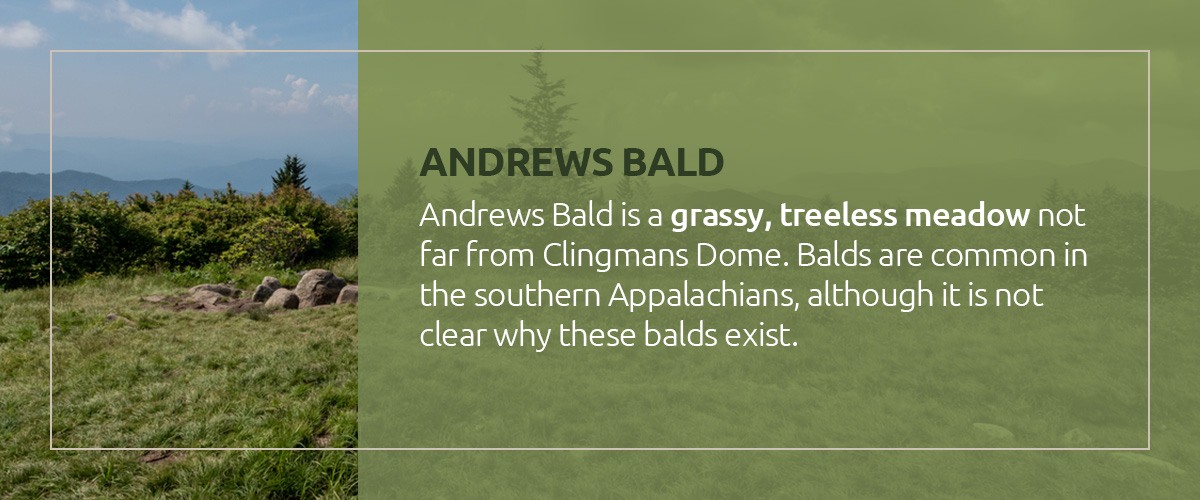 Andrews Bald is a grassy, treeless meadow not far from Clingmans Dome. Balds are common in the southern Appalachians, although it is not clear why these balds exist. Some speculate early settlers used them for grazing so they could use the lower elevations for crops.
Wildland Trekking leads a four-mile day hike that includes this popular destination. This 12-to-14-hour hike only features a 900-foot elevation change and is not particularly difficult.
We begin this day hike by picking you up in Asheville and taking the scenic route to the park, which includes the famous Blue Ridge Parkway for a portion of the drive. During the drive, the guide will tell you about the history, ecology and scenic beauty of the Smokies. We will stop at one of the Parkway's scenic overlooks to have breakfast, and will continue to the Oconaluftee Visitor Center, Mingus Mill and the Mountain Farm Museum. All of these historic sites, located just within the national park, will give you a glimpse into the lives of the Smokies' earliest inhabitants.
We'll then drive up to Clingman's Dome, the park's highest point, to enjoy the spectacular views it offers. Here, we'll begin our hike to Andrews Bald, enjoying the park's fascinating ecosystem along the way. We'll stop for a delicious, gourmet picnic lunch, which your guide will prepare, then head back to the lookout tower on top of Clingman's Dome. After taking in the tower's majestic views, we'll go back down the mountain to visit several waterfalls located in the park's Deep Creek area. Before taking a short hike to view these beautiful falls, we'll enjoy an Appalachian dinner in picturesque downtown Bryson City. At the end of the day, we'll return to Asheville, ending a packed day of hiking in the Smokies.
Mount Leconte
Mount LeConte is one of the Smokies' most iconic peaks. Not only is it the park's third-highest point, but it's also the highest point that is completely within Tennessee. Another interesting distinction is that, when measured from its base to its summit, it's the highest peak east of the Mississippi River.
However, its geologic, biological and historical significance make LeConte famous. Ancient sandstone and shale cover the slopes of this mountain, as well as sweet-smelling forests of spruce and fir. When visiting the top of Mount LeConte, you'll enjoy awesome views and visit the LeConte Lodge, which consists of cabins that were constructed in the 1920s and are only accessible by trail.
Hiking to and staying at Mount LeConte has everything you'd want to experience during a trip to the Smokies, including stunning views, mountain summits, diverse forests, rushing creeks and fascinating history. The diversity of experiences make this one of the best hikes in the Great Smoky Mountains National Park. We recommend spending two nights at the Mount LeConte Lodge, where you'll take in sweeping views of the Appalachians and relax in cozy, quaint accommodations.
For most people this trip begins on the Alum Cave Trail, which is the shortest and most breathtaking trail leading to the top of Mount LeConte summit. On the way, you'll pass through old-growth forests and travel along a beautiful creek. Once you arrive at the LeConte Lodge, you'll get settled into your cabin and then enjoy a scrumptious mountaintop dinner while soaking up spectacular sunset views. The following morning, we recommend making your way down the Trillium Gap Trail, which leads to the top of Brushy Mountain. On your way, you may be lucky enough to pass by some of the llamas that deliver supplies to the LeConte Lodge. On the third and final day, go down the Boulevard Trail and meet up with the famous Appalachian Trail and take in some of the park's most stunning views. Wrap things up with a short hike to the Jump-Off and end at Newfound Gap.
Deep Creek
The Deep Creek area of the park is famous for its streams and waterfalls, and hikers can choose from a variety of loop trails to visit the falls.
Wildland Trekking offers a family-friendly excursion to see these marvelous cascades. This relatively easy, two-to-three day hike will offer a unique bonding experience for your family, as we stay at a fun creekside campground and spend some time playing in the waterfalls and creek. The length is a little over eight miles.
On the first morning, we will pick you up from your hotel in Asheville and take a scenic drive to the park, enjoying beautiful scenery and stopping at museums along the way. We'll visit Oconoluftee Visitor Center, Mountain Farm Museum and the Cherokee Museum, all of which give you a good idea of how past inhabitants of the Smokies lived.
When we arrive at the trailhead, we'll eat a picnic lunch, then take a hike up the Deep Creek trail to our campsite. The campsite is right on the creek and we'll spend one or two days there, depending on which itinerary you choose. On the two-day hike, you'll enjoy the waterfalls and creek, eat a delicious backcountry dinner, get a relaxing night of sleep at the campground and then head back the second day. On the three-day tour, you'll spend the second day on a beautiful waterfall hike. On the last day of both itineraries, you will get to explore one of the more remote areas of the park and visit a historic church, settler's home and school before going back to Asheville.
Explore the Best Smoky Mountains Hikes With Wildland Trekking
Getting ready for hiking in Great Smoky Mountains National Park involves several hassles, including planning your route, reserving accommodations, preparing food and buying equipment. Many of us don't have time for all these things, and even for those who do, it can be a stressful experience.
However, by booking a tour with our friendly, experienced and certified guides, you won't have to worry about any of the above. Yes, that's right — we take care of the accommodations, food and gear, and it's all in the price of the trip!
Additional reasons to book a trip with Wildland Trekking include the following.
Excellent reviews: We are the top-rated company on Trip Advisor for five different national park pages.
Small groups: Our adventures never have more than 12 guests per trip.
Excellent guides: Our guides are all well-trained, certified and passionate about what they do.
Forgiving refund and transfer policies: While some companies ask for non-refundable deposits of 50% or more, we ask for only $500. If you cancel more than 60 days out, we only charge a $100 administration fee.
Knowledge customer service: We have 12 friendly and knowledgeable consultants ready to help you choose the right trip and prepare for it — and we're available any day of the week.
Browse our list of the best Great Smoky Mountains hikes on our site. We hope to be part of your next wilderness adventure!