Backcountry Cooking: What You Need To Know For Your Next Backpacking Trip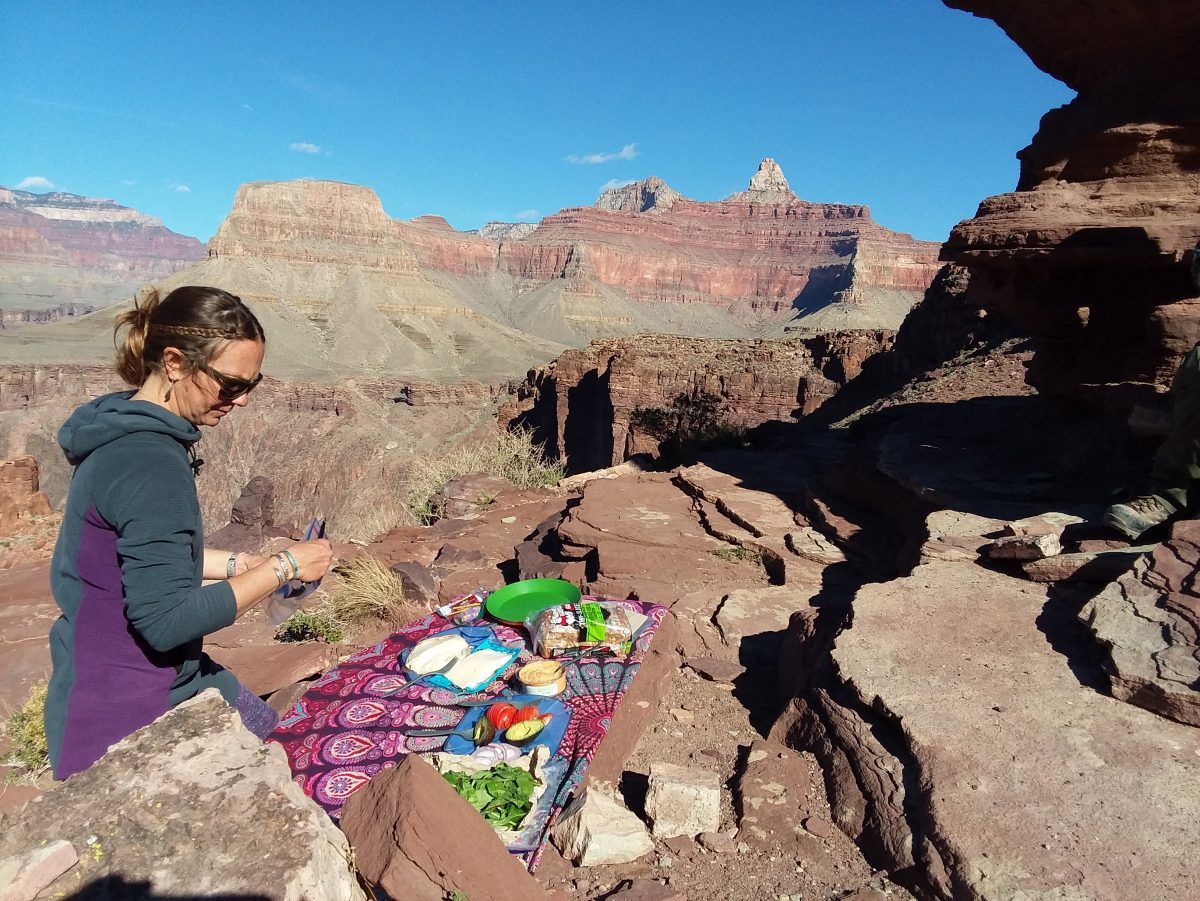 When you travel with Wildland, our guides take care of meal planning and gear packing so you can approach your upcoming trip worry-free. Sometimes, though, it's nice to know what goes on behind the scenes. So, we're going to let you in on a few of our secrets.
Venturing out on your own to tackle a backcountry hiking adventure? If you want to recreate your Wildland culinary experience, the following info is for you, too. Let's talk cook kits and menu planning!
The poet Rumi said, "Life is a balance of holding on and letting go."
When I pack and purchase gear for backpacking, I strive to achieve this philosophy. Bring the necessary gear (plus a few creature comforts), and let go of excess. Extra items increase pack weight, bulk, complexity, and expenses. My cook kit fits within Rumi's simple framework. I want to eat well without a heavy, complicated cooking kit. You too? Great. Let's delve deeper…
The following four categories and pro tips will help you select the gear you need for your cooking style.
*Disclosure: Some of the links below are affiliate links. At no cost to you, we earn a commission on any products purchased through these links. Any proceeds go to supporting our blog and operations. These affiliate links do not influence the products that we include in our articles. We only recommend products that we 100% support and that our guides use in the field. 
Backcounty Cookset

stove
My favorite stove (and the one we use at Wildland Trekking) is the MSR Pocket Rocket. I hiked the entire 2,185-mile Appalachian Trail with mine and never had an issue.
pros
The advantage of canister stoves, like the Pocket Rocket, is that you can adjust their heat output better than a JetBoil (or similar stoves). Instead of relying on full-blast or barely-on flames, you'll be able to control simmering and boiling options. They are also reliable, easy to use, and lightweight.
cons
One drawback is that the canisters are not environmentally friendly. The canisters are often single-use, and you cannot bring the exact amount of fuel you need. They also don't have a particularly stable base, so large pots can tip over easily if you are not careful.
Overall, I believe the benefits largely outweigh the drawbacks.
Pro tip: Always bring two lighters! A match and lighter combination will work too. I store them in different places so if one fails (for example, gets wet), you won't be having cold-soaked noodles for dinner, yuck!
Pots and Pans
Do you want to bring more than one pot? Are you going to use a frying pan or do you only need pots? This is all a matter of personal preference and cooking style — and it will depend on how many people you're cooking for. On Wildland backpacking trips, we usually cook for larger groups, so we have pretty extensive cook sets. However, if you're just setting out on a personal backpacking trip with a friend or partner, you can probably pare down.
On one to two-person backpacking trips, we recommend you bring just one pot. Find recipes for one-pot meals; you'll find plenty of tasty options on the internet. One-pot meals keep your kitchen setup light, and your cooking simple and satisfying.
Here are some instances when you might want to bring a frying pan: lower mileage trips, car camping, or larger group trips. In these scenarios, the weight/bulk isn't so impactful and you exponentially increase your options for meals.
If you're looking for a high-quality cook set, we recommend GSI, MSR, and Sea to Summit cooking gear.
utensils
Take a moment to think about your cooking style (and menu) and then decide a spoon will suffice or whether you'll need additional utensils. For example, if you're bringing a frying pan, a spatula for stirring/flipping is super useful. On the other hand, stirring a boiling pot with an ultralight titanium spoon gets quite hot!
Wildland Trekking uses folding GSI Camp Spatulas which are compact and very useful with frying pans. Otherwise, a simple Lexan spoon should do the trick for everything you need.
Pro tip: GSI's Compact Scraper is amazing! It's basically a handheld spatula to scrape your bowl/pot, making cleaning easier and eliminating extra food waste when cleaning dishes.
spices
Option 1: Preseason all your meals at home. Bring a small bottle of hot sauce if desired – done!
Option 2: In small, snack-size plastic baggies, place a few pinches of the spices you need for your meals. You'll have a lightweight spice kit, and you can place this smaller container in a larger sandwich bag for easy storage.
Of course on our trips, we do 100% of this for you. This way, you can relax, take pictures, chat with friends new and old, and enjoy your vacation.
Menu Planning: 3-day Backcountry Cooking Guide

Looking for inspiration for your next outdoor adventure? Check out this menu from my last Wildland backpacking trip. The emphasis is on tasty, lightweight meals that will sustain you throughout your adventure. Note how I try to reuse ingredients without sacrificing variety. Pack just what you need to keep it light.
Pro Tip: You can separate meals into large Ziplocs, containing all of the items you need for easy organization. Grab the ingredients and hit the trail!
day 1
Breakfast
If you're getting an early start, I recommend bringing breakfast from home. Favorite combos:
Fruit, yogurt, and muffin
Bagel with cream cheese and jelly
Smoothie with protein powder and toast
lunch
2.5 oz. flavored tuna pouch, ex: lemon pepper
Box of hearty crackers ex: Mary's Gone Crackers (GF) (enough for all lunches)
8 oz. block of cheese (used for all lunches and optional for dinner)
Apple
Dinner: Brocolli cheddar soup
1 pre-cooked sausage, ex: Aidell's Cajun Style Andouille
1 handful precut broccoli florets
¾ – 1C Bear Creek Country Kitchen Cheddar Broccoli soup mix
Cheese from lunch block (optional)
2-3 C water depending on desired consistency
Bring water to a boil, add soup mix reducing to a simmer for 5 minutes. Stir consistently to avoid burning. Add sausage and broccoli and simmer another five minutes.
day 2
breakfast
¾ C granola
Additional dried fruit and nuts
1-2 tablespoons powdered milk
lunch
1 small package of pepperoni or salami (used for Lunch 2 and 3)
Crackers (remember, you packed enough for the full 3 days!)
Block of cheese (should still have plenty from Day 1's 8oz block)
Dried mangos or other fruit of choice
dinner: mac and cheese
1 can chicken
½ box mac and cheese plus a few tablespoons of powdered milk
Handful dried mushrooms, crushed
Cheese from lunch block (optional)
Bring water, pasta, and mushrooms to a boil and cook completely. Drain, leaving a small amount of water for moistening the cheese and powdered milk packets. Add the remaining ingredients and stir to combine.
Day 3
breakfast
2 packets of instant oatmeal
Dried fruit and nuts for topping
1-2 T powdered milk
lunch
1 individual pouch peanut butter or almond butter (Jiff & Justin's brands make single-serve packets)
Crackers
Cheese
1 small package pepperoni or turkey pepperoni (used for Lunch 2 and 3)
1 handful of banana chips
dinner: salmon Mashed Potatoes
2.5 oz. pouch salmon
½ – 3/4 packet Idahoan brand Butter and Herb instant mashed potatoes
A handful of broccoli and/or dried mushrooms
Cheese (optional)
1-1.5 C water
Bring water and broccoli/mushrooms to a boil and simmer until cooked. Add potatoes and salmon, stir and let stand 1-2 minutes.
Extras
snacks
3 granola/protein bars
2.5 cups trail mix
1 package jerky
dessert
drinks
tea/coffee/hot cocoa
electrolyte drink mix packets
There's nothing like a hearty, delicious meal at the end of a long day of exploring the great outdoors. But who wants to spend hours cooking?! It is possible to eat well without exhausting yourself in the process; it just takes planning and preparation ahead of time so you can spend more time star gazing and less time worrying about dinner.
Do you have a favorite backcountry meal?
Let us know on social media! We love to be inspired.