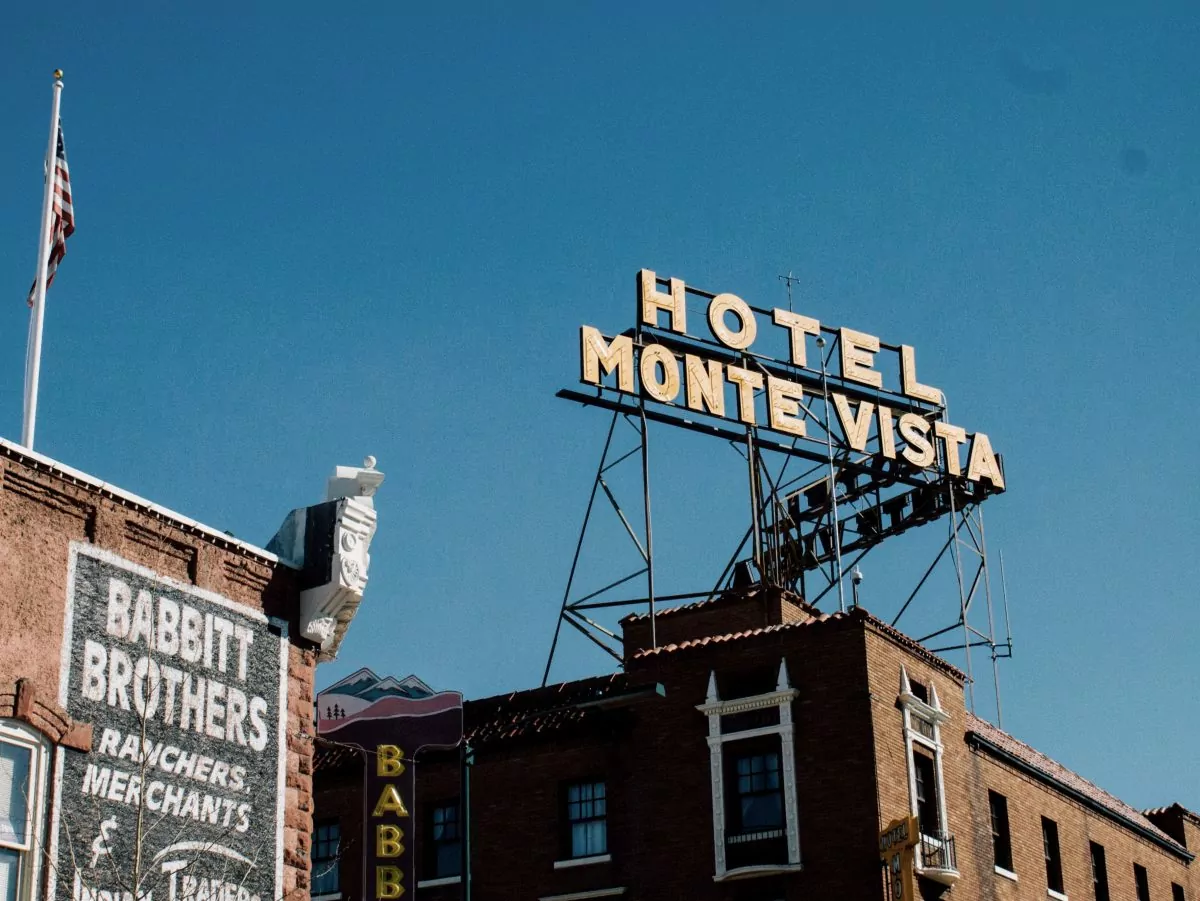 A Guide to Flagstaff, Arizona: The Grand Canyon's Gateway
You may know Flagstaff, Arizona as the gateway to the Grand Canyon, but it sure does have more to offer. The largest Ponderosa pine forest in the world surrounds the city, enriching the air with its butterscotch aroma (or is it vanilla?) The snow-capped San Francisco Peaks rise out of the earth above the high desert, where below, prehistoric cliff-dwellings still stand protected. And right in the middle of it all, Flagstaff's Historic Downtown buzzes with life as residents and tourists alike walk the streets.
In this Flagstaff guide, we've listed our favorite sights and scenes around town. If you've only got a few days in the area before or after a trip to the Grand Canyon, you'll have plenty of options to fill your time. Public lands surround Flagstaff for hiking, biking, and paddling. Right in town, the Flagstaff Urban Trail System includes more than 50 miles of trails throughout and encircling the city. Three national monuments lie within 30 minutes of downtown by car so that you can see anything from canyons to ancient ruins to volcanic remains. And if it's raining (which isn't very likely), downtown Flag has plenty of indoor offerings to keep your stoke high until the clouds clear. This Flagstaff guide will give you tips for how to spend your time in Flagstaff, whether you're in town for a day or a week. Just be careful: once you visit this enchanting mountain town, you may never want to leave.
What to Do
1. Hike in the San Francisco Peaks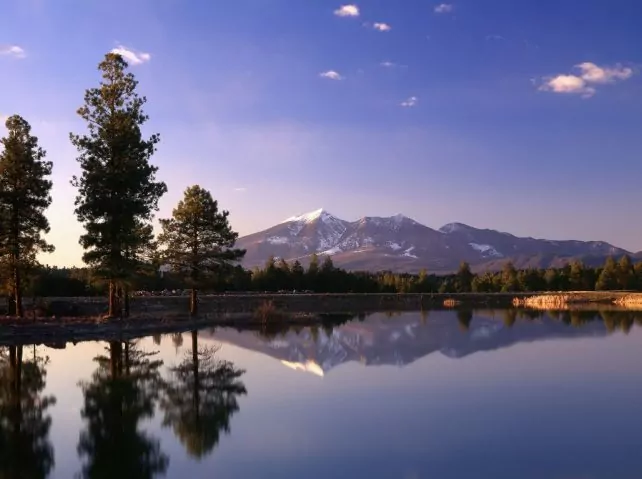 The San Francisco Peaks are incredibly accessible from town because of Snowbowl, Arizona's ski resort, which sits at 9200 feet. In the summer, this resort becomes the trailhead for many local hikes. The Kachina Trail is a moderate out-and-back that traverses the southern slopes of the mountain range. It's 5.5 miles one-way, but you'll experience little elevation gain as you stroll through the aspen groves and alpine meadows.  The Aspen Loop Trail, at 5 miles roundtrip, is the perfect outing for those looking to get a quick hike in. 
If you're up for a long hike, you can bag the highest peak in Arizona. Mount Humphreys, 12,633 feet, is a 10-mile roundtrip hike with over 3,000 feet of elevation gain. As you approach the summit, take it slow: your lungs will gasp for air and the large scree field adds to the difficulty as each step you take slides backward. In the summer, start this hike early and stay cautious. Thunderstorms sweep through the area in the afternoon, so you'll want to be enjoying your post-hike burger and beer when this happens.
2. Visit Any of the Three National Monuments
Flagstaff is home to three national monuments, each within 30 minutes of downtown.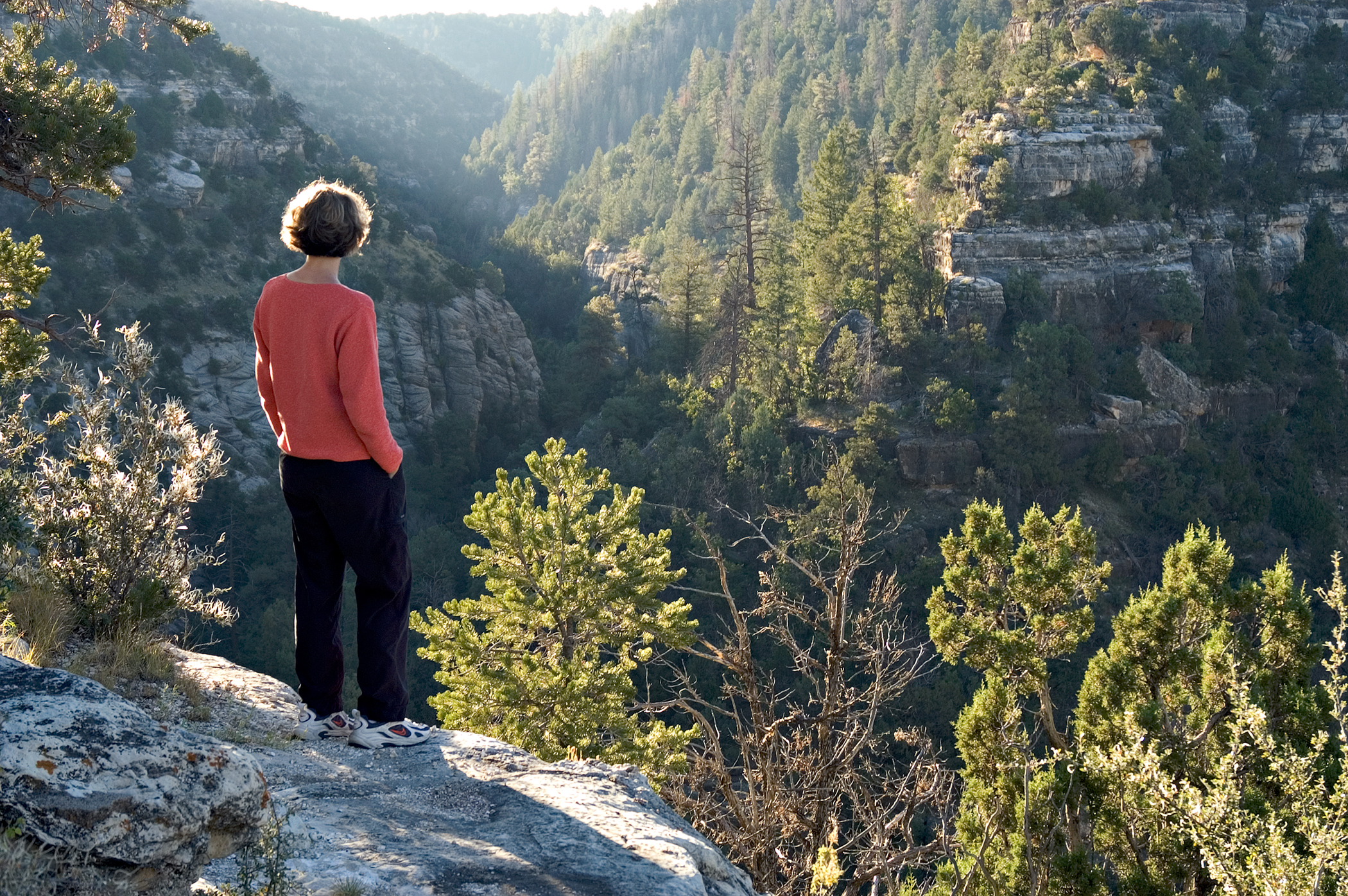 Walnut Canyon is a deep water-carved canyon on an otherwise vast desert plateau. Indigenous Sinagua inhabitants built cliff dwellings in the alcoves beneath the limestone walls. Now, the park is home to wildlife as they seek shade and water in the harsh arid environment. Visitors can explore the monument on foot: the one-mile Island Trail weaves past twenty-five cliff dwellings. Stay on established trails to protect the fragile ecosystem and ruins. 
Wupatki National Monument also preserves ancient pueblos built by indigenous communities in an unlikely landscape. Thin slices of stones stacked high form dwellings that jut out of the red rock desert floor. Ranger-led hikes are a great way to explore this park: these experts will take you to ruins that are off-limits to the general public. If you'd prefer to check out the national monument solo, you can take one of the short paths to various pueblos such as the Lomaki and Box Canyon Pueblos. 
Sunset Crater is the third national monument outside of Flagstaff. This cinder cone is evidence of this area's volcanic past. Jagged, sharp basalt spreads across the flatlands. These ancient lava flows of molten rock moved slowly over the earth's surface, cooling and hardening repeatedly to create rough, volcanic terrain. Walk both the Lenox Crater Trail and the Lava Flow Trail to get a complete picture of this region's geologic history. 
3. Paddleboard on Lake Mary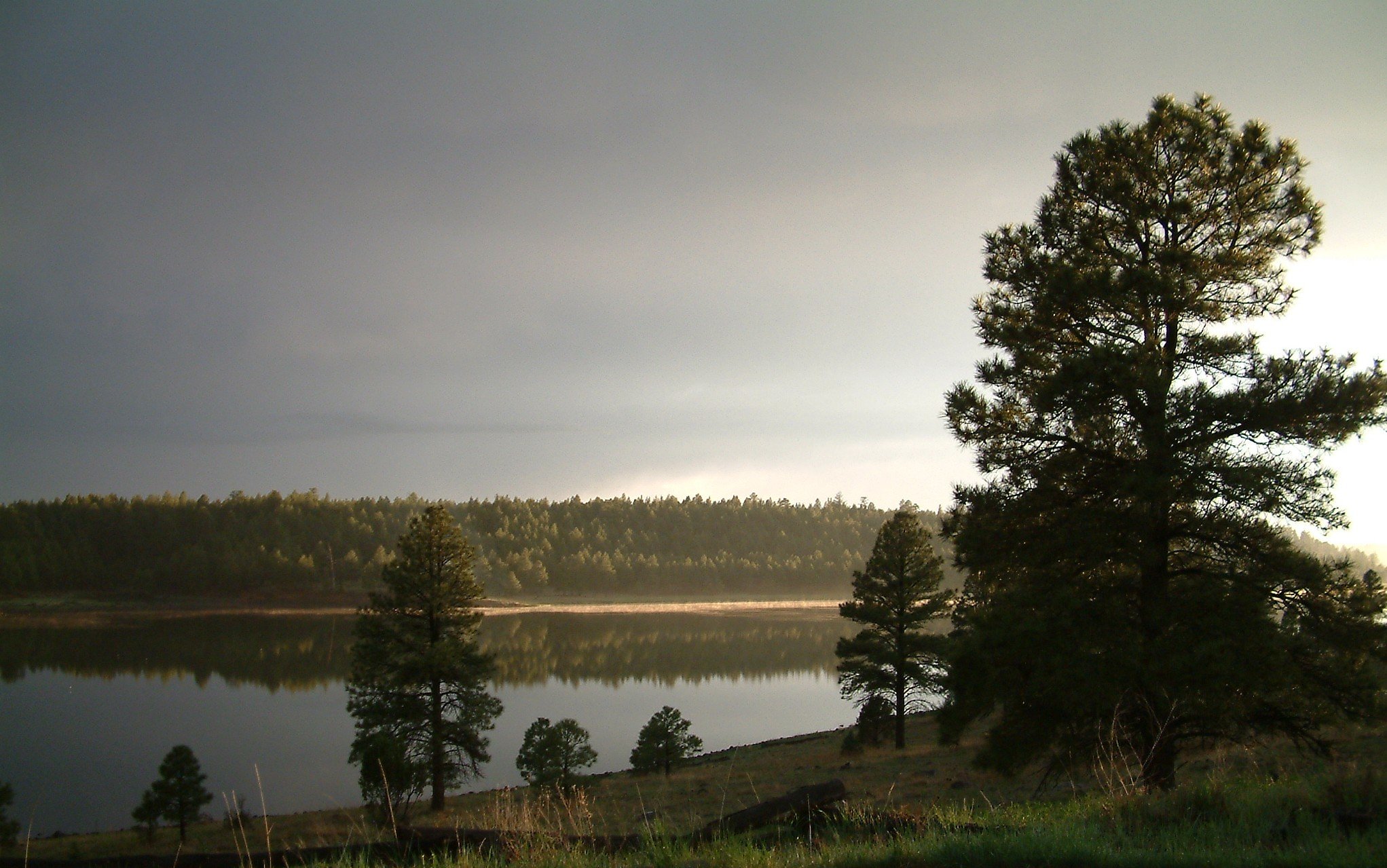 Upper Lake Mary is a long reservoir that lies 30 minutes from downtown Flagstaff. (Are you seeing a trend here?) While it is popular with powerboaters and waterskiers, it is also a great place to paddle on SUP or kayak. Wake up early to escape the crowds and catch sunrise on the glassy waters. Even in mid-day, if you stay around the perimeter, you can avoid bigger boats. If paddling isn't your thing, rent a rowboat and grab your fishing pole to try to catch northern pike, channel cat, crappie, or trout. The Lake Mary Country Store rents out fishing boats and hand-powered watercraft such as kayaks, canoes, and paddleboards. Or, you can rent a SUP board from Canyon REO, a local river outfitter, before leaving Flagstaff.
4. Visit Historic Downtown Flagstaff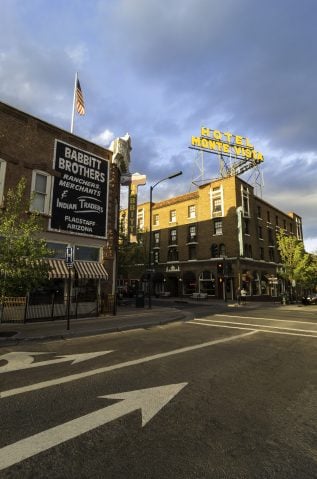 Historic Downtown Flagstaff is full of places to eat, drink, and shop. As you're browsing the shops along the main streets, you can't miss Brightside Bookstore or the Old Town Shops, which feature locally-owned stores like Sage Brush Trading Company and the Flagstaff Chocolate Company.
Don't forget to check out one of the numerous outdoor gear stores while you're downtown. Babbitts Backcountry Outfitters is a family-owned gear shop where you can buy and rent your outdoor equipment. Aspen Sports is both an outdoor outfitter and a local skate shop with over thirty years of experience. Mountain Sports focuses on outdoor apparel, but they also supply gear and luxury home items. SMR is Flag's newest gear shop, and they offer gently-used goods. When you make your last-minute run for the gear you left at home, you can buy without hurting your wallet or the planet. 
If you want to stay active but the weather isn't cooperating, Beta Bouldering Gym and Flagstaff Climbing are both downtown so you can get your climbing fix. Or, head to the Northern Arizona Yoga Center to recover from your backcountry adventure. 
Once the sun goes down, head to the Lowell Observatory, a non-profit research center open to visitors. They have an open desk observatory for an incredible stargazing experience. Fun Fact: Pluto was discovered here! 
If you want to learn more about the Colorado Plateau and its past, the Museum of Northern Arizona is a great place to visit. They host permanent exhibitions focused around native communities, geology, and modern arts.  
5. Peep the Fall Colors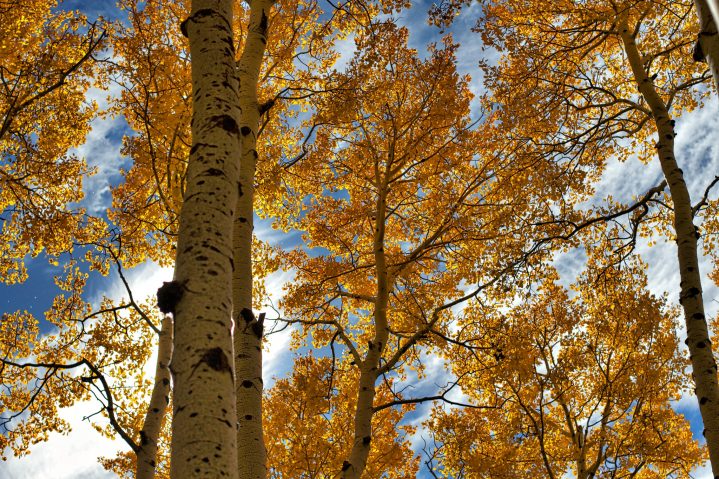 Every fall, brilliant yellow aspen fill the high mountain valleys and slopes. The striking white bark highlights the fall colors, creating a mesmerizing scene. Inner Basin is one of the best trails to get a sighting of the color change—but don't expect to be alone here. This trail, accessible through Snowbowl, takes you through one of the most accessible and largest aspen groves in the area. Flagstaff is so well known for its aspens that the Tourism Board website even has a "leaf-ometer" so that you can hit the trails at exactly the right time. 
Where to Eat
Coffee & Breakfast
If you like coffee, you'll have plenty of great options to get a locally-roasted brew in Flagstaff. Late for the Train is a Flagstaff staple where you can grab coffee and breakfast burritos. (They have a great chai, too!) Sit out on the patio and read the local newspaper if you want the full experience.  Firecreek Coffee is another well-established coffee roaster downtown. They also have baked goods, a breakfast menu, a cozy atmosphere, and local art. Or, head a few doors down to check out the dog-friendly patio at Stronghold Coffee Company for great coffee and a welcoming environment. 
Flagstaff also has an array of fantastic breakfast spots. Macy's European Coffeehouse and Bakery, a lively local favorite, is first-come, first-served seating, so arrive early if you want to guarantee a spot. It's a great place to grab a coffee and a pastry to settle into your morning.  The Toasted Owl Cafe is a fun, eclectic spot to eat breakfast with your travel group. Martanne's Breakfast Palace serves up Mexican classics and has some of the best breakfast in town. And if you're the kind of person who just drinks a smoothie for breakfast, you shouldn't miss the Local Juicery. This vegan-friendly spot also has toasts, waffles, and grab-and-go bites. But really, we can't stop dreaming about their smoothies. 
Lunch & Dinner
Diablo Burger is a local burger joint with a cult following. They use locally-raised, grass-fed beef and have loads of customization options so you can load up your burger with goodies (like guacamole or green chiles), or keep it standard. Karma Sushi Bar is a cozy, modern spot for both lunch and dinner. They have unique sushi rolls, made even better by happy hour specials. They also serve ramen, burgers, and other options for your non-sushi-loving friends and family members.  
The Cornish Pasty Company dishes up delicious meat (and veggie) pies to pair with their draft microbrews. Its laidback atmosphere makes it a perfect post-hike stop. The Lumberyard Brewing Company provides another great casual dining option. Their outdoor fire pit keeps you warm on a chilly autumn night, and they'll keep you happy with their great beer and pub food. 
If you'd prefer a fancier dinner, stop by Brix. This contemporary, local favorite emphasizes sustainably-sourced ingredients. Josephine's Restaurant is another wonderful option. With a plant-covered cobblestone patio and an extensive wine list, you can't go wrong at this American bistro.
And if you're looking to cap your night with some drinks, head to Rendezvous on the first floor of the historic Hotel Monte Vista. This craft cocktail and coffee bar has the perfect atmosphere to meet with friends or dress up for date night. 
Where to Stay

AirBnBs and Rentals
With the rise of AirBnBs and personally-owned rentals, you can find the accommodations of your dreams near Flagstaff. You can rent private homes within walking distance from downtown, studio apartments right on the main street, and even a log cabin out in the woods.
The further you go from downtown, the more unique accommodations you'll find. En route to the Grand Canyon, this tiny home called "The Nugget" sits midway between Flagstaff and the Park's South Rim. This rental is the perfect basecamp for your hiking adventures, or before or after your trip.
Hotels
If you're looking for a hotel downtown, the Hotel Monte Vista is a three-star classic that was built in 1926 and has seen the likes of John Wayne and Bing Crosby. Read up on the building's ghost stories before your stay, and keep an eye out for ghosts as you walk the halls. Or, if hauntings aren't your thing, the Weatherford Hotel is a great alternative. This historic hotel is home to three bar/restaurants, one of which is a charming balcony bar. If you'd prefer to stay outside of downtown, the Little America Hotel is conveniently close to the highway on a charming property with a hot tub.
Flagstaff Guide: Pro Tips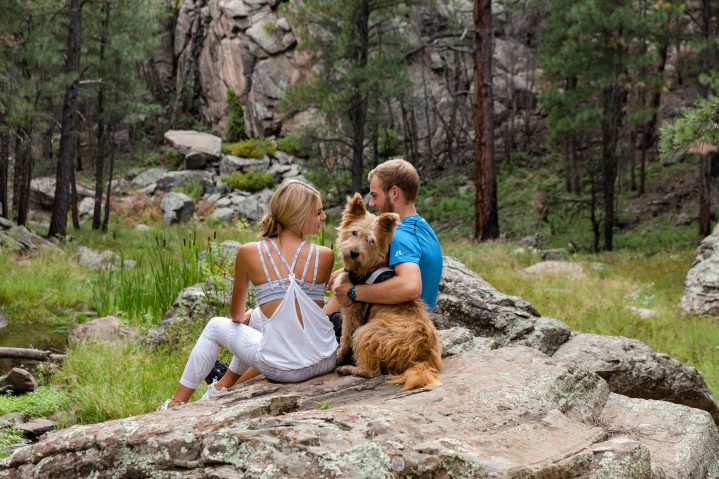 Flagstaff sits at 7000 feet. The high elevation takes a toll on your body. Stay hydrated, wear sunscreen, and go light on the alcohol. And most importantly, be easy on yourself as you adjust. Your hiking will feel slower and your body may feel sluggish. Fuel with nutritious foods and plenty of water before your hiking trip!
We hope this Flagstaff Guide has given you a great starting point for exploring this lovely town! Have more questions? Send us an email or call us at 800-715-HIKE (4453). We're here 7 days a week from 9:00 to 4:30 Mountain Time to make sure your trip planning goes as smoothly as possible.