66ºNorth Snæfell Neoshell Rain Jacket
Wildland Trekking guide, Floyd Wright, shares his experience after testing the Snæfell Rain Jacket from 66ºNorth during a winter season in the Rocky Mountains.
Born and raised in Colorado, I've been an avid hiker and skier all my life. After a career in sales and marketing, I have worked for Wildland Trekking Company for over four years, year-round, guiding various trips in the Rockies from multi-day backpack trips to snowshoeing day hikes. Summer is brief here in the Rockies, and our winter season dominates the year with snow, wind, and cold present for 8 – if not 9 – months of the year in the higher terrain.
But this past season – fall 2021 and winter 2022 – I have been testing the Snæfell shell jacket made by the Icelandic company 66ºNorth (66 Degrees North) in several fall and winter weather conditions, skiing, snowshoeing, and hiking in the Rocky Mountains. Now, let's review how the shell performed in this comprehensive 66ºNorth Snæfell  Rain Jacket review.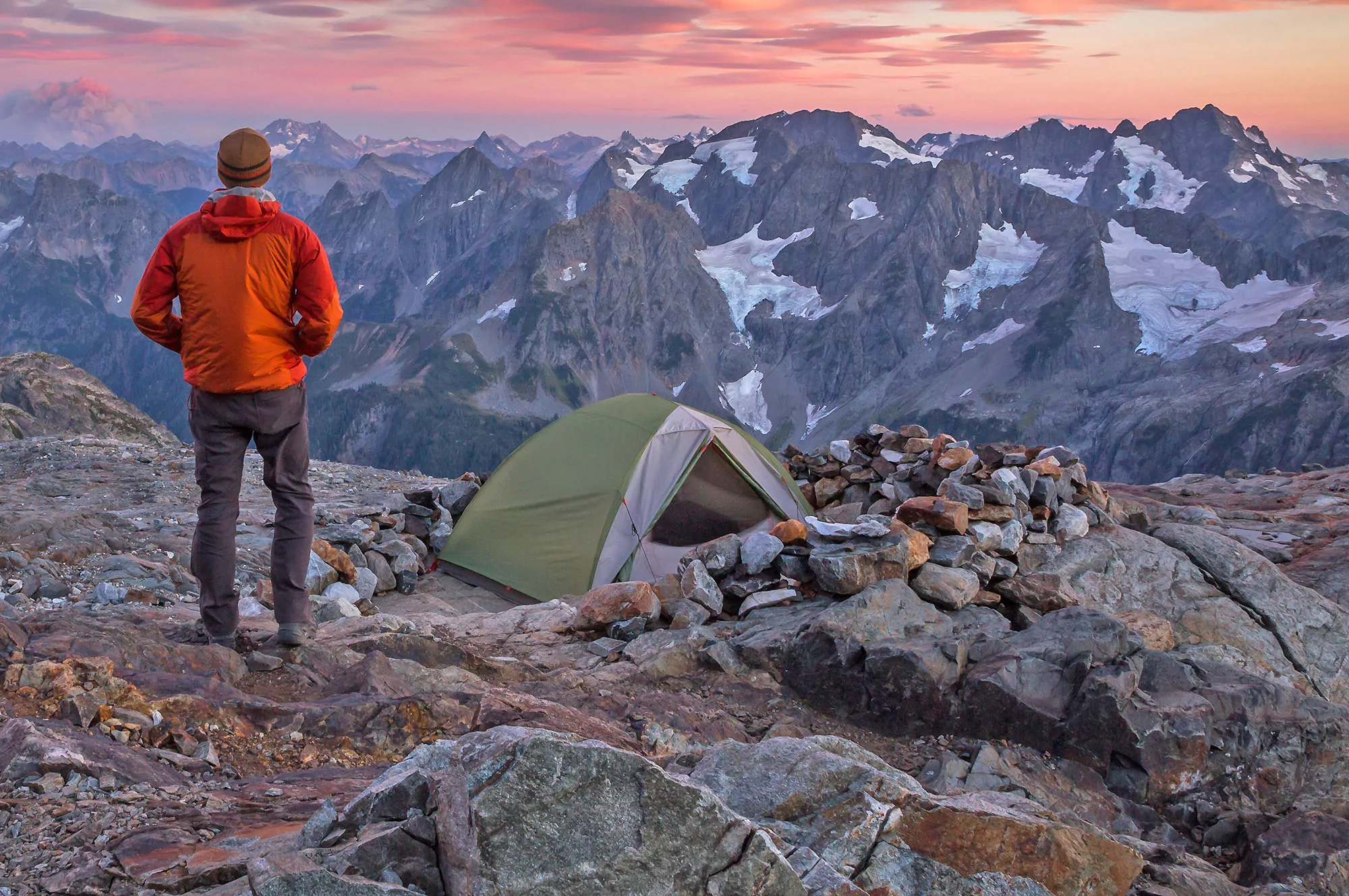 Snæfell Quick Look
This lightweight, waterproof, breathable shell provides solid protection from the elements and has these key characteristics and features:
Weight:  17 oz (men's large)
Material:  Polartec Neoshell.  Outer layer 53% Nylon, 47% Polyester.
Waterproofing: To 10,000 mm
Breathability: about 30g/m2/24h (more on this later)
Sizes:  Small to 2XL – both men's and women's available.
Price: $525.00
Intended Use
This rugged, multi-functional jacket is aimed squarely at outdoor sports (hiking, kayaking, bicycling, and skiing) but also has an easy-going casual appearance around town on a rainy day. In colder climates, it is designed to be worn over mid-layer or insulating items. For my testing, I used a light fleece mid-layer over a wool base on cool sunny days and a lightweight down puffy mid-layer over wool on cold, windy days with good results.
Notable Features and Facts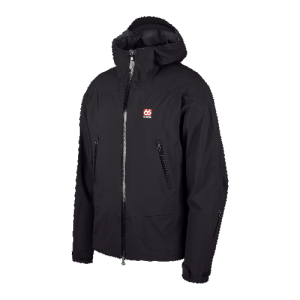 The award-winning Snæfell Neoshell jacket by 66ºNorth is a high-quality, soft-shell, waterproof jacket that remains wonderfully breathable. The fabric, Polartec Neoshell, is the world's most breathable waterproof fabric due to the sub-micron-sized membrane structure at its core.
This jacket, combined with a mid-layer or lightweight insulated layer underneath, tackles the elements from cold and windy to wet and snowy. The fabric is also very comfortable and moves and stretches effortlessly and quietly as you move.
The name Snæfell refers to snowfall, and it is also the name of a volcano in central far west Iceland. The Snæfell Volcano, or Snaefellsjokull as it's known, is also the inspiration for the 1864 book by Jules Verne, Journey to the Center of the Earth, complete with deep lava tubes in the area.
66ºNorth Company Background 
Founded in Iceland by Hans Kristjansson in 1926, the original goal of 66ºNorth was to outfit fishermen in the North Atlantic. Later, their mission expanded to include the Icelandic Search and Rescue teams operating in these waters. The motto of 66ºNorth is "Keeping Iceland warm since 1926."
This brand exists because it must. Iceland is a severe place with extreme weather – which I've experienced firsthand – but it thrives, and the people are tough and resilient. Fittingly, the name 66ºNorth comes from the Arctic Circle's latitude – and the latitude of the town where the company was founded: Suðureyri. Reflecting their harsh environment, 66ºNorth touts their products as "Made for Life."
This saying reflects the values of creating long-lasting clothing made to sustain life in inhospitable weather and the business practices which conserve and protect the north at a time when glaciers, weather, and natural landscapes are under dramatic threat from climate change. In short, this means building a company committed to the targets of 100% use of green energy, zero waste, and carbon neutrality while continuing their nearly 100-year tradition of ensuring the health and safety of their customers.
I'd also like to note that a substantial portion of 66ºNorth's products is manufactured in Latvia (including this Snæfell jacket), a country that is a member of the EU and under EU regulations regarding labor laws and workplace health and safety.
In closing, Iceland is a country that is almost entirely powered by renewable energy, and that encompasses all of 66ºNorth's stores and offices in Iceland. Globally, 66ºNorth is empowered approximately 79% by renewable energy.
THE TEST – QUICK OVERVIEW
I used this jacket during the fall and winter of 2021-2022, hiking and skiing in Rocky Mountain National Park. The conditions were stereotypically mountainous, from sunny and near freezing to blustery snow showers.
Most of the snowshoe hikes I led were 4-6 hour hikes covering 4-8 miles in a snow environment. Also, I wore this jacket out skiing at a high elevation ski resort in Colorado and backcountry skiing. Temperatures have typically been in the teens to 30's this winter with snow and wind conditions.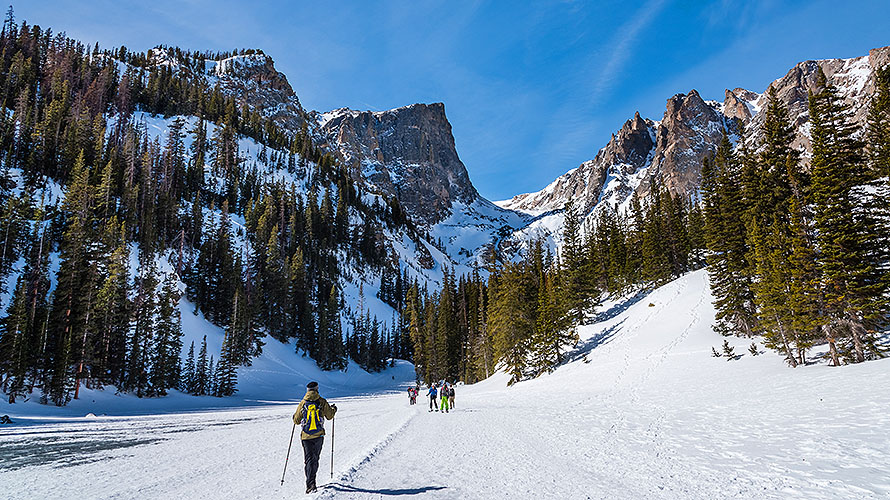 The Review
Now that we've covered the basics and some company background, it's time to dive into our 66ºNorth Snæfell Jacket Review. I'll cover several key characteristics of this jacket ranging from performance to durability and assign each category a rating based on my experiences during this test. So let's see how the Snæfell Jacket did!
Durability – 5/5
While I've worn this jacket for only two seasons, its durability is apparent. My gear gets changed, manhandled, stuffed on the go – and the Snæfell jacket is no exception. It gets rolled up quickly and tightly, and not too neatly, and stuffed into heavy backpacks beneath and between everything from a snow saw to a thermos and comes back out ready to wear. It may emerge from my pack wrinkled, but it smooths out again within minutes.
Everything about the durability and quality of workmanship in this jacket is top-notch. Every seam stitch is picture-perfect and straight as an arrow. Every zipper is tight as a drum, thoroughly sealed, and a bulwark against the elements. There is not a thread dangling anywhere on this jacket.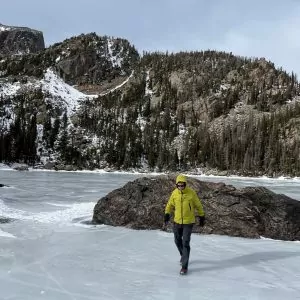 Warmth – 4.5/5
For me personally, my comfort and success while using a shell is to have an appropriate mid-layer in place. If my mid-layer is too light, I feel the cold seeping through my shell. That's been the routine for every jacket I've ever used in winter.
But the Snæfell surprised me with its effectiveness. When worn over a light down puffy on a cold, windy day, it easily doubles the value of that puffy by holding in heat and blocking the wind. That combo of a light puffy and the Snæfell shell is a pairing that can take a severe beating and keep me warm – as I found over and over again during my winter test in the Rocky Mountains.
Therefore, the Snæfell's superb wind resistance combined with excellent warmth retention scores top marks in my book.
Waterproofing – 5/5
In Colorado, our snows are often fairly dry, and few rains are in the heavy category. But even in the wetter snows I experienced during my test, this jacket wasn't fazed (or dampened). It will take more than a little wet snow to get past the Snæfell jacket.
When it comes to the waterproofness scale, a certain level of waterproofness is crucial, but at some point, more just becomes redundant. The 10,000 mm rating of Polartec Neoshell is more than adequate for most anything Colorado (or Icelandic) weather can throw at you. And Polartec Neoshell allows about twice the airflow, or breathability, as Gore-Tex. Too much waterproofness can begin to hinder breathability. So all-in-all, I believe the Snæfell strikes the perfect balance of waterproofness. It's effective and impenetrable but still maintains decent breathability.

Packability – 4.5/5
This jacket tolerates being rolled up tight and rebounding blemish-free. It is just as packable as any comparable jacket. However, keep in mind that its packability is a function of its bulk, and this is not an ultralight jacket by any means. Its warmth and durability add more material to the equation, and this isn't the type of jacket that can disappear into any nook of your bag. So while it does take up space, it earns every nanometer of it.
Weight – 5/5
This jacket is in line with many other comparable top-name brands at 17 oz. (1.06 lbs.). It's important to note that the Snæfell is by no means an ultralight shell for extreme thru-hikers – which can weigh in at 6 oz. or less. This jacket has some heft to it, but that's precisely the point for hiking or adventuring in extreme weather. The Snæfell's superb craftsmanship, durability, and waterproofing all add up to tip the scales upward. Therefore, I stand behind the opinion that this extra weight is well worth it for the bunker-like protection that the Snæfell offers.
I never felt that the Snæfell's weight was a hindrance, and every gram of its construction is designed to perfection. Top marks for weight!

Overall Comfort – 5/5
This is an easy jacket to wear; I can wear it all day long! It is soft and very flexible and stretches with your every movement. This soft feel is very comfortable to wear and moves nicely with your body for any type of outdoor activity. I can easily picture this shell functioning seamlessly for anything from hiking and snowshoeing to kayaking and boating. What's more, the hood swivels with you as you turn your head side to side and does not interrupt your peripheral vision – an excellent quality for downhill and backcountry skiing. Full marks for comfort!
Price –  4/5
At $525, this is a premium jacket and not priced for the faint of heart. However, I believe it to be in the same class as many other top jackets in this price range. Its quality is superb and performance phenomenal, and this investment will yield a top-quality jacket that will last you for years and years of adventure.
That said, if you're on the search for a budget or beginner's rain shell, then the Snæfell may not be the right choice for you. At this price, the Snæfell is the best option for adventurers who are certain that they'll use it to its full potential.
Overall Quality – 5/5
Top shelf in every respect. This jacket is a piece of superior workmanship, from the exact and meticulous stitching to tight seam-taped zippers. It's a bombproof design that will keep you nice and dry through any precipitation and weather, and I'd trust this shell on any of my future trips into the backcountry. Additionally, the jacket's remarkable stretch and natural movement are the perfect complements for any activity. I never once felt it constricting my motion, and I love that the hood never obstructed my view as I turned from side to side.
In my opinion, there is absolutely nothing about this jacket that needs improvement!
Bringing it Together
There are many aspects to the Snæfell Shell from 66ºNorth. From its weatherproofing to weight and overall design, we have a lot to remember. So, let's review its most important performance points below
Pros: 
Well made
Very Breathable
Good movement, very flexible
Great fit, stretchy
Comfortable
Hood works with or without a helmet
Wrist cuffs are large enough to be easy to adjust
Cons:  
A commonly mentioned con of this jacket is that the visor is large and heavy. True, it is a large piece of material. But the jacket certainly wouldn't be what it is without the visor. In the rain, that visor would be missed.
Tricky sizing. I'm not a slim fit guy, a bit barrel-chested even. While it fits over most anything I want to put under it, I don't have a lot of extra room. 66ºNorth says to size down if you are in-between sizes. If you are slightly larger like me, I might size up.
High price
Waterproofness and breathability defined:  A layman's look
Hydrostatic testing is an important measurement when describing the degree of waterproofness of a fabric. The scale is the amount of pressure exerted by a water column 1″ in diameter before the fabric begins to leak.
Since modern waterproofness measurements – in millimeters (mm) – are in the many thousands, it's not practical to use an actual column anymore. Instead, manufacturers use a machine that can exert an equal force of water. For example, a 10,000 mm level of waterproofness, which Snæfell's Polartec Neoshell material is rated, would mean a water column of 10 meters, or 32.8 feet tall. For comparison, Gore-Tex fabric is rated to about 28,000 mm or a water column just shy of 92′.
Seam sealing is also a common feature to improve a garment's waterproofing ability. Specifically, seam sealing refers to a polyurethane-coated zipper that is nearly waterproof. The material zips together similar to how a Ziploc bag comes together—very tightly and exceptionally protective.
Breathability
MVTV (Moisture vapor transmission rate) is the rate of air movement, or breathability, through the sub-micron-sized framework of a membrane structure. The definition of a breathable fabric is any material that allows excess heat and moisture (from the body) to escape without a phase change (that is, remaining a vapor as it moves out of the garment). A breathable fabric, therefore, has is the ability of a fabric to allow perspiration, evaporated by the body, to escape (diffuse) to the outside (moisture vapor transmission).
A breathability rating may look like this:  30k g/m2/24hr, The "g" is for grams, the "m2" is meters squared, and the "24hr" refers to a 24 hour period. Accordingly, this rating means that 30,000 grams of moisture vapor will be able to pass through one square meter of the membrane in a 24 hour period. The higher the number, the more breathable; the lower the number, the less breathable. Here is a comparison of our two favorite materials.
Polartec Neoshell  (The Snæfell)
Waterproof/breathability: 10K/30K
Gore-Tex
Waterproof/breathability: 28K/20K (approx.)
66ºNorth uses both Polartec Neoshell and Gor-Tex materials in different garments. Polartec has a lower waterproof rating and a higher breathability rating than Gore-Tex. This is only for comparison purposes. No judgment of the materials is being made here!
Final Thoughts
I've used the Snæfell Polartec Neoshell jacket now on a variety of cold to cool late fall and winter days with snowfall and in windy conditions, and it has definitely earned a spot in my day-to-day hiking and skiing outerwear. The breathability really impresses me—it is very tolerant when I'm working up a sweat and sheds that extra heat well. While I enjoy many Gore-Tex products as well, the extra breathability of Polartec has been a refreshing change.
While the hydrostatic head rating is less than other garments, I don't think there is much that Colorado weather could throw at it that it wouldn't stand up to in terms of waterproofness. In this case, more may not be any better, especially if I would be sacrificing that breathability.
I enjoy the cut of this jacket, especially since it is a bit longer in the back than the front. Since I am a bit larger than a regular, I may be limited to a lightweight puffy underneath without sizing up, but that has proven plenty of insulation underneath, especially with how this jacket stops the wind from penetrating.
I've only been testing this jacket for a couple of months, so I can't speak on its longevity, but it looks like new so far. Judging by the quality of its craftsmanship, it will never be a durability issue that retires this jacket.
My favorite features of this jacket are the ease of movement even with the hood and how flexibly I can move around in it. I also like the wrist cuffs, which are easy to tighten and adjust. The zippers, while stiff, also reflect the tightness of specs all around for excellent waterproofing. The price is high but rightly indicates a quality product that is worthy of such an investment. Most of all, this is simply a comfortable jacket. And, if it's good enough for Iceland, it is undoubtedly good enough for Colorado!