Women's Hiking Crew Trips
Join Womens Hiking Crew and Wildland Trekking for an iconic wilderness adventure!
Women's Hiking Crew and Wildland Trekking are offering a special selection of  2023 backpack and basecamp trips specifically for Women's Hiking Crew members who have dreamed of taking a "Life List" backpack trip but would rather hike with other, like-minded adventurers.
These trips are for Women's Hiking Crew members* who would like to hike in a group and have an experienced trip leader along to help organize and lead the expedition. Our groups are always small adventures, typically 5-10 guests per trip, and the trips include local transportation, permits, entrance fees, and all meals in the field.  Come join Women's Hiking Crew and Wildland Trekking for an unforgettable wilderness adventure!
*trips must meet a minimum of 4 Women's Hiking Crew guests at least 60 days before departure to remain private to members only. death valley basecamp
March 4-7, 2024
4 Days, $1805/person (plus 6.75% Sales tax)
Best Death Valley Hikes
Sweeping Views
Colorful Volcanic Deposits and Craters
Narrow Canyons and Petroglyphs
Iconic Mining and Pioneer History
Expansive Salt Flats and Sand Dunes
Basecamp with Delicious Meals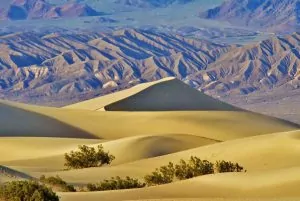 With six mountain ranges and 93 percent untrammeled wilderness, Death Valley National Park—the largest national park in the contiguous United States—is best discovered in a pair of hiking boots. Discover narrow canyons, vast dune fields, ancient lava flows, high alpine forests, scenic mountains, and the rich history of the American West.
We'll spend our days hiking the park's extraordinarily diverse landscapes. At night, we'll rest easy at our basecamp and enjoy delicious dinners by campfire before retiring to our tents under a stunning blanket of stars that adorns some of the darkest skies in the country. Join us for this Death Valley Tour of a lifetime.
Detailed Itinerary BOOK A SPOT