Women's Hiking Crew Trips
Join Womens Hiking Crew and Wildland Trekking for an iconic wilderness adventure!
Women's Hiking Crew and Wildland Trekking are offering a special selection of  2023 backpack and basecamp trips specifically for Women's Hiking Crew members who have dreamed of taking a "Life List" backpack trip but would rather hike with other, like-minded adventurers.
These trips are for Women's Hiking Crew members* who would like to hike in a group and have an experienced trip leader along to help organize and lead the expedition. Our groups are always small adventures, typically 5-10 guests per trip, and the trips include local transportation, permits, entrance fees, and all meals in the field.  Come join Women's Hiking Crew and Wildland Trekking for an unforgettable wilderness adventure!
*trips must meet a minimum of 4 Women's Hiking Crew guests at least 60 days before departure to remain private to members only.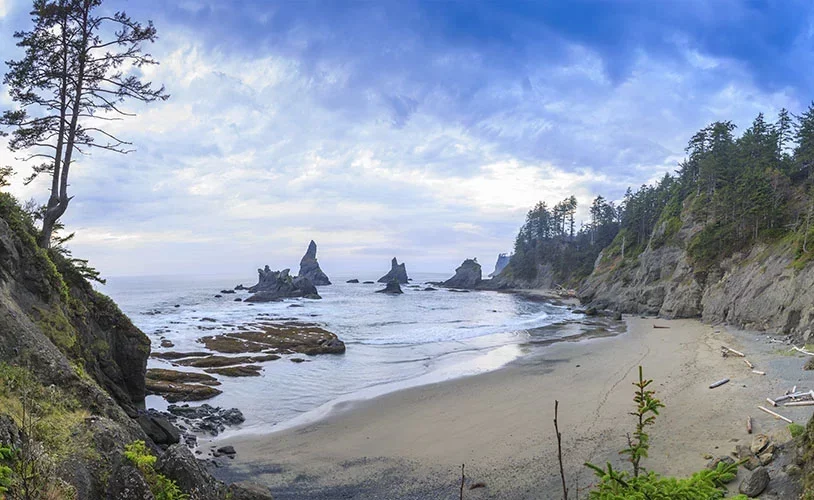 Olympic Basecamp
june 19-21, 2023
3 Days, $1735/person
Pristine Rainforests
Rugged Coastlines
Waterfalls
Wonderful Outdoor Cuisine
Comfortable Beach Camping
Fascinating Natural & Cultural History
This Olympic National Park camping tour is an opportunity to hike and explore two lush, temperate rainforests and the exciting and rugged Pacific coastline of the Olympic Peninsula, while enjoying the comforts of a front-country basecamp right on the ocean. Each day brings new sights and adventures as we explore the old-growth forests, dramatic sea stacks, stunning blue-green rivers, ever-changing tide pools, and long stretches of sandy beach right at our campsite. You'll be able to relax and let us take care of everything, so you can spend your time enjoying the sights of this unique region, photographing wild animals, searching for elusive banana slugs, identifying unique wild flowers, or simply relaxing on the beach.
Each morning we'll set out on a variety of select day hikes to introduce you to several amazing ecosystems found in the Pacific Northwest, replete with cultural and natural history, endless views, and astounding biodiversity: glacier and snow-fed rivers and streams, towering western red cedar forests, steep sea cliffs carved by the ocean, whales, otters, bald eagles and more! In the afternoons, we'll head back to our camp right along the Pacific Ocean to relax, enjoy a swim in the ocean, read a book on the beach, or go for a walk along the bluff. At night, we'll enjoy a wonderful, outdoor meal as we watch the sun set over the ocean, and relax around a campfire as we recount our daily adventures.
Detailed Itinerary BOOK A SPOT 
death valley basecamp
december 5-8, 2023
4 Days, $1590/person (plus 6.75% Sales tax)
Best Death Valley Hikes
Sweeping Views
Colorful Volcanic Deposits and Craters
Narrow Canyons and Petroglyphs
Iconic Mining and Pioneer History
Expansive Salt Flats and Sand Dunes
Basecamp with Delicious Meals
With six mountain ranges and 93 percent untrammeled wilderness, Death Valley National Park—the largest national park in the contiguous United States—is best discovered in a pair of hiking boots. Discover narrow canyons, vast dune fields, ancient lava flows, high alpine forests, scenic mountains, and the rich history of the American West.
We'll spend our days hiking the park's extraordinarily diverse landscapes. At night, we'll rest easy at our basecamp and enjoy delicious dinners by campfire before retiring to our tents under a stunning blanket of stars that adorns some of the darkest skies in the country. Join us for this Death Valley Tour of a lifetime.
Detailed Itinerary BOOK A SPOT