Portered Mount Conness
Trip Highlights
Lighter Backpacks
Grand Adventure
Stunning High Country
Lakeside Camp
Ascent of Mount Conness (12,590')
Mountain Solitude
Guides Choice Trip
Description
Our Portered Mount Conness trip is a fantastic choice for people looking to pack an amazing amount of backcountry adventure into just three days. It is also a wonderful choice for families or anyone wanting to experience Yosemite's pristine wilderness on a multiday trip without the heavier packs of a backpacking trip. We begin in stunning Tuolumne Meadows, a subalpine wonderland of meandering trout rivers, sparkling granite domes, vast meadows, and amazing alpine views. We'll camp on the shores of the beautiful Young Lakes and on Day 2 day hike off trail to the top of Mount Conness (the 7th highest peak in Yosemite), which provides an exciting ascent and phenomenal panoramic views of Yosemite Valley and the surrounding high country.
Don't miss this incredible opportunity to explore off-the-beaten-path wonders and high country beauty of Yosemite National Park with the assistance of porters! Give us a call at 1-800-715-HIKE (4453) to learn more or book your spot today.
Please Note: Porters transport all camping gear (tents, sleeping bags, sleeping pads…etc.) as well as food. They also set up and break down camp. Guests are responsible for carrying their clothing and personal items.

NEED TO KNOW: YOSEMITE PERMITS
Yosemite issues backcountry permits 5.5 months in advance. It's beneficial to register before permits are issued and if you do, we recommend not making concrete travel arrangements until the permit is secured. We have a very good success rate with Yosemite permits, but if unsuccessful your deposit is 100% transferrable or refundable.
Read more …
Return Guests get a 10% discount on all Trips!
DIFFICULTY LEVEL 2
Scale of 1-5. 1 is least difficult; 5 is most difficult
SUMMARY OF DIFFICULTY
The summit of Mount Conness is off trail, unmaintained and significantly exposed to vertical drop offs. To gain the summit you must maintain at least 3 points of contact and be comfortable walking or crawling on large boulders that are exposed to vertical drop offs. Not recommend for people with fear of heights.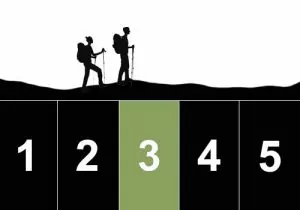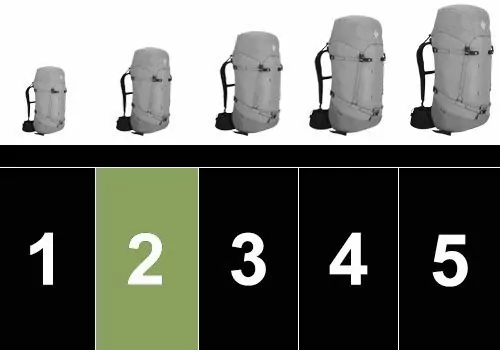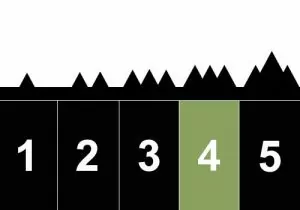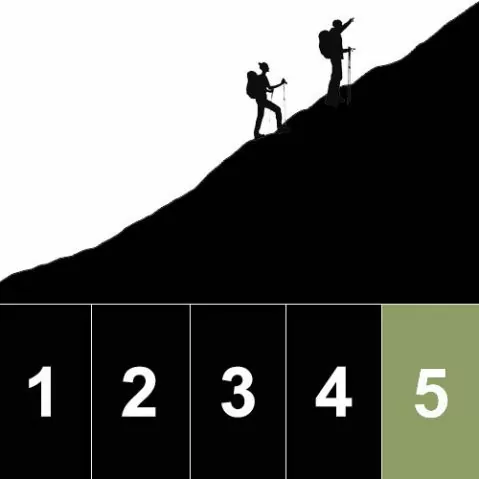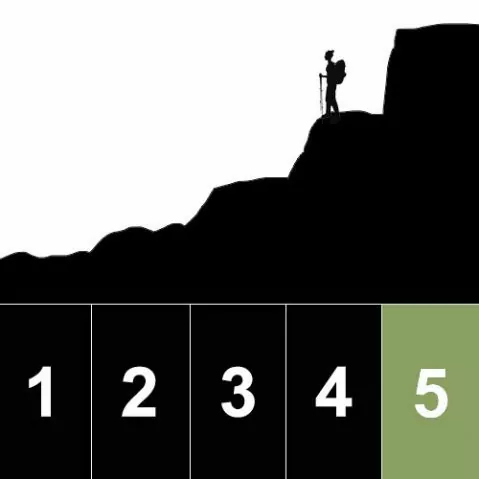 PHYSICAL REQUIREMENTS
Hiking uphill or downhill with a 10-20 lb backpack for 6-8 hours (or more on our summit day)
Maintaining balance and footing on significantly rugged terrain
Ascending through sections of 3rd class terrain, which require use of hands
Hiking for short distances with extreme heights exposure
SOLITUDE LEVEL 2
1 least solitude, 5 most solitude
We rate this Yosemite hiking trip a solitude 2. You can expect as much as an hour of solitude at a time.
Travel Info
TRAVEL TO YOSEMITE VALLEY BACKPACKERS CAMP
This trip meets in Yosemite Valley in the parking lot of Curry Village near the bear boxes at shuttle stop 14 at 6PM on Day 1. Your guide will contact you approximately 10 days before your trip to coordinate this rendezvous and answer any last minute questions you have. Your guide will be waiting for you in a Wildland Trekking hat and shirt. This trip includes dinner and camping that night at the backpackers camp. Personal vehicles can remain parked at Curry Village during your trip.
Most of our guests rent vehicles or drive their own to Yosemite Valley. However, you can also travel to and from Yosemite National Park using train and bus options from much of California:
From Fresno: Yosemite Area Rapid Transit (YARTS) is offering 4 bus rides each direction from Fresno to Yosemite Valley. To reach the Yosemite Valley Backpackers Camp get off at Curry Village and either walk or take a national park shuttle to North Pines Campground. Walk to the back of the campground and across the footbridge to the camp.
From Other California Cities: by rail on the Amtrak San Joaquin Train to the city of Merced (serviced by most large cities in California) or by Amtrak "Thruway" Bus Service from Merced to Yosemite Valley. To book your trip, use Amtrak's Online Reservation Service to book round-trip Amtrak travel to "YOS" (Yosemite Valley).
Private Trips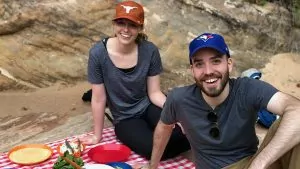 Travel in perfect company by booking a private trip exclusively for your group!
Our sliding scale for private trips is based on the final number of guests in your group. Rates are per person and do not include sales tax, national park fees or guide gratuity. The final rate is based on the actual number of guests on the trip and may adjust based on cancellations or additions.
Please Note: you can also enjoy a private trip at our normal scheduled rates by filling any empty tour to capacity. However, if group members drop from the tour those spots will automatically become available on our website for instant booking. By purchasing a private trip at the rates listed below, your trip will remain exclusive to your group regardless of cancellations. 
Private Rates FOr This Trip
2 People: Rate x 2.5
3 People: Rate x 1.75
4 People: Rate x 1.25
5+ People: Rate x 1.15
*all rates are per person
PDF Trip Itinerary Packet
Book online