Backpacking for Beginners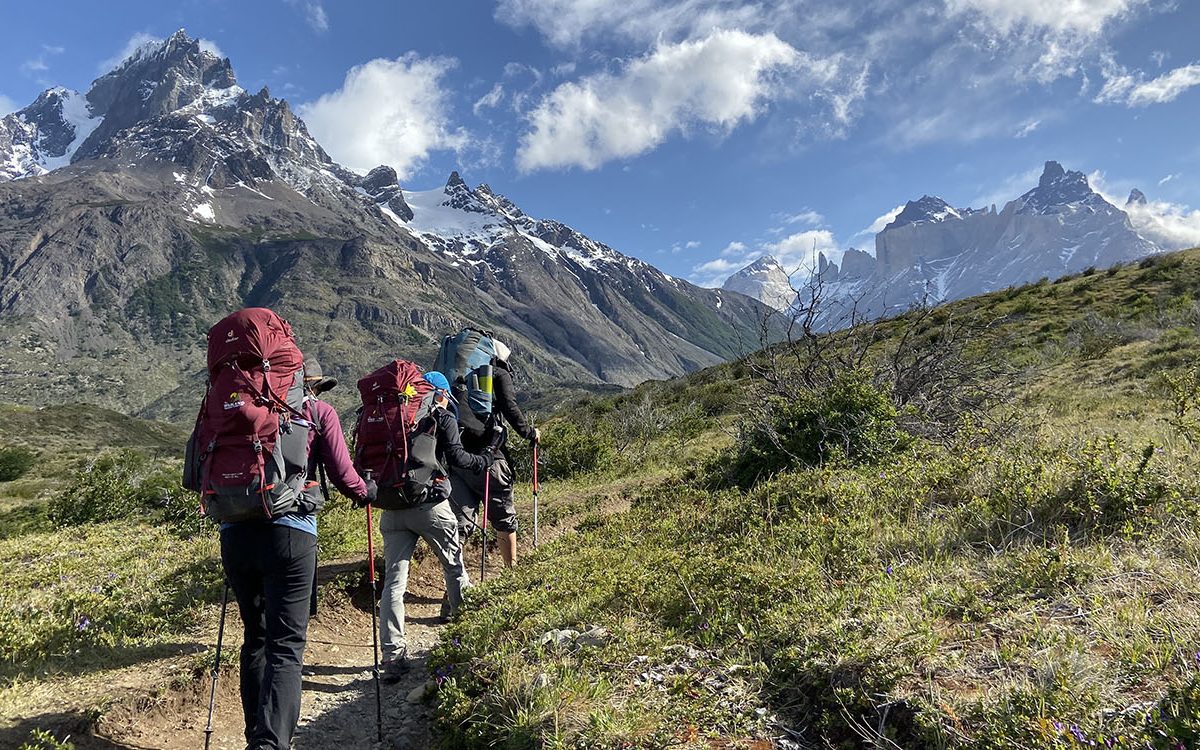 Learn everything you need to begin backpacking! Wildland Trekking is America's most experienced and highest-rated backpacking company. We lead 5,000+ people on backpacking trips around the USA and the world every year, and many of our participants are new to backpacking. We've become incredibly knowledgeable about what information people new to backpacking will benefit from. We'd love to share this information with you so you can start delving into the life-enriching sport of backpacking!
There are three essential questions to ask before you begin your new backpacking pastime:
Who are you going to backpack with?
Where are you going to go backpacking?
What clothing, gear, and food will you need to start backpacking?
All-Inclusive Backpacking Trips
Who to Go Backpacking With

Finding a Mentor
One of the best ways to get into backpacking is to find an experienced person who will mentor you and show you the ropes. But before you convince your neighbor who went backpacking a couple of times in their 20's to head into the wilderness with you, it's important to keep a couple of things in mind.
First, there are radically varying levels of skill when it comes to backpacking. It's best to find someone who has formal training, such as through the National Outdoor Leadership School, Outward Bound, or from a backpacking guide company like Wildland Trekking. Learning the wrong way can easily get you into trouble, and — at the very least — can lead to some unenjoyable experiences.
Second, be sure the person who teaches you the art of backpacking understands Leave No Trace principles. The world's remaining wild places are dwindling in size and simultaneously being heavily impacted by a burgeoning population with a growing interest in the outdoors. Those of us who venture into the wilderness must be educated about how to preserve it for future generations.
Finally, be sure you know this person well and trust them.
If you can find someone who fits these criteria, it's worth reaching out to them and simply asking if you can join them on a trip. Many people love sharing their passions with others. Let them know you're a beginner and be prepared to either rent gear or spend around $1000 or more on gear and clothing so you're well-outfitted for the trip (more info on that below.)
Backpacking with Your Partner
Another option of who to go with is your girlfriend, boyfriend, husband, wife…etc. Venturing into the wilderness with your partner can be a deeply meaningful way to bond with them and get into the sport. Start with small, manageable trips – overnights or long weekends – and work your way into longer, more ambitious routes.
Backpacking with Groups of Friends
If you have adventurous friends who are up for new experiences, then getting them all out on a backcountry trip can be incredibly fun. It can also be a complete mess, depending on how much experience the group has and how prepared people are. Often groups of friends who go backpacking together are young adults, and sometimes binge drinking can be part of the plan. We advise against this idea. A drink or two to relax in the evenings is one thing, but heavy drinking in the backcountry can be very dangerous since help is many hours away, and cell phone service is often nonexistent.
Backpacking with Strangers
Finding strangers to backpack with is an option. Meeting people through mutual friends, meetup groups, or even out on the trail, can be a way to meet new people who like to backpack. Tread lightly and cautiously with this solution, and carefully feel out whether you can trust anyone before setting off into the wilderness with them.
Backpacking by Yourself
Backpacking by yourself is another option, although we only recommend it for very experienced hikers. If you plan to go out solo, you may want to invest in wilderness first aid training. You should make conservative decisions and take an emergency-communication device.
The statistics on outdoor accidents that happen to people on their own vs. people in groups is staggering. People on their own are more likely to get into serious trouble if anything goes wrong, and they're more likely to have things go wrong. If you decide to go this route, start with short, very manageable trips. Be very sure you're prepared with the right gear, food, water, and clothing. Move slowly into more ambitious trips. Always let people know where you're going, when you'll be back, and what to do if you don't return.
Join a Guided Backpacking Trip
Joining a guided backpacking trip is a fantastic way to start off on the right foot, and at the same time experience an impressive wilderness adventure. Be sure the company you want to go with is highly rated and has been in business for several years. Follow their packing and clothing lists closely, and once you're on the trip, pay very close attention to how the guides do everything. Ask the guide if they'd be willing to teach you how they do things, and if the company is a quality one, the answer will be a resounding "yes." Of course, we're biased, but Wildland Trekking has been running trips since 2005 and can offer you expert guidance on world class backpacking routes across the USA and the world.
Explore Your World. Award-Winning Hiking Guides
Where to Go Backpacking

Deciding where to do your first backpacking trip(s) is a big deal. You may live close to good trail options or you may have to drive or even fly somewhere. Most people, however, can find a state park, federal land, or public land within a half day's drive of where they live.
If you would like to start with a high-quality destination, then we recommend the following as good options. Keep in mind, they very well may require travel. If you're backpacking for the first time as part of a guided trip, traveling to a destination is a great option. However, if you're starting off on your own, you may want to test the waters by sticking close to home in case you run into any troubles.
Colorado
The Colorado Rockies offer tremendous opportunities for backpacking. The state is centrally located with several major airports that you can easily fly into. Additionally, Colorado has black bears but not grizzly bears, which is great for beginners. Most areas you would want to go backpacking in will have plenty of water, and if you're there in the summer, the temperatures will probably be pretty manageable. Finally, the biggest reason to start in Colorado is the stunning beauty of the Rockies.
The options are nearly endless, but we recommend starting with a trip below the treeline because of afternoon thunderstorms. Or, if you want to venture into the alpine, we recommend going with a guide service. Wildland Trekking offers a variety of Colorado backpacking trips in the Flat Tops Wilderness and Rocky Mountain National Park.
North Carolina
North Carolina is a fantastic place to go backpacking. It is home to many beautiful mountain areas with hundreds of acres of backcountry. Also, a sizable percentage of Americans live a day's drive or closer to these mountains. Great Smoky Mountains National Park is an obvious place to look at for your first trip. But there are also many other areas in North Carolina to consider including the Roan Highlands, the Nantahala National Forest, Uwharrie National Forest, Pisgah National Forest, and more.
Guided backpacking trips are available in two stunning destinations: the Great Smoky Mountains and the Blue Ridge Mountains around Asheville.
Washington State
The Pacific Northwest is ripe with an almost infinite number of options for backcountry hiking and camping. With many national parks like Olympic, Mount Rainier, and the North Cascades plus amazing, abundant forest service lands, Washington is world-class. It's also relatively easy to fly into Seattle and get to these places. A few things to keep in mind: these mountains are big, the forests are thick, and the weather can be unpredictable. Some also are home to small populations of grizzly bears. Do your homework and be sure you're prepared.
Guided trips are available in these areas. Wildland Trekking offers Washington backpacking trips in Olympic National Park and North Cascades National Park. Of these two options, Olympic lends itself more to beginners.
Arizona
Arizona is another state with incredible amounts of backcountry great for exploring on foot. The thing to keep in mind with Arizona is that many of the areas are deserts or high deserts. Scarce water, heat and flash flooding are serious considerations. Popular backpacking trips in Arizona include Grand Canyon National Park, the Havasupai Waterfalls, areas around Sedona, areas around Tucson, and more.
Guided Arizona backpacking trips are available. At Wildland Trekking our trips focus primarily on Grand Canyon, the Havasupai Waterfalls, and Sedona.
Montana and Wyoming
Montana and Wyoming offer tremendous backpacking opportunities. Most of these areas are prime grizzly habitat and can have dramatic fluctuations in weather. Be prepared and understand what you're getting into in the Northern Rockies.
Some ranges and areas to consider exploring in these states include the Snowy Range, Wind River Range, the Tetons, the Wyoming Range, Absarokas, Beartooths, Yellowstone National Park, the Crazy Mountains, the Bob Marshall Wilderness, and Glacier National Park.
We strongly recommend people new to backpacking join guided trips in these states. Understanding how to stay safe in grizzly country takes time, and this is big country with big mountains. Wildland Trekking offers Yellowstone backpacking trips and many other trips in Montana and Wyoming.
California
California is another major backpacking destination. With Yosemite, Mount Lassen, Joshua Tree, Death Valley, the Lost Coast, Mount Shasta, the Trinities, Lake Tahoe area, Sequoia-Kings Canyon National Parks, and the entire John Muir Trail and Sierra Nevada Range, it's almost endless.
Guided California backpacking trips are available. At Wildland Trekking, we offer award-winning trips to most of the areas listed above. Yosemite is our most popular destination in California, but all of the others (Lost Coast, Sequoia-Kings Canyon, Joshua Tree, Death Valley, the Eastern Sierras) are fantastic as well and loved by our guests.
Utah
The last destination we're covering is Utah, which is incredible. Utah boasts towering mountains, low deserts, high deserts, and the most beautiful canyon country in the United States. It offers year-round options, all of which will take your breath away. Be weary of summer trips in the deserts and canyons of Utah, as heat and lack of water are serious considerations.
Great Utah backpacking trips can be found in the Wasatch Mountains, the Uinta Mountains, the La Sal Mountains, the Henries, Canyonlands, Capitol Reef, Grand Staircase, Grand Gulch and many other amazing areas around the state.
Backpacking Clothing, Gear, Food and Water

Backpacking Gear
Starting with a solid, dependable gear list is critical. Here is our recommended list for beginner backpackers:
Multi-day backpack: Look for a high-quality backpack specifically designed and manufactured for backcountry use. Recommended brands include Deuter, Osprey, Mountain Hardware, Kelty, and Gregory. Capacity should be 3800-5000 cubic inches.
Sleeping bag: Just like your backpack, don't skimp on your sleeping bag. Buy a good one. Dependable brands include Marmot, Sierra Designs, Mountain Hardware, Western Designs, and Kelty. If you'd like a good year-round bag (and don't plan on doing winter trips in the mountains or summer trips in the desert,) a temperature rating of 15-20 degrees is great. Winter bags should be 0 degrees or below, and desert bags should be in the 40-50 degree range.
Sleeping pad and pillow: Purchase a lightweight, inflatable sleeping pad made by Thermarest. 3/4 to 1 inch thick is good. Make sure to buy a full length pad.
Tent: A good tent is critical. Focus on finding a lightweight, high-quality tent. The tent shouldn't weigh more than 2.5 pounds per person unless it's a 1-person tent and you're backpacking solo. Good brands include Big Agnes, Kelty, and Mountain Hardware. Unless you're going to be backpacking in the mountains in the winter, a 3-season tent is adequate.
Backpacking stove and cook set: MSR (Mountain Safety Research) makes the most reliable backpacking stoves, and we recommend going with a white gas stove so you can refill the fuel container. The Dragonfly is an excellent choice because you can easily simmer your food with it. If simmering isn't important to you, then the Whisperlite is a great option. MSR also makes great some of the best cook sets. Go as light as you can but make sure the cook set you choose will accommodate the number of people you plan on going with. Finally, a stove repair kit is a good idea and doesn't add much weight. And don't forget your matches or a couple of lighters, and put them in Ziplock bags!
Trekking poles: We recommend trekking poles; they are a game changer while you're carrying a big pack. There are many great brands out there, and almost all are fully adjustable. Try them out in the store, make sure they feel good, and then go ahead and buy them. You'll be glad you did.
Stuff sacs: You'll want three to five stuff sacs, some of which need to be waterproof. These help to keep things organized and also protected from the weather. Put your sleeping bag and clothes in the waterproof ones.
First Aid Kit: Purchase a comprehensive, medium-sized first-aid kit. Most of these are pretty standardized these days. The smallest kits are usually missing important items, and the largest ones have more than what you'll most likely need. Shoot for something in the middle. The most important items (and the bare minimum you should take with you) are a variety of bandages, athletic tape, antibacterial ointment, antihistamines (like Benadryl), anti-inflammatories (like Ibuprofen), blister treatment, alcohol wipes, and a first-aid field guide.
Headlamp and extra batteries: A headlamp is a necessary item because it allows you to have light and also have your hands free. You can hike, set up a tent, or cook at night without skipping a beat.
Emergency communication device: This is an optional but recommended item. There are many GPS tracking and emergency communication devices on the market today to choose from. Many require that you purchase a monthly subscription in addition to the device. You may be able to lease one locally from an outdoor shop as well.
Orientation tools: Having either a map and compass or a GPS device for orienting where you are on your route are critical. You also of course must know how to use whichever set of tools you go with. It's not a bad idea to have a map and compass, regardless of whether you have a GPS device. They're so light and take up very little room in a pack. Plus, a GPS device can run out of battery power and leave you without an orientation resource.
Repair kit: Some outdoor companies produce general repair kits with equipment to repair everything from tent poles to backpacking stoves to leaky sleeping pads. This is a wise purchase if you're going on longer trips. If you're focused on shorter, weekend type trips then it's not as necessary.
Biodegradable soap and toiletries: Having eco-friendly, biodegradable soap is important for washing yourself and your dishes. Dr. Bronners is a popular, dependable brand.
Bear safety items: If you're in bear country, you will want to have the appropriate safety equipment. In black bear habitat, you may need bear canisters for your food or a bear hang rope (and the know-how to set it up.) You also might want to bring bear spray for your protection, especially if you're backpacking alone. If you're in grizzly country, each member of your group will want to have bear spray readily available, and you should (and must, in some locations) hang your food. So having bear hang equipment is a requirement.
Backpacking Food
Knowing what to pack, cook, and eat on your trip is a big question, and it's somewhat of a rabbit hole. Ultimately backcountry cooking is almost an art form for those who take eating well in the backcountry seriously.
We produced an entire post on foods to eat when hiking which is a fantastic resource.
Water
Having clean water to drink is also a critical consideration. On a backpacking trip, you must be able to treat water sources and effectively carry enough water with you until you reach the next source. In the mountains, this is normally not a problem, but in the desert water is a serious route-planning consideration.
For treating water, we recommend a ceramic water filter. Ceramic can filter out almost everything. If the area you're in could have viruses in the water, then you will want to filter and also treat with chemicals.
There are many chemical water treatments on the market that you can choose from. We recommend going with a chlorine-based one vs. iodine due to taste.
Finally, how you are going to carry your water presents many options. We will cut to the chase and tell you what we recommend. A two-liter hydration bladder (such as Camelbak) and a one-liter water bottle. This system allows you to easily drink while hiking, and if your bladder fails for whatever reason you have a back-up. If you're hiking in the desert, you may need to carry much more than three liters, so having extra water bottles or a dromedary may be necessary.
What Now?
Now it's time to start planning your trip! Decide who you want to go with, where you want to go, and what you're going to need. Again, start small and plan on hiking only a few miles into the backcountry for your first trip. This way, if something goes wrong, you can easily get out. Slowly work your way up to bigger trips. Eventually, you never know – you may find yourself planning a month-long treks on one of America's long trails like the famous Appalachian Trail. Wherever your journey takes you, soak up the magic of the backcountry and enjoy, enjoy, enjoy!
Guided Backpacking Adventures
Wildland Trekking Hiking Adventures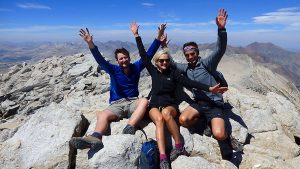 As the world's premier hiking and trekking company, Wildland believes in connecting people to fantastic environments in amazing ways. Wildland Trekking Company offers an array of incredible hiking and trekking experiences in 9 states and 11 countries. Read more about our world-class destinations.
To learn more about our guided backpacking trips and all of our award-winning hiking vacations, please visit our website or connect with one of our Adventure Consultants: 800-715-HIKE.