Microsoft 365 Transition
See frequently asked questions about the internal transition to Microsoft
On February 17, Wildland will be moving to Microsoft as our new communications platform. The timeline is as follows:
February 13 – your email password will change to what was specified in the email announcements.
February 16 – your existing emails and folders will be migrated to your new Microsoft account
February 17 – Microsoft Outlook will become the new platform for checking/sending emails
February 17 – All new company announcements from here forward will be made via SharePoint and email
February 17 – All company resources (documents, CUAs, permits…etc.) will now be available on SharePoint. To access SharePoint, you will need to accept the invitation to "follow" Wildland's SharePoint site in your new email.
April 17 – Webmail and the company blog will be permanently shut down FAQs
How Do I Log Into My New Microsoft Account?
Go to https://www.office.com/ 
Log in using your wildlandtrekking.com email address
Use the password that was sent to you in your email
Follow the prompts to change your password, enter your phone number for verification, enter your alternate email address
Navigate to email, SharePoint, Yammer or other application using the options in the left-hand column or in the upper left corner (image below)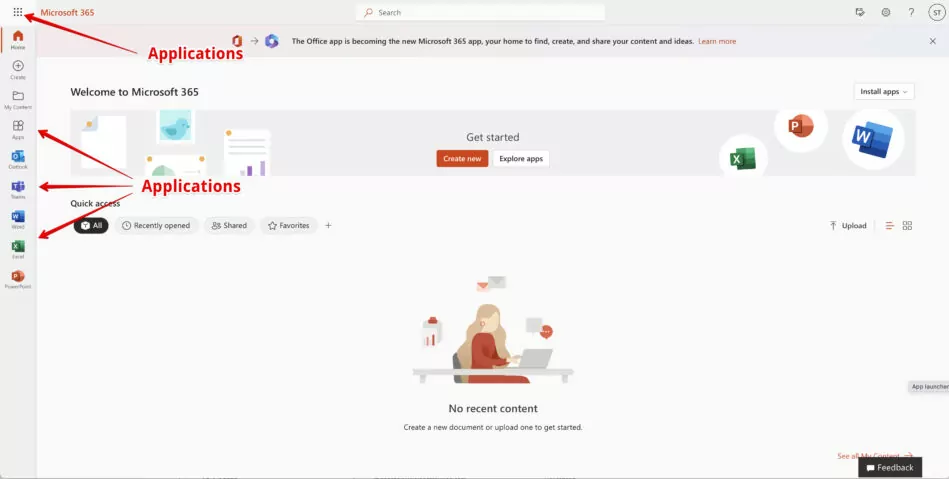 How Do I Set Up Microsoft Outlook On My Phone?
For instructions about using Outlook on your phone, use this link:
Connect to iPhone Mail: Click Here.
Using the Outlook App: Click Here.
Where Will I Find CUAs, Permits, Documents...etc?
Beginning on February 17, you will find all company documents (including CUAs, permits, trip packets…etc.) on SharePoint. In Outlook you will find an invite to "follow" SharePoint, please accept this invitation.
To get to SharePoint, you can either click on the application with from the Microsoft 365 homepage in one of two locations (image below), or go to this link:
https://wildlandstaff.sharepoint.com/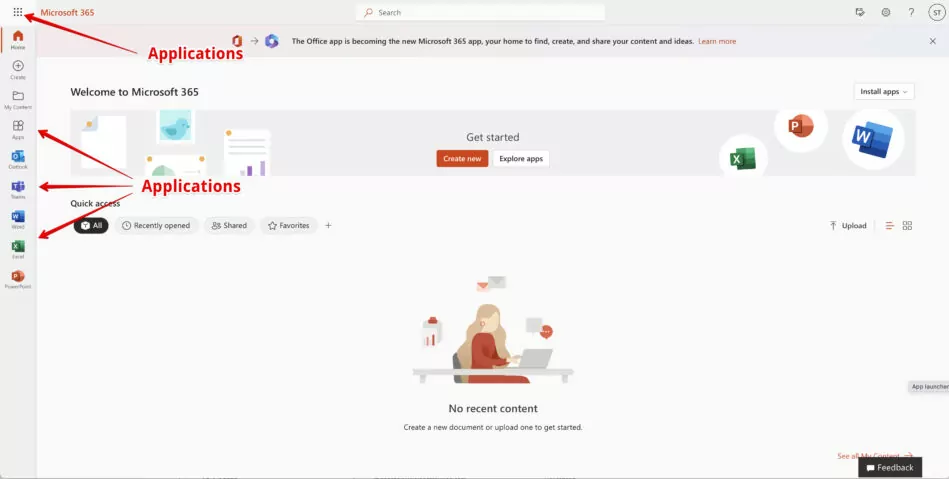 How Will I Hear About Company Announcements?
News and updates will be shared via the Wildland Hub SharePoint site, which you will have an invitation to follow when you first log into Outlook.
The entire company will also be notified via email of important announcements.
Will I Have Access to Office Applications (Word, Excel…etc)?
You can use Word, Excel, PowerPoint and all Microsoft Office applications as online tools. They will not be available for most users as apps downloaded to a device.
What Other Apps Will I Have Access To?
Aside from Microsoft Office applications, you will also have access to OneDrive, Calendar and other tools. OneDrive can be a great resource for sharing photos with guests or inviting them to share photos with each other.
"Personal" Accounts vs. "Work/School" Accounts
If you previously created a free Microsoft account using your @wildlandtrekking.com email address, Microsoft may ask you whether you want to log in to your "Personal" account or your "Work/School" account.
The previous, free account is your Personal account. The new one detailed in this email is your Work/School account. Eventually, so you don't have to manage two accounts, you will want to move everything over from your Personal account and shut it down.
What Happens with General Accounts like staffing@, hiring@, [email protected].?
Email accounts that are used by several people or that are not assigned directly to a person will become "Shared Accounts" in Microsoft. Examples include payroll@, staffing@, hiring@, hike@, fax@, permits@…etc.
Shared Accounts in Microsoft can be accessed from Outlook using the directions below. (You must be added to a Shared Account to be able to use it. If you need access to a Shared Account and don't have access, let Scott Cundy know and he can add you to the account.)
Log into Outlook, using your [email protected] credentials
Click on your initials in the upper right hand corner of the screen, then click on "Open Another Mailbox":
Search for the name of the account and click on it

How do I Turn off Yammer Notifications?
Watch this walk-through of the new system, including important steps: https://www.wevideo.com/view/2944796188
Yammer comes with default settings that send all users notifications of daily activity. Watch the video linked to above to change those settings.